Just when we thought we were mastering contouring like a Kardashian, the strobing trend has come along, and we couldn't be more excited. Unlike contouring, which had us shading our complexion in both light and dark shadows, strobing focuses on highlighting; giving you glowing and dewy skin instantly upon application.
And much easier to achieve compared to the effort usually put in contouring, the highly coveted strobing style uses glimmering products that brings both warmth and radiance to your face. To get this red carpet-ready look yourself, here's all the tips, tools and tricks you need to know when recreating this style at home. Trust us, with just a few tries and all the right products, you'll instantly be in love.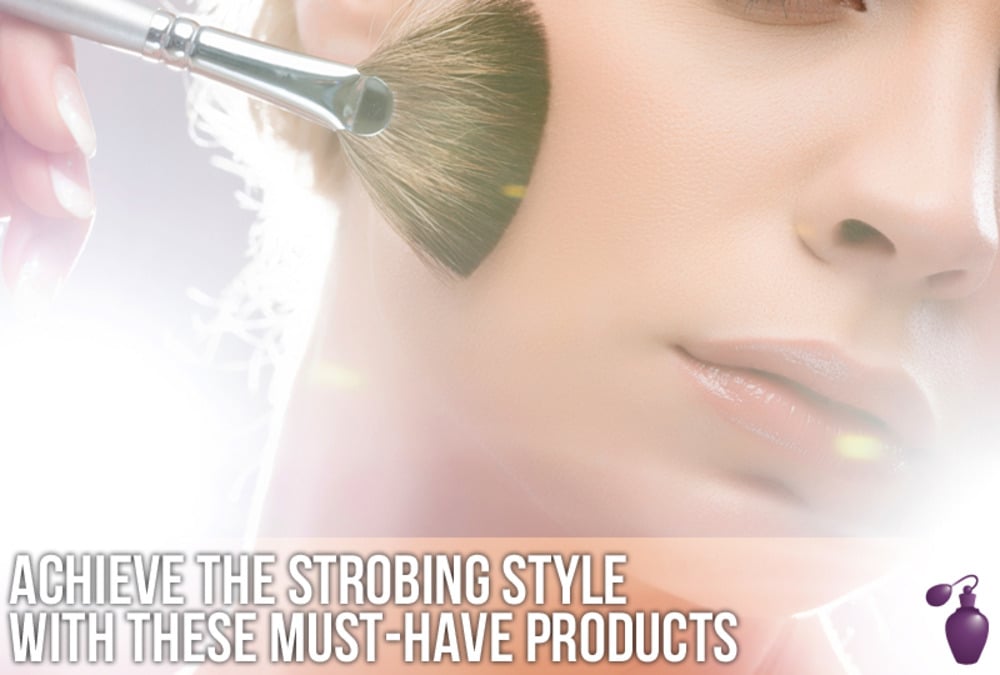 Create A Flawless Palette. Any beauty look starts with a flawless canvas, so before you start highlighting generously, it's to keep your skin looking clear without any imperfections. For that picture perfect foundation, we love the Giorgio Armani Luminous Silk Foundation ($55.99), as it offers maximum coverage with a nice touch of luminosity. Follow with your choice of an illuminating concealer for quick touchups.
Grab Your Brush. Once you've finished using your foundation, it's time to treat your face to some highlighting. To properly apply any product to any areas, you'll definitely want to grab a brush first to apply your product on evently. For fast and equal product application, the Bare Escentuals Hydrate & Brighten Brush ($12.99) makes a good staple inside any beauty bag.
For All Over Highlighting. Now that you've reached the highlighting step, it's important to note that you can use a variety of products to get that glowing result. Despite your product preference though, you'll want to use your product on areas like your cheekbones, brow bones and your nose for best results.
To start, it's best to decide what kind of finish you'd like. If you want a more controlled finish with minimal touch ups, start with the Jane Iredale Intouch Highlighter Complete ($34.99), as it guarantees fool-proof application that can highlight desired areas. Prefer a powder based product? The Bare Escentuals I.D. Bareminerals Illuminating Mineral Veil ($19.99) guarantees luminous skin, while shrinking pores and minimizing oily shine in the process.
For Touch Ups. If you find your glow fading throughout the day, there's nothing wrong with adding some touch up products to your beauty bag. To keep your cheekbones looking on point, we love the Fusion Beauty Ultraflesh Ninja Star 18 Karat Gold Finish Moisturizing Powder, ($23.99) as it keeps your makeup intact while enhancing your glow too. For another powder to have on hand, we're crazy about the Christian Dior Diorskin Nude Tan Healthy Glow Enhancing Powder ($54.99), as it keeps oiliness at bay, while giving your complexion come-hither radiance.
For The Works. Whether you're on the go or traveling nonstop this summer, having a good 'strobing survival kit' on hand always works wonders too. For every highlighting product you can imagine, the Fusion Beauty Ultraflesh Shine Box Highlight & Shimmer Collection: 2x All Over Highlighter, 2x All Over Shimmer, 1x All Over Enhancer 5pcs ($23.99) brings fast beauty fixes to your makeup bag in a flash. And with lots of products to choose from, you never have to worry about #beautyboredom thwarting any of your planned looks.
Listen, most of us know the basics of SPF and how important it is to keep your skin protected from the sun. Let's face it, summer is short and after spending all winter cooped up inside hiding from the frigid cold, who wouldn't want to spend every moment on the beach?
Spending a little bit of time in the sun is important for your overall health. First, the most natural way to get the Vitamin D that your body needs is to expose your bare skin to sunlight (ultraviolet B rays). You don't need to tan or burn your skin in order to get the proper amount of Vitamin D. In fact, if you're burning your skin, then you're doing something wrong. You only need to sit outside and expose your skin for about 15 to 20 minutes a day.
Second, your mood instantly lifts when the sun is shining and it ulimately makes you feel happier. Third, and this is probably the most important, the sun can give you a beautiful sun-kissed golden glow if you protect your skin while you're soaking in some rays. However, what happens when a little bit turns into too much, you forget to put on sunscreen and ultimately end up damaging your skin?
Don't worry the next time that happens because when it does, you'll already have these three skin saving SPF products by Lancaster in your beauty arsenal.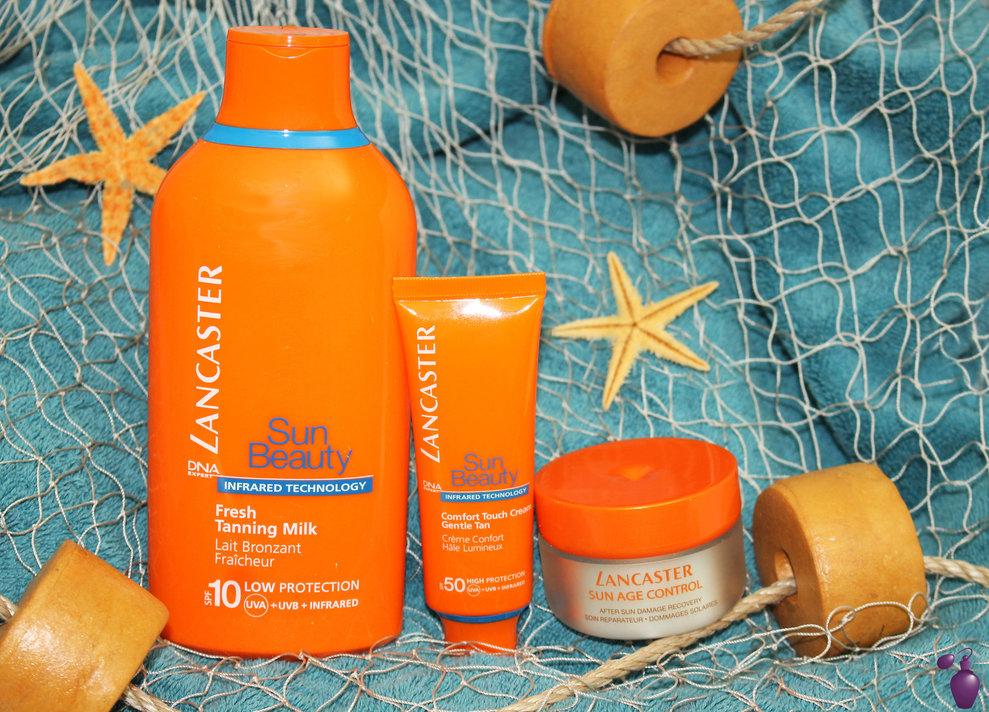 When it comes to a beautiful tan, Lancaster knows that the bronze goddess glow that we are all chasing after is the result of high quality protection. The first step in their skin saving routine is the Lancaster Sun Beauty Fresh Milk Sublime Tan Spf 10.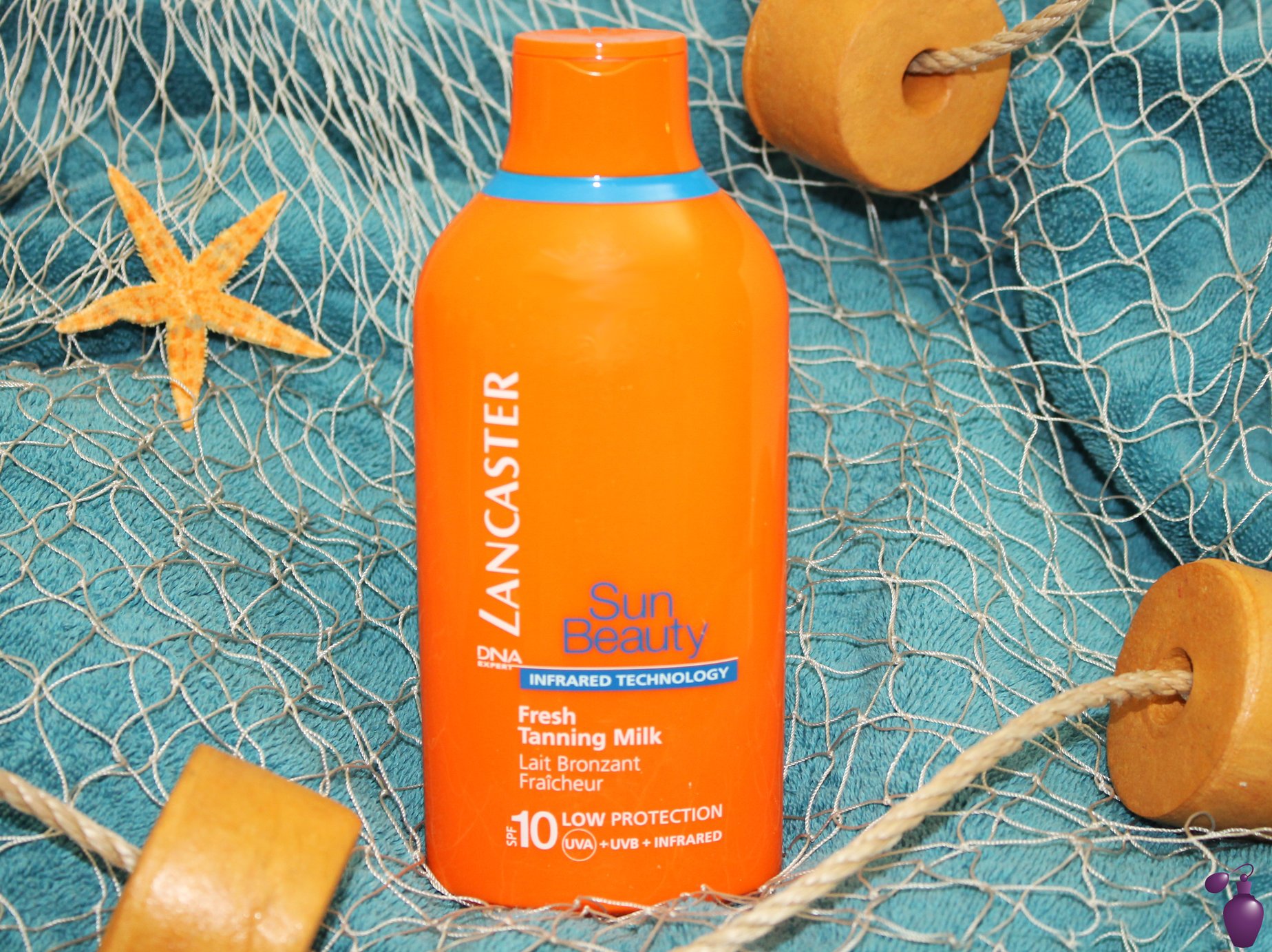 The Fresh Tanning Milk is a high-performance water-resistant tanning lotion that combines optimal UVA/UVB protection with new Infrared Technology to protect skin beauty from sun damage. It's formulated with advanced Tan Activator Complex (TAC) and helps to create an even radiant and long-lasting golden tan. One of my favorite things about this tanning milk is that for something that is so light weight, it feels like a velvet milk body lotion sealing in the moisture and tightening my skin.
Next, you will want to check out the Lancaster Sun Beauty Comfort Touch Cream Gentle Tan Spf 50.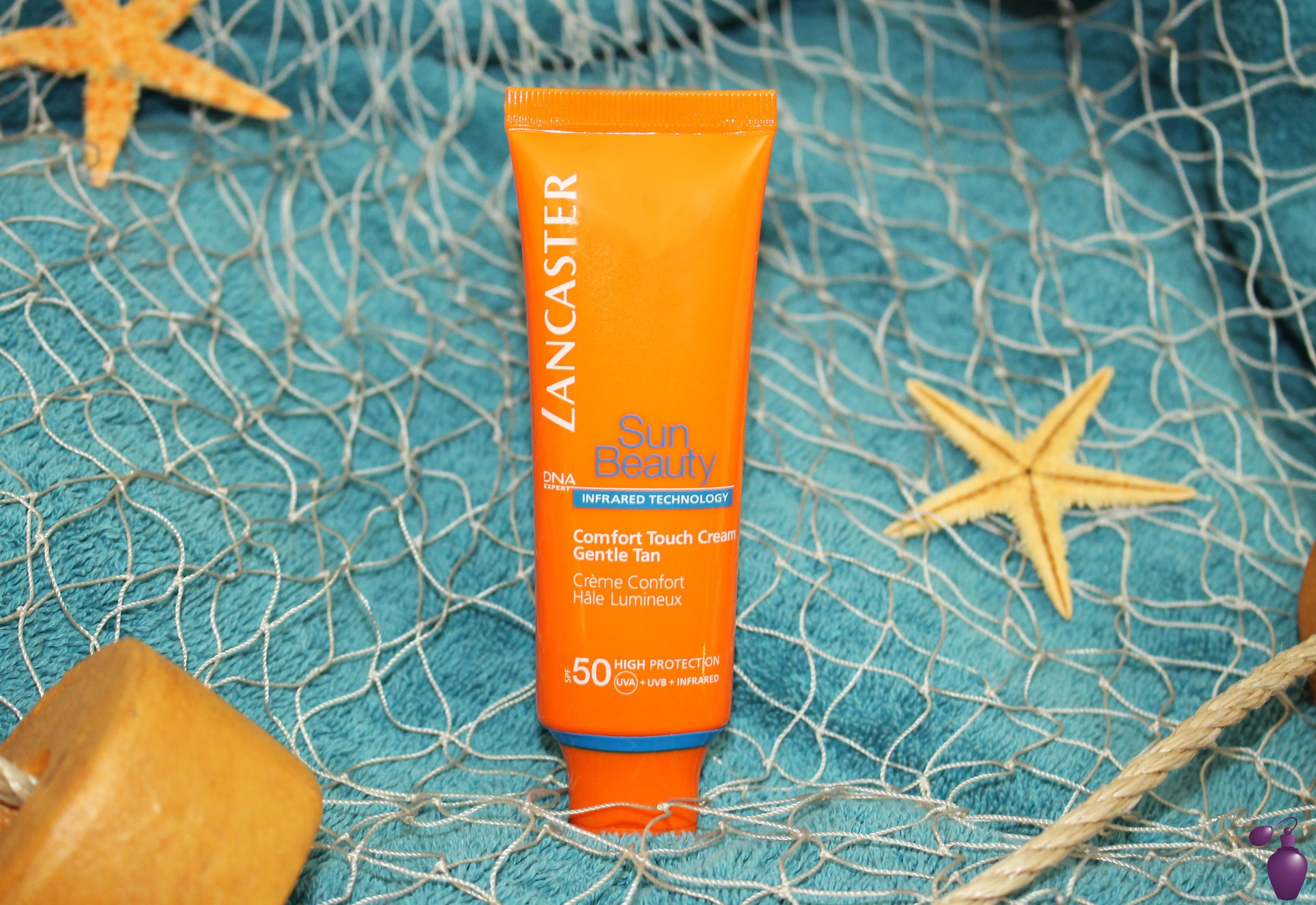 The comfort touch cream is a satiny and weightless facial sun cream that offers SPF50 UVA/UVB high protection. I recommend that you apply this liberally to your face and décolletage 15 minutes before sun exposure and make sure to reapply every two hours and right after a swim or sweating.
Lastly, if you forgot to put on any SPF protection or just simply enjoyed being at the beach too long, you will want to invest in Lancaster Sun Age Control After Sun Damage Recovery.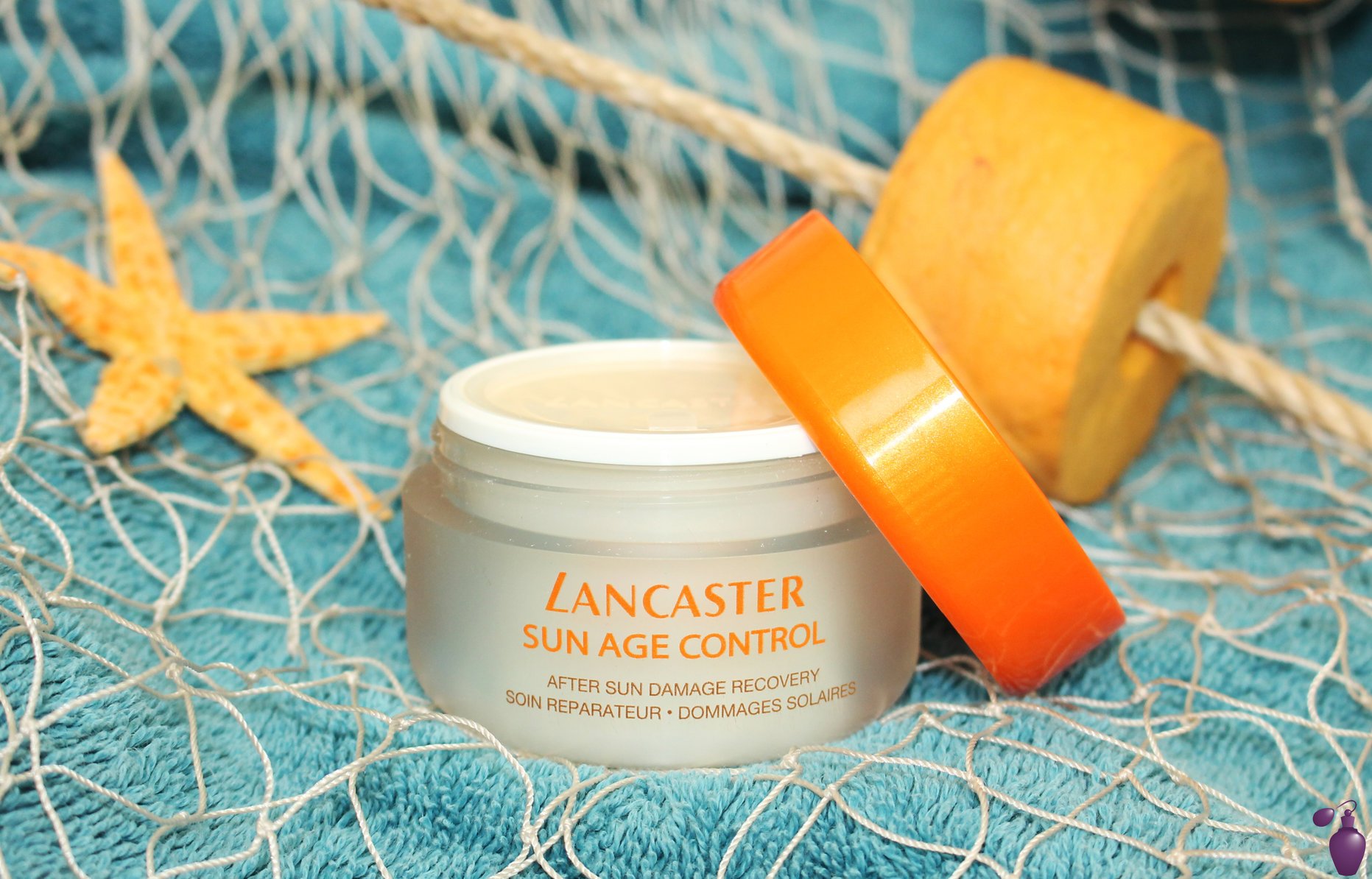 The after sun damage recovery is a restorative after-sun care repair cream. It is a soothing cream specially formulated for skin that has been damaged by too much sun exposure and works to enhance the natural skin DNA repair process. I recommend applying this generously all over your face, neck & décolletage. It will take a few days for you to begin to see results, but around day 3, you should expect to see a reduction in dark spots and hyper-pigmentation to the damaged areas.
The most important thing that I want you to take away from this is that you can save your skin with these 3 products! Wait—beauty products which actually delivers on repairing your skin AND doesn't break the bank? They really do exist!
Once the summer season rolls around, upcoming traveling plans can definitely cause you to pick and choose which beauty items you'll definitely bring along. And although these types of decisions can be hard, finding TSA-approved products doesn't' have to be a challenge.
To spare you the stress and agony of finding the perfect travel-friendly loot, we've already done the task of finding ten beauty essentials you'll definitely need. From portable soap to pint sized tweezers, trust these pampering lifesavers to keep you gorgeous all summer long.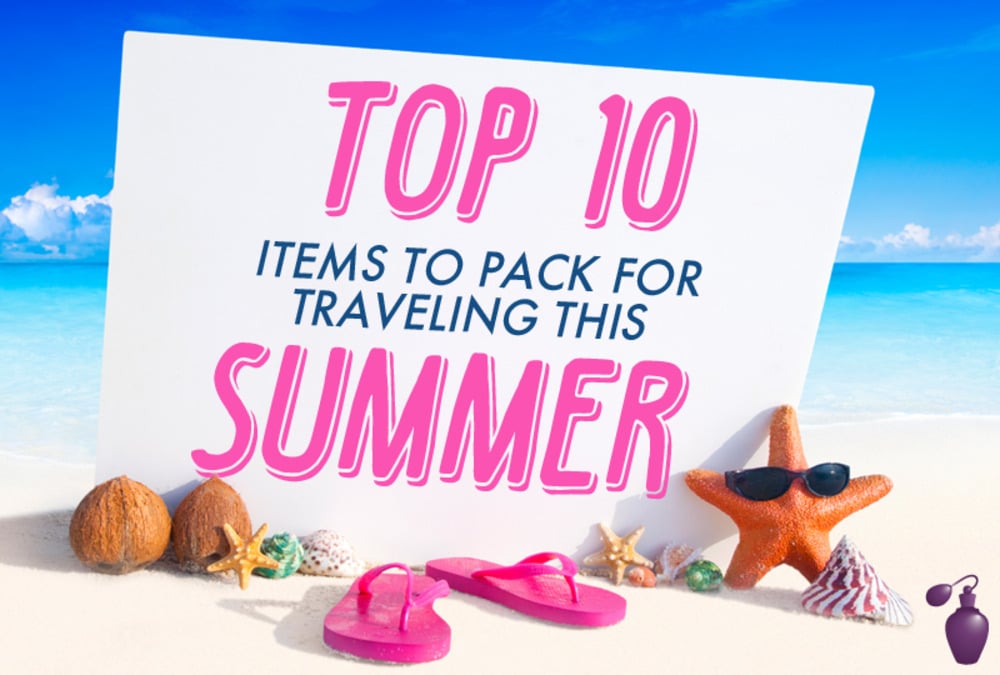 For Portable Fragrances. Although you'll definitely be tempted to bring your signature fragrance wherever you go, strict TSA rules can really throw a serious wrench in your plans. For a convenient way to haul all your favorite fragrances, we love the Perfume Travel Atomizer, ($9.99) as it effectively stores your favorite scents without unwanted spilling and leakage.
For Melt Proof Makeup. If you are traveling somewhere warm and exotic this summer, you'll definitely want to keep your face up to speed with the coming sweat and oil. For matte and sweat resistant makeup, trust the Shiseido Pureness Oil-Control Blotting Papers ($21.99) to combat oily skin without disturbing your makeup.
For Fast Makeup Removal. No matter where your travels take you, it's super important to keep your skin cleansed and hydrated. For easy makeup and debris removal, the Lancome Bi Facil Duo Pack Travel Size ($54.99) will definitely come in handy, as it removes stubborn mascara and deep seated impurities with ease.
For Your Daily Cleanse. If you can't take your clunky face washes with you, the Clinique 3 Little Soap ($21.99) easily saves room inside your suitcase. Plus, standing tall against dirt and grime, you don't have to worry about compromising your routine while you're on the go.
For Flawless Brows. To keep your brows in tip top shape, tweak your arches with the Tweezerman Petite Tweeze Set ($30.99). Taming even the most bushy of brows, this two piece set fits nice and neat inside your purse or carryon too.
For A Burst Of Fragrance. Can't part with your favorite perfumes? Thanks to the Amouage Epic Eau De Parfum Travel Spray ($165.99), you can enjoy mini come-hither scents boasting notes of caraway, cinnamon and pink nerium oleander.
For A Five Minute Face. To master effortless looks that won't waste time, the Laura Mercier The Flawless Face Book ($35.40) offers five must-have makeup for fuss-free makeup application.
For Easy Touch Ups. Don't let the heat and humidity compromise your beauty looks. Thanks to the amazing staying power of the Guerlain Meteorites Travel Touch Voyage Powder ($49.99) your foundations, concealers and creams can stay intact all day long.
For A Five Piece Regimen. It may seem impossible to pack away all your skincare needs, but the Payot Travel Set ($84.38) makes this notion a little more realistic, as it offers miniature versions of your skin saving favorites.
For Hydrated Skin. Moisturizing lotion is one beauty staple you should never go without, so to keep your skin supple and smooth on your vacay, use the Butter London Backstage Basics Signature Lotion ($15.99) to ensure skin elasticity and long lasting hydration.