While December temperatures haven't exactly reached frigid lows, dreaded winter weather will be here sooner than we know it. And as we begin to ward away the winter cold with indoor heat and bundles upon bundles of layers, our skin can become dry and chapped from the constant exposure to the drying heat, and not to mention the icy cold air.
To maintain healthy winter-ready skin, exfoliation is one crucial step to add to your routine. But as routinely you shed away dead and flaking skin, it's also important to replenish your face with essential hydration as well. Failing to moisturize can only leave your skin dehydrated, and not to mention plagued with fine lines and wrinkles overtime. Yikes!
For better (and easier!) moisturization habits, it's wise to introduce some hydrating creams and products to your daily regimen, being that they can keep skin supple, and not to mention buttery smooth. Not sure what kind of toners and lotions to invest in? Here's seven hydrating essentials, sure to beat the winter chill.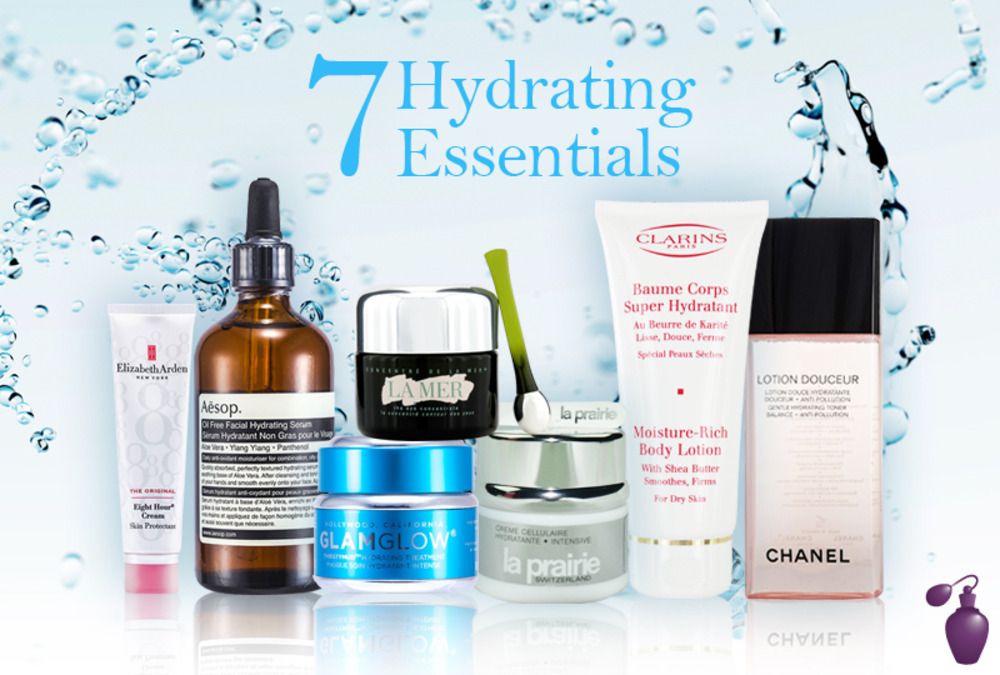 For A Hydrating Cream
Unlike your spring and summer creams, which offer lightweight and effective moisture, winter creams are often thicker in consistency. So, to use such creams properly, you'll want to layer them over serums and facial oils, throughout the day.
For an intensively moisturizing product that lasts for a complete 16 hours, the firming and hydrating La Prairie Time Release Moisture Intensive Cream ($127.99), can be applied on your face both day, and night.
For A Superpowered Toner
Even your daily toners can provide moisturizing benefits essential for healthy skin function. For a moisturizing boost that won't irritate sensitive skin types, trust the Chanel Lotion Douceur Gentle Hydrating Toner ($48.99) to give skin that silky and noticeably smoother feel.
For Softening Serum
To give your creams a helping hand, the Aesop Oil Free Facial Hydrating Serum ($89.99) brings nourishing aloe, antioxidants and Vitamins right to your complexion.
For A Moisturizing Facial Treatment
Aside from creams and serums, facial treatments like masks can perk up dried and dehydrated skin in no time. But being that dried skin can also be extremely sensitive (and painful), it's important to treat your skin with caution.
For a mask that won't leave your complexion sore and irritable, the Glamglow Thirstymud Hydrating Treatment ($58.99) leaves your face glowing, and free of unbearable dryness.
For Softer Lips
Like most parts of our face, our lips are not immune from frustrating dryness. So to keep your pucker supple and totally kissable, use the Elizabeth Arden Eight Hour Cream Tube ($22.99), for maximum protection at all times
For Eyes
Being that the skin around your eyes is the thinnest, it's important to treat your peepers to some essential moisture. For an eye cream that both hydrates and protects your eyes from signs of aging, the La Mer The Eye Concentrate ($239.99) leaves the eyezone luminous and healthy.
For A Softer Body
While we're so quick to treat our complexion to moisturizing products, it's important to note that the skin surrounding our body can get neglected in the process. To treat your arms and legs to a burst of beneficial moisture, the Clarins New Moisture-Rich Body Lotion ($35.99) employs softening shea butter, to both smooth and treat dry skin.
While the holiday season usually brings shades of red and green to mind, it can be difficult to bring such festive colors into our everyday looks. And sure merry shades like these look fantastic on your nails, but if you're searching for a seasonal palette that you can wear for both work and play, opting for a silver and gold palette makes a good alternative to the usual Christmas colors.
No matter your skin tone, wearing silver and gold can be surely flattering, if worn properly. Looking for subtle yet stunning ways to wear silver and gold tones? Here's six products to achieve that festive look easily.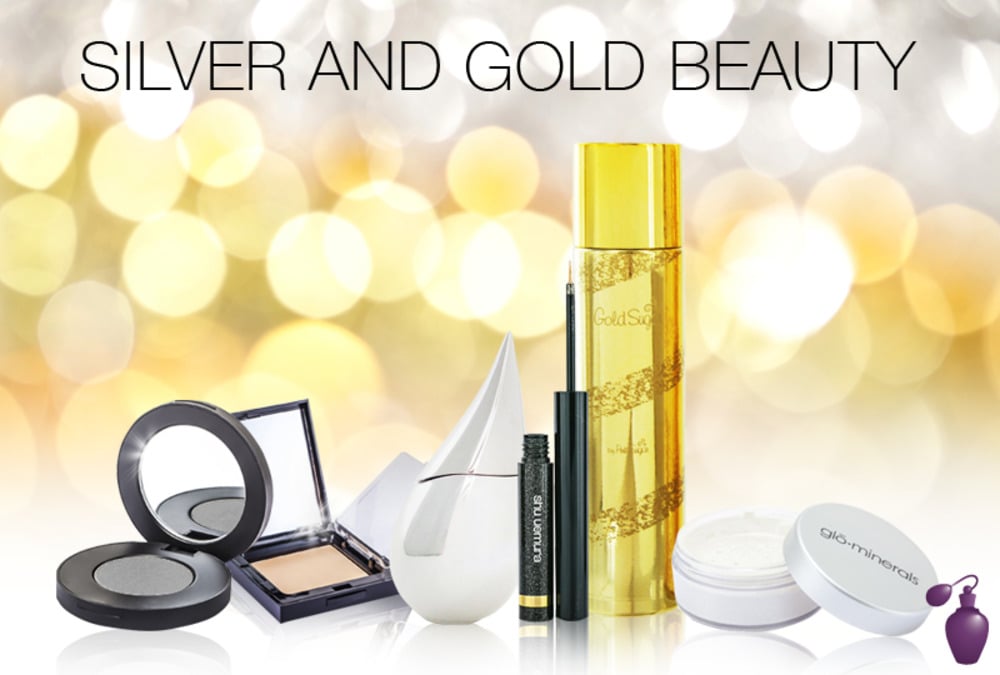 Youngblood Pressed Individual Eyeshadow, Platinum ($18.99) Upgrade your smokey eyes with a pop of silver shadow. And great for any New Year's Eve looks coming up, this basic shadow doesn't crease, or smudge upon application.
Fusion Beauty Ultraflesh Ninja Star 18 Karat Gold Dual Finish Moisturizing Powder, Suffused ($30.99) Looking to give your complexion a boost? This 18 Karat gold powder gives skin an instant burst of warmth and radiance.
Glominerals Glodust 24K Highlight Powder, Silver ($46.99) Prefer a cool silver tint to your complexion? This loose powder brings that icy snow kissed look to your eyes and cheeks, without looking too unnatural in the process.
Shu Uemura Metal Ink Liquid Eye Liner, G Champagne ($41.99) For a changeup on your go-to cateye, this champagne colored liquid liner provides a sparkly edge to your lids.
La Prairie Silver Rain Eau De Parfum ($88.89) Your signature scent also gets the silver treatment thanks to this sizzling scent, filled with an alluring fusion of red peppercorns, indian tuberose and tonka bean.
Viva La Juicy Gold Couture Eau De Parfum Spray ($73.99) Feel absolutely irresistible thanks to this stunning scent, laced with notes of golden amber, melted caramel and vanilla.
In the midst of the glamour of rehearsing for a new show and releasing a new song on itunes, Carmen Electra marked the debut of her signature fragrance. The new fragrance, "Carmen Electra" is a sexy and playful fragrance with a seductive trail meant to stop any man in his tracks. The fragrance opens with a cocktail of Juicy Mandarin, Peach Nectar and Wild Blackberry before falling onto a bed of Gardenia Petals, Night Blooming Jasmine and Tiger Orchid.
After spending the evening at the Ex lsle premiere party, we caught up with the newly scented fragrance star to interview her and to talk about the art of her fragrance.
FragranceNet.com: What made you want to create your own signature scent?
Carmen Electra: Creating my own signature scent is something I've always wanted to do. I was given the opportunity to be part of the process from the ground up; everything that went into it, including the design of the bottle. I feel grateful to have the opportunity to be creative and express myself in a way I have never done before. It was also a wonderful learning experience.
FragranceNet.com: What was your inspiration behind the fragrance?
Carmen Electra: For me, different scents can being back so many memories. You can be reminded of a certain person or maybe a certain time in your life. I guess I was inspired by the magic that links scent with memory and emotions.
FragranceNet.com: What would you say is the one thing about your fragrance that makes it unforgettable?
Carmen Electra: The way the scent makes you feel. It's a sexy scent and everyone deserves to feel sexy.
FragranceNet.com: What's one fragrance tip that you can give your fans?
Carmen Electra: Wear layers! That'll really make the fragrance notes stand out.
FragranceNet.com: Your red lips are your signature and it really stands out on the fragrance bottle! Can you tell me what's your favorite red lipstick?
Carmen Electra: My favorite red lip stick is by MAC. It's called "Russian Red." The lip liner I use with it is called "Cherry," also by MAC.
FragranceNet.com: You talk about how this fragrance is meant to make a woman feel sexy. What does sexy mean to you?
Carmen Electra: Sexy to me, means being fearless, self-confident, and not afraid to be yourself.
FragranceNet.com: What's one quote that you tell yourself for inspiration when you're feeling down?
Carmen Electra: One of my favorite inspirational quotes when I'm feeling down would be from Bob Marley. "You never know how strong you are, until being strong is the only choice you have."
FragranceNet.com: What's the first thing that you notice about someone when you first meet them?
Carmen Electra: The first thing I notice about people when I meet them is their eyes, and if they keep eye contact. I can tell a lot about a person's character by looking into their eyes.
FragranceNet.com: How has your beauty routine changed over the years?
Carmen Electra: There used to be a time when I would fall asleep in my makeup. I soon realized how unhealthy and damaging that can be to your skin. I always make sure to wash my face and moisturize my skin before bed to keep my skin healthy and to prevent breakouts.
FragranceNet.com: Are there any products or treatments that you rely on to make you feel your best?
Carmen Electra: For me, there's nothing better than an amazing facial and massage to make me feel my best after a long, stressful work week.
Watch Carmen Electra's behind-the-scenes at the fragrance shoot.