Seven Hydrating Essentials To Beat The Winter Chill
Posted by Anonymous on Fri, 12/18/2015 - 8:23 PM
While December temperatures haven't exactly reached frigid lows, dreaded winter weather will be here sooner than we know it. And as we begin to ward away the winter cold with indoor heat and bundles upon bundles of layers, our skin can become dry and chapped from the constant exposure to the drying heat, and not to mention the icy cold air.
To maintain healthy winter-ready skin, exfoliation is one crucial step to add to your routine. But as routinely you shed away dead and flaking skin, it's also important to replenish your face with essential hydration as well. Failing to moisturize can only leave your skin dehydrated, and not to mention plagued with fine lines and wrinkles overtime. Yikes!
For better (and easier!) moisturization habits, it's wise to introduce some hydrating creams and products to your daily regimen, being that they can keep skin supple, and not to mention buttery smooth. Not sure what kind of toners and lotions to invest in? Here's seven hydrating essentials, sure to beat the winter chill.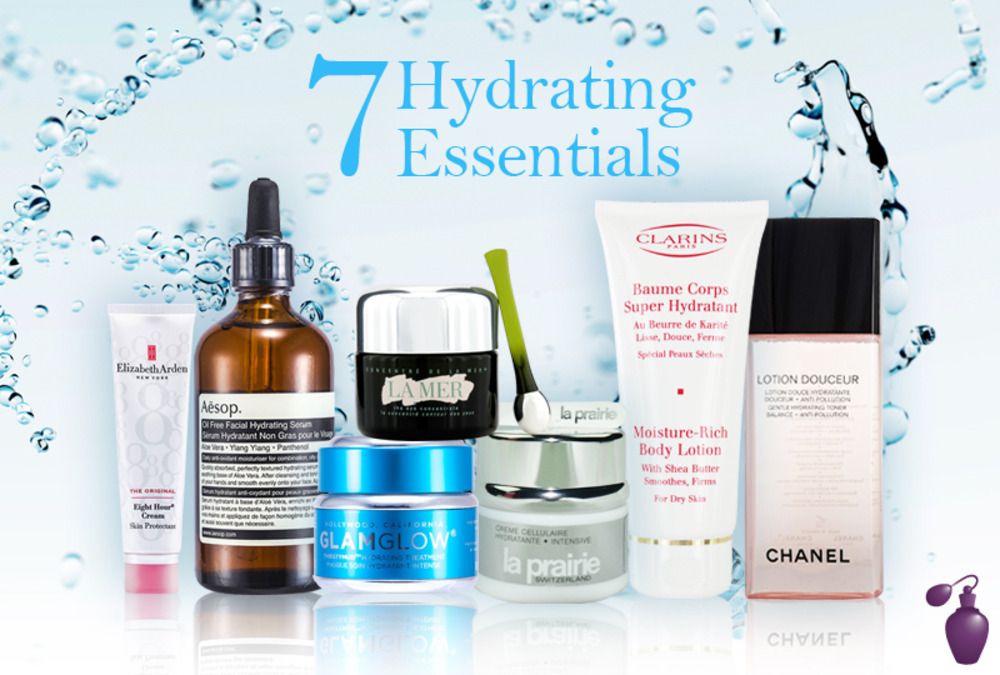 For A Hydrating Cream
Unlike your spring and summer creams, which offer lightweight and effective moisture, winter creams are often thicker in consistency. So, to use such creams properly, you'll want to layer them over serums and facial oils, throughout the day.
For an intensively moisturizing product that lasts for a complete 16 hours, the firming and hydrating La Prairie Time Release Moisture Intensive Cream ($127.99), can be applied on your face both day, and night.
For A Superpowered Toner
Even your daily toners can provide moisturizing benefits essential for healthy skin function. For a moisturizing boost that won't irritate sensitive skin types, trust the Chanel Lotion Douceur Gentle Hydrating Toner ($48.99) to give skin that silky and noticeably smoother feel.
For Softening Serum
To give your creams a helping hand, the Aesop Oil Free Facial Hydrating Serum ($89.99) brings nourishing aloe, antioxidants and Vitamins right to your complexion.
For A Moisturizing Facial Treatment
Aside from creams and serums, facial treatments like masks can perk up dried and dehydrated skin in no time. But being that dried skin can also be extremely sensitive (and painful), it's important to treat your skin with caution.
For a mask that won't leave your complexion sore and irritable, the Glamglow Thirstymud Hydrating Treatment ($58.99) leaves your face glowing, and free of unbearable dryness.
For Softer Lips
Like most parts of our face, our lips are not immune from frustrating dryness. So to keep your pucker supple and totally kissable, use the Elizabeth Arden Eight Hour Cream Tube ($22.99), for maximum protection at all times
For Eyes
Being that the skin around your eyes is the thinnest, it's important to treat your peepers to some essential moisture. For an eye cream that both hydrates and protects your eyes from signs of aging, the La Mer The Eye Concentrate ($239.99) leaves the eyezone luminous and healthy.
For A Softer Body
While we're so quick to treat our complexion to moisturizing products, it's important to note that the skin surrounding our body can get neglected in the process. To treat your arms and legs to a burst of beneficial moisture, the Clarins New Moisture-Rich Body Lotion ($35.99) employs softening shea butter, to both smooth and treat dry skin.