While the holiday season usually brings shades of red and green to mind, it can be difficult to bring such festive colors into our everyday looks. And sure merry shades like these look fantastic on your nails, but if you're searching for a seasonal palette that you can wear for both work and play, opting for a silver and gold palette makes a good alternative to the usual Christmas colors.
No matter your skin tone, wearing silver and gold can be surely flattering, if worn properly. Looking for subtle yet stunning ways to wear silver and gold tones? Here's six products to achieve that festive look easily.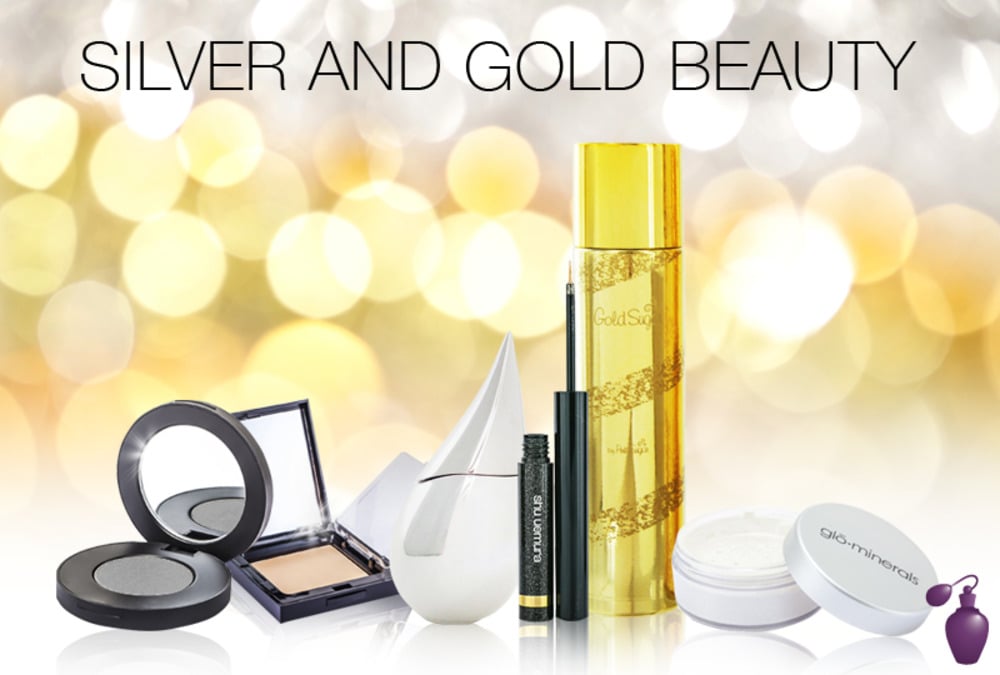 Youngblood Pressed Individual Eyeshadow, Platinum ($18.99) Upgrade your smokey eyes with a pop of silver shadow. And great for any New Year's Eve looks coming up, this basic shadow doesn't crease, or smudge upon application.
Fusion Beauty Ultraflesh Ninja Star 18 Karat Gold Dual Finish Moisturizing Powder, Suffused ($30.99) Looking to give your complexion a boost? This 18 Karat gold powder gives skin an instant burst of warmth and radiance.
Glominerals Glodust 24K Highlight Powder, Silver ($46.99) Prefer a cool silver tint to your complexion? This loose powder brings that icy snow kissed look to your eyes and cheeks, without looking too unnatural in the process.
Shu Uemura Metal Ink Liquid Eye Liner, G Champagne ($41.99) For a changeup on your go-to cateye, this champagne colored liquid liner provides a sparkly edge to your lids.
La Prairie Silver Rain Eau De Parfum ($88.89) Your signature scent also gets the silver treatment thanks to this sizzling scent, filled with an alluring fusion of red peppercorns, indian tuberose and tonka bean.
Viva La Juicy Gold Couture Eau De Parfum Spray ($73.99) Feel absolutely irresistible thanks to this stunning scent, laced with notes of golden amber, melted caramel and vanilla.
Gold is desirable in any size, shape or form. No matter what it seems to be, whether it's jewelry, fashion, or fragrance, gold is typically top notch, and oh-so-irresistible. Naturally, we chose these 6 gold-acious fragrances that make us melt after we sniff a spray!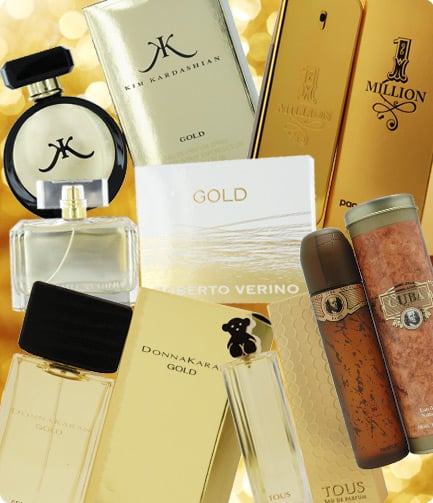 They say all that glitters is gold, and that is 100% true with Donna Karan's Gold Sparkling perfume. Spray some of this on your pulse points and you'll smell of lovely notes including fruits, amber, Casablanca Lily petals, citrus, and berry.
For a feminine, floral fragrance with a twinge of oriental uniqueness, Tous Gold perfume is the perfect choice. With additional notes of amber, vanilla, spice, this scent is the perfect balance between sweet sugar and spice.
Kim Kardashian's Gold perfume is quite pleasant, surprisingly mild and great for casual use. Gold is a luxurious fragrance with the tagline that claims it to "transcend ordinary". Notes include bergamot, grapefruit and pink pepper, along with blends of patchouli, sandalwood, amber and creamy benzoin.
Love a floral, woody scent? We couldn't resist…Gold Roberto Verino for Women is THE floral, woody, powdery scent any woman will love to wear. A great night scent, this fragrance opens with bergamot and gardenia and middle notes of rose, jasmine, iris root and white peony. If you never tried it or had it, you will want it!

Top seller Cuba Gold is no wonder a top cologne for men with it's exotic essence of bergamot, lavender and vetiver blended with woods and jasmine. It's the ultimate masculine scent and what better than it's inspiration of the Cuban cigar.
Another top selling men's cologne, Paco Rabanne 1 Million cologne has main accords of warm spices, citrus, cinnamon and woody scents. It's fresh and sensual, with a glittery shine of gold. This cologne was created and inspired by Paco Rabanne's metallic fashion, which he said, "In all civilizations and religions gold has always managed to seduce people