While December temperatures haven't exactly reached frigid lows, dreaded winter weather will be here sooner than we know it. And as we begin to ward away the winter cold with indoor heat and bundles upon bundles of layers, our skin can become dry and chapped from the constant exposure to the drying heat, and not to mention the icy cold air.
To maintain healthy winter-ready skin, exfoliation is one crucial step to add to your routine. But as routinely you shed away dead and flaking skin, it's also important to replenish your face with essential hydration as well. Failing to moisturize can only leave your skin dehydrated, and not to mention plagued with fine lines and wrinkles overtime. Yikes!
For better (and easier!) moisturization habits, it's wise to introduce some hydrating creams and products to your daily regimen, being that they can keep skin supple, and not to mention buttery smooth. Not sure what kind of toners and lotions to invest in? Here's seven hydrating essentials, sure to beat the winter chill.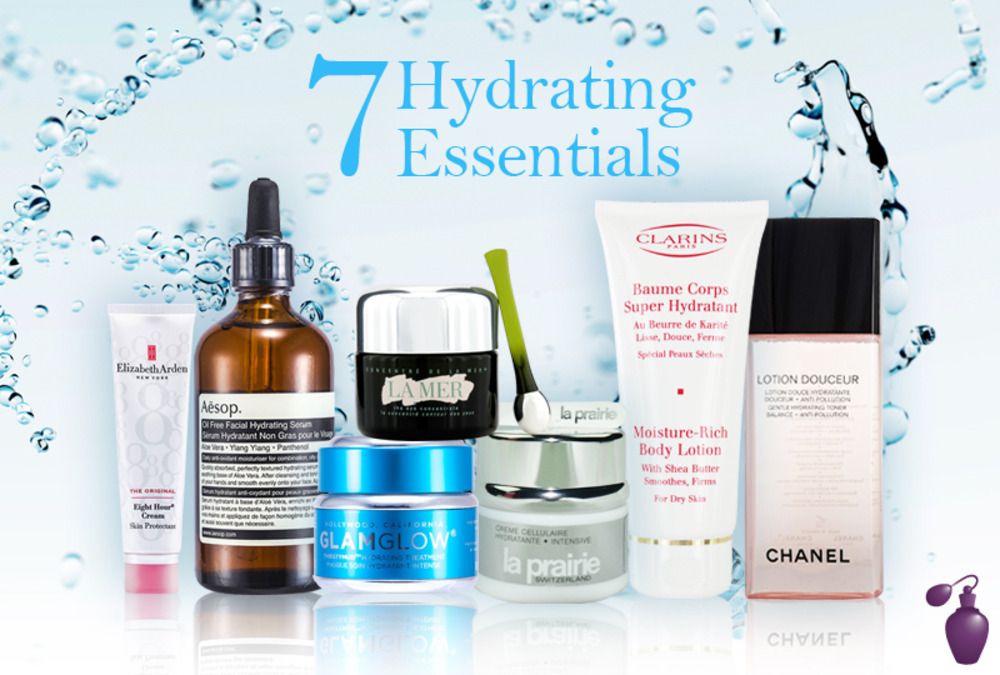 For A Hydrating Cream
Unlike your spring and summer creams, which offer lightweight and effective moisture, winter creams are often thicker in consistency. So, to use such creams properly, you'll want to layer them over serums and facial oils, throughout the day.
For an intensively moisturizing product that lasts for a complete 16 hours, the firming and hydrating La Prairie Time Release Moisture Intensive Cream ($127.99), can be applied on your face both day, and night.
For A Superpowered Toner
Even your daily toners can provide moisturizing benefits essential for healthy skin function. For a moisturizing boost that won't irritate sensitive skin types, trust the Chanel Lotion Douceur Gentle Hydrating Toner ($48.99) to give skin that silky and noticeably smoother feel.
For Softening Serum
To give your creams a helping hand, the Aesop Oil Free Facial Hydrating Serum ($89.99) brings nourishing aloe, antioxidants and Vitamins right to your complexion.
For A Moisturizing Facial Treatment
Aside from creams and serums, facial treatments like masks can perk up dried and dehydrated skin in no time. But being that dried skin can also be extremely sensitive (and painful), it's important to treat your skin with caution.
For a mask that won't leave your complexion sore and irritable, the Glamglow Thirstymud Hydrating Treatment ($58.99) leaves your face glowing, and free of unbearable dryness.
For Softer Lips
Like most parts of our face, our lips are not immune from frustrating dryness. So to keep your pucker supple and totally kissable, use the Elizabeth Arden Eight Hour Cream Tube ($22.99), for maximum protection at all times
For Eyes
Being that the skin around your eyes is the thinnest, it's important to treat your peepers to some essential moisture. For an eye cream that both hydrates and protects your eyes from signs of aging, the La Mer The Eye Concentrate ($239.99) leaves the eyezone luminous and healthy.
For A Softer Body
While we're so quick to treat our complexion to moisturizing products, it's important to note that the skin surrounding our body can get neglected in the process. To treat your arms and legs to a burst of beneficial moisture, the Clarins New Moisture-Rich Body Lotion ($35.99) employs softening shea butter, to both smooth and treat dry skin.
Halloween makeup can surely be unique and fun to apply, but sometimes those fake wounds and clown faces can be really hard to get off once the night is finally over.
While you don't need to be a trained makeup artist to remove your makeup properly, you'll definitely need some handy tools to ensure that all traces of foundations and shadows are totally off your face. But before you run to the store and grab whatever makeup remover you can find, know that not no two makeup removing products are the same.
To help you find your best makeup remover match, we've selected six different products which guarantee a clean and makeup-free face in no time. And suitable for different skin types (and needs!), you don't have to worry about pesky irritation in the process.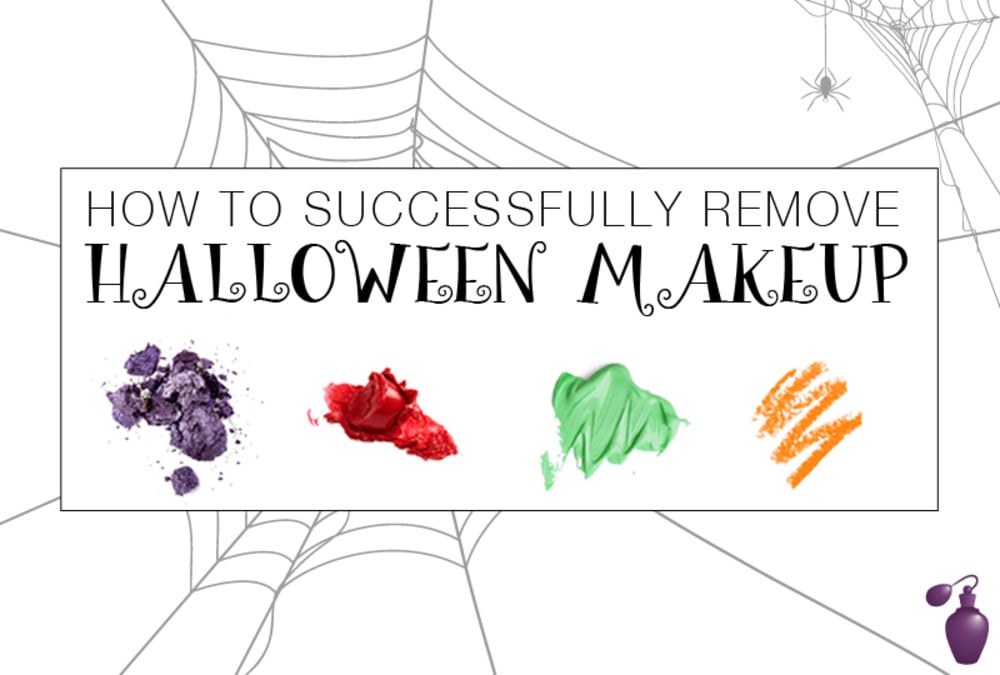 For Sensitive Skin Types...Promising a gentle clean, the delicate Borghese Gentle Makeup Remover ($23.99) removes stubborn makeup, while soothing temperamental skin in the process . Also suitable for contact lens wearers as well, you don't have to worry about this cleanser irritating your eyes.
For A Hypoallergenic Clean...Some makeup removers can be hard on your skin, as harsh irritants and alcohols can leave your skin irritated and inflamed. For a more hypoallergenic approved formula, the Clinique Take The Day Off Makeup Remover ($23.99) removes makeup on the lids, lash and lip areas instantly.
For A Lotion Product...If your skin is a bit on the dry side, than this method of cleansing is definitely for you. Lotions can also can just as effective as gel and oil based removers, so for soft and pleasant smelling clean, enjoy the Estee Lauder Take It Away Makeup Remover Lotion ($30.99), which leaves skin soft and smooth, without a greasy feel or residue.
For A Cleansing Milk...Similar to makeup removing lotions, cleansing milk products like the Sisley Botanical Cleansing Milk With White Lily ($85.99), gives you a thorough and gentle cleanse each and every time. And powerful enough to remove light and long wear makeup, this skin softening milk also leaves this skin supple and hydrated.
For Heavy Makeup Removal...Face paints and liquid liner can be hard to remove with just soap and water alone. To take these products off with ease, you're going to want to use a waterproof busting formula like the Clarins Instant Eye Makeup Remover ($23.99), which easily lifts water resistant makeup in seconds.
For Makeup Remover Wipes...Portable and totally convenient, the Estee Lauder Take It Away Longwear Makeup Remover Towelettes ($28.99) speedily removes makeup wherever, whenever. Also hydrating and softening the skin, this type of product works great on all skin types too.
FragranceNet
#FNETParty Guess What's In Our Box Twitter Sweepstakes Official Rules
NO PURCHASE OR PAYMENT NECESSARY TO ENTER OR WIN. A purchase or payment will not improve your chances of winning. ODDS OF WINNING DEPEND ON THE NUMBER OF ELIGIBLE ENTRIES TIMELY RECEIVED.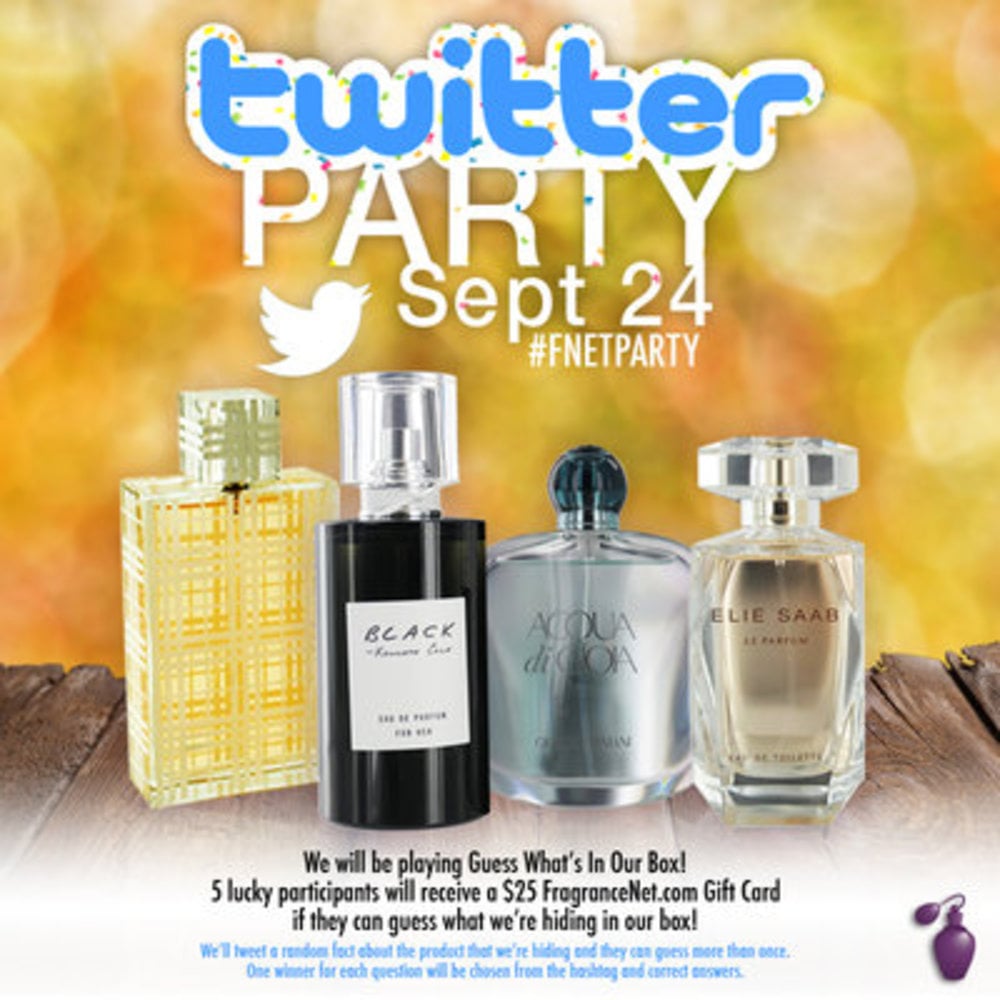 The #FNETParty Guess What's In Our Box Sweepstakes ("Sweepstakes") is sponsored by FragranceNet.com, Inc. ("Sponsor"). The Sweepstakes entry period ("Entry Period") is specified below and designates the time in which all entries must be received. Eastern Time shall control for all purposes of this Sweepstakes. Sponsor's clock shall be the official timekeeper for the Sweepstakes. The Sweepstakes is governed by these Official Rules and is subject to all applicable federal, state and local laws and regulations. Void where prohibited.
1. Eligibility. The Sweepstakes is open only to legal residents of the 50 United States who are 18 years of age or older at the time of entry. Proof of residency and age may be required prior to award of any prize. Employees, officers and directors of Sponsor, its affiliates, partners, advertising and Sweepstakes agencies, and their immediate families or members of the same household (whether related or not) of such employees/officers/directors are not eligible to enter. "Immediate family members" shall mean parents, step-parents, children, step-children, siblings, step-siblings, or spouses, regardless of where they live. "Household members" shall mean people who share the same residence at least three months a year, whether related or not. In order to enter the Sweepstakes or receive the prize, you must fully comply with the Official Rules and, by entering, you represent and warrant that you agree to be bound by these Official Rules and the decisions of the Sponsor, whose decisions shall be binding and final in all respects relating to this Sweepstakes.
2. How to enter. To participate in the Sweepstakes, you must have a valid Twitter account. If you do not already have an Twitter account, you can create one free of charge at www.Twitter.com. To enter the Sweepstakes, during the Entry Period: (1) follow FragranceNet.com on Twitter; (2) bring some friends and tweet with us @FragranceNet using the hashtag #FNETParty. We'll be chatting about the best beauty & fragrance products to use during the summer! Also, we'll be playing Guess What's In Our Box! 5 lucky participants will receive a $25 FragranceNet.com gift card if they can guess what we're hiding in our box! We'll tweet a random fact about the product that we're hiding and participants can guess more than once. One winner with the correct answer will be chosen for each question. Make sure you use our hashtag #FNETParty during the entire party so we can see your tweets! Limit one (1) person per household may enter during the Sweepstakes Period. Use of any automated system to participate is prohibited and will result in disqualification. Entrants are eligible to win only one (1) Twitter contest in any ninety (90) day period with FragranceNet.com, Inc. Although it is free to enter, standard message and data charges may be incurred if you use your mobile device to enter the Sweepstakes. Entries will be deemed to have been submitted by the authorized account holder of the Twitter account from which the entry post was made, as identified by the authorized account holder of the primary email address associated with that account. "Authorized account holder" is defined as the natural person who is assigned to an email address by an Internet access provider, online service provider or organization (e.g., business, educational institution, etc.) that is responsible for assigning email addresses for the domain associated with that email address.
All entries become the property of Sponsor upon receipt and will not be acknowledged or returned.
3. Entry dates. Online entry for the Sweepstakes is open during the following entry period:
Start date: Thursday, September 24, 2015 1:00 pm (ET) – End date Thursday, September 24, 2015 2:00 pm (ET)
All entries must be received by Thursday, August 20, 2015 at 11:59pm ET. After each Entry Period, Sponsor or its designee will conduct a random drawing using randomization methods selected by Sponsor, in its sole and absolute discretion, and select one (1) potential prize winner from all eligible entries received during the applicable Entry Period. Winners will be contacted with a reply to their original Facebook post and sent a Private Message. Winners will also be announced approximately two business days after the closing date of the competition. All decisions of Sponsor on all matters relating to this Sweepstakes, including, without limitation, the selection and determination of winners of this Sweepstakes shall be final and binding. The potential winner may be required to sign and return an Affidavit of Eligibility, Release of Liability and Publicity Release (where permitted by law) and/or other related documents (collectively, the "Affidavit") by the date or within the time frame specified by Sponsor or an alternate winner may be selected. If potential winner is under the age of majority in its state of legal residence, the prize will be awarded to winner's parent or legal guardian and the Affidavit must be executed by such parent or legal guardian. If a potential winner is not able to be contacted by Sponsor within seven (7) days following the date notice or attempted notice is sent, declines, fails to return any required documents, does not complete the verification process within thirty (30) days, or is otherwise not in compliance with these Official Rules, the prize may, in Sponsor's sole and absolute discretion, be forfeited and/or awarded to an alternate winner.
4. Prizes. 5 lucky participants will receive one (1) $25 FragranceNet.com gift card ("Prize") if they can guess what we're hiding in our box! We'll tweet a random fact about the product that we're hiding and you can guess more than once. One (1) winner with the correct answer will be chosen for each question. The approximate retail value ("ARV") of the prizes will vary depending upon the prize awarded but each prize will not, under any circumstance, exceed an ARV of $500. Prizes will be as announced on the FragranceNet.com Twitter page. If prize or any portion thereof is not accepted, is unclaimed or unused by a winner, it will be forfeited and will not be substituted. No transfer, refund, cash redemption, substitution or replacement of prize or any prize component permitted, except that Sponsor reserves the right, in its sole discretion, to substitute a prize of equal or greater value (or cash equivalent) if a stated prize is unavailable or for any other reason. The prize winner will receive a message from Sponsor with additional instructions on how to collect prize. Winners are responsible for any taxes payable on prizes. Prizes will be awarded only if the potential prize winner fully complies with these Official Rules. All costs and expenses associated with the acceptance and/or use of a prize to the extent not expressly stated herein as being awarded, including without limitation all federal, state and local taxes, are the sole responsibility of the winner. SUCH PRIZES ARE PROVIDED "AS IS" WITHOUT WARRANTY OF ANY KIND, EITHER EXPRESS OR IMPLIED, AND SPONSOR HEREBY DISCLAIMS ALL SUCH WARRANTIES, INCLUDING BUT NOT LIMITED TO, THE IMPLIED WARRANTIES OF MERCHANTABILITY, FITNESS FOR A PARTICULAR PURPOSE AND/OR NON-INFRINGEMENT.
5. License/Usage. By entering the Sweepstakes, entrants fully and unconditionally agree to be bound by these Official Rules, which will be final and binding in all matters relating to the Sweepstakes. By entering, winner/s agree to that Sponsor or its designees may use their names, photographs, likenesses, biographical information, city and state of residence and/or statements made by winner/s regarding the Sweepstakes or Sponsor, for purposes of advertising, trade, or promotion in any media (now known or hereafter known) throughout the world in perpetuity, without further compensation, notification or permission, unless prohibited by law. Nothing contained herein shall be deemed to obligate Sponsor to make use of any of the rights granted herein and winner/s waives any right to inspect or approve any such use of any and every nature and kind.
6. Release and Liability. By entering this Sweepstakes, each entrant releases, holds harmless, covenants not to sue, and forever discharges Sponsors, Twitter, and their respective parent companies, affiliates and subsidiaries, retailers, divisions, advertising and Sweepstakes agencies, and all others associated with the development and execution of this Sweepstakes, and each of their respective directors, officers, employees, agents, shareholders, representatives, successors and assigns (all such individuals and entities collectively referred to herein as, the "Released Parties"), from, against, and as to any and all third-party claims, actions, damages, losses, liabilities, costs, expenses, injuries or causes of action of any kind that in any way now or hereinafter may arise from or relate to the Sweepstakes including without limitation, in connection with (i) the administration of the Sweepstakes, including without limitation typographical, printing, seeding, human or other errors relating to or in connection with this Sweepstakes, the processing of entries, the announcement of any prizes or any related materials, inaccurate, fraudulent, incomplete, illegible, late, lost, stolen, misdirected, undelivered, incomplete, damaged or postage due entries or mail, or any delays in delivery or lack of availability of any prize or prize materials, and/or (ii) entrant's participation in this Sweepstakes or acceptance or use of any prize, or participation in any prize-related activities, including but not limited to any travel related thereto, and death and bodily injury, due in whole or in part, directly or indirectly, to participation in the Sweepstakes or any Sweepstakes-related activity. No more than the stated number of prizes will be awarded. Sponsor reserves its right, at its sole discretion, to disqualify any individual who tampers in any way with the any part of the Sweepstakes and/or who submits a fraudulent entry or an entry not otherwise in accordance with these Official Rules, and to cancel, terminate, modify or suspend the Sweepstakes or any element thereof. Sponsor reserves the right in its sole discretion to disqualify any individual who is found to be acting in violation of these Official Rules; in an unsportsmanlike or disruptive manner, or with the intent to disrupt or undermine the legitimate operation of the Sweepstakes; or with the intent to annoy, abuse, threaten or harass any other person. Without limiting the foregoing, in the event Sponsor is prevented from continuing with the Sweepstakes as contemplated herein by any event beyond its control, including, but not limited to, fire, flood, epidemic or other national health emergency, earthquake, explosion, labor dispute or strike, act of God or public enemy, satellite or equipment failure, riot or civil disturbance, terrorist threat or activity, war (declared or undeclared,) or any federal, state or local government law, order, or regulation, order of any court or jurisdiction, public health crisis, or other cause not reasonably within Sponsor's control, then Sponsor shall have the right, in its sole discretion, to modify, suspend, extend or terminate the Sweepstakes.
7. Disputes. Except where prohibited, entrants agrees that any and all disputes, claims and causes of action arising out of, or connected with, the Sweepstakes or any prize awarded shall be resolved individually, without resort to any form of class action, and exclusively by the appropriate court located in the Courts of the State of New York for Suffolk County. Entrants hereby irrevocably consent to the personal jurisdiction of said courts and waive any claim of forum non conveniens or lack of personal jurisdiction that they may have. All issues and questions concerning the construction, validity, interpretation and enforceability of these Official Rules, entrant's rights and obligations, or the rights and obligations of the Sponsor in connection with the Sweepstakes, shall be governed by, and construed in accordance with, the laws of the State of New York without giving effect to any choice of law or conflict of law rules (whether of the State of New York or any other jurisdiction), which would cause the application of the laws of any jurisdiction other than the State of New York. The remedy for any claim shall be limited to actual damages, and in no event shall any party be entitled to recover, and the parties hereby waive all rights to claim, indirect, punitive, exemplary, consequential, or incidental damages, including attorney's fees or other such related costs of bringing a claim, or to rescind this agreement or seek injunctive or any other equitable relief or to have damages multiplied or otherwise increased.
THE PARTIES HEREBY WAIVE THEIR RIGHT TO JURY TRIAL WITH RESPECT TO ALL CLAIMS AND ISSUES ARISING OUT OF OR RELATING TO THIS AGREEMENT WHETHER SOUNDING IN CONTRACT OR TORT, AND INCLUDING ANY CLAIM FOR FRAUDULENT INDUCEMENT THEREOF.
8. Use of Data. Sponsor will be collecting personal data about entrants online, in accordance with its privacy policy. Please review the Sponsor's privacy policy athttps://www.fragrancenet.com/f/net/privacy.html. By participating in the Sweepstakes, entrants hereby agree to Sponsor's collection and usage of their personal information and acknowledge that they have read and accepted Sponsor's privacy policy.
9. Sponsor. FragranceNet.com, Inc. 900 Grand Blvd, Deer Park, NY 11729. The Sweepstakes is in no way sponsored, endorsed or administered by, or associated with, Twitter. Any and all questions, comments or complaints regarding the Sweepstakes must be directed solely to Sponsor, not Twitter. You are providing your information to Sponsor (FragranceNet.com), not to Twitter.
10. Winner List. To obtain a copy of the winners' list, send a self-addressed, stamped envelope to: FragranceNet.com, Inc. Win What You Want Sweepstakes, 900 Grand Blvd, Deer Park, NY 11729 within 90 days of the winner announcement.