Everything You Need to Pack For Your Summer Adventures
Once the summer season rolls around, upcoming traveling plans can definitely cause you to pick and choose which beauty items you'll definitely bring along. And although these types of decisions can be hard, finding TSA-approved products doesn't' have to be a challenge.
To spare you the stress and agony of finding the perfect travel-friendly loot, we've already done the task of finding ten beauty essentials you'll definitely need. From portable soap to pint sized tweezers, trust these pampering lifesavers to keep you gorgeous all summer long.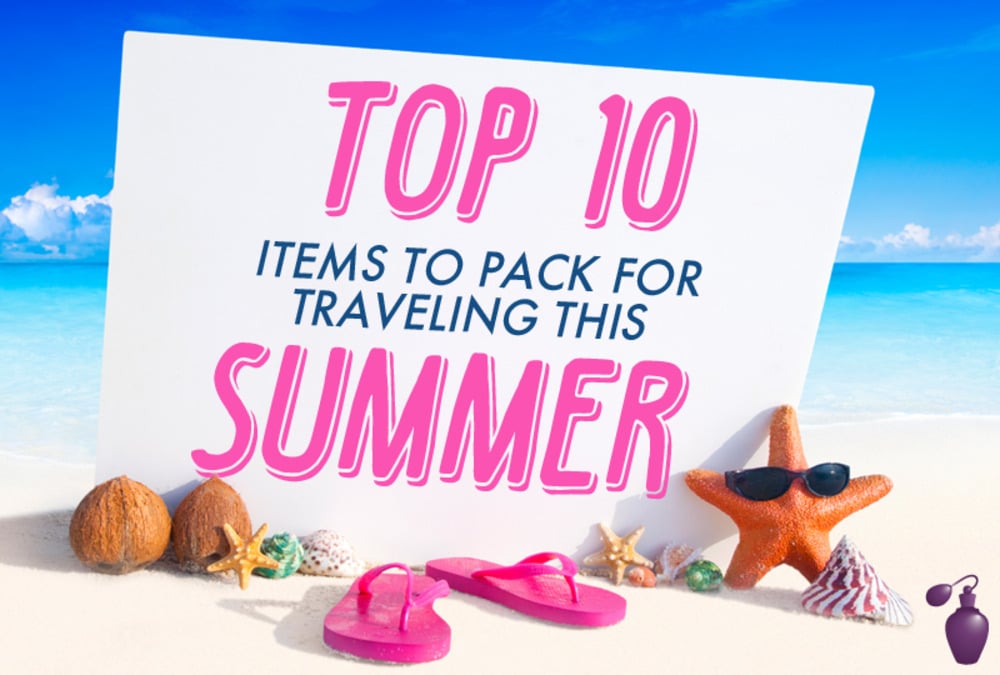 For Portable Fragrances. Although you'll definitely be tempted to bring your signature fragrance wherever you go, strict TSA rules can really throw a serious wrench in your plans. For a convenient way to haul all your favorite fragrances, we love the Perfume Travel Atomizer, ($9.99) as it effectively stores your favorite scents without unwanted spilling and leakage.
For Melt Proof Makeup. If you are traveling somewhere warm and exotic this summer, you'll definitely want to keep your face up to speed with the coming sweat and oil. For matte and sweat resistant makeup, trust the Shiseido Pureness Oil-Control Blotting Papers ($21.99) to combat oily skin without disturbing your makeup.
For Fast Makeup Removal. No matter where your travels take you, it's super important to keep your skin cleansed and hydrated. For easy makeup and debris removal, the Lancome Bi Facil Duo Pack Travel Size ($54.99) will definitely come in handy, as it removes stubborn mascara and deep seated impurities with ease.
For Your Daily Cleanse. If you can't take your clunky face washes with you, the Clinique 3 Little Soap ($21.99) easily saves room inside your suitcase. Plus, standing tall against dirt and grime, you don't have to worry about compromising your routine while you're on the go.
For Flawless Brows. To keep your brows in tip top shape, tweak your arches with the Tweezerman Petite Tweeze Set ($30.99). Taming even the most bushy of brows, this two piece set fits nice and neat inside your purse or carryon too.
For A Burst Of Fragrance. Can't part with your favorite perfumes? Thanks to the Amouage Epic Eau De Parfum Travel Spray ($165.99), you can enjoy mini come-hither scents boasting notes of caraway, cinnamon and pink nerium oleander.
For A Five Minute Face. To master effortless looks that won't waste time, the Laura Mercier The Flawless Face Book ($35.40) offers five must-have makeup for fuss-free makeup application.
For Easy Touch Ups. Don't let the heat and humidity compromise your beauty looks. Thanks to the amazing staying power of the Guerlain Meteorites Travel Touch Voyage Powder ($49.99) your foundations, concealers and creams can stay intact all day long.
For A Five Piece Regimen. It may seem impossible to pack away all your skincare needs, but the Payot Travel Set ($84.38) makes this notion a little more realistic, as it offers miniature versions of your skin saving favorites.
For Hydrated Skin. Moisturizing lotion is one beauty staple you should never go without, so to keep your skin supple and smooth on your vacay, use the Butter London Backstage Basics Signature Lotion ($15.99) to ensure skin elasticity and long lasting hydration.