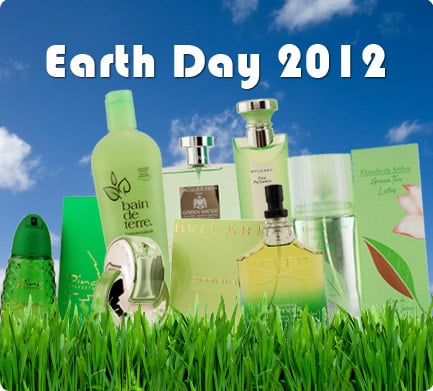 Sunday, April 22nd is indeed Earth Day and we wanted to celebrate in a fun 'green' way. 
We chose fragrances, hair care, skin care, and beauty products that are green, whether it was the color of the packaging or bottle, the fragrance notes, or the ingredients in them, we went green all the way! Take a look at what we came up with and let us know your fave 'green' products in honor of Earth Day!
Pino Silvestre cologne –Introduced in 1955, this romantic scent has fragrance notes of oakmoss, woods and patchouli and is non doubt, masculine and enticing.
Bvlgari Omnia Green Jade perfume – This lovely scent was introduced in 2008 and has yummy notes of pistachio, white woods, spring water, green mandarin, jasmine, pear blossom, musk, white peony, and nasturtium. Does it get greener than that?
Bain De Terre Lemongrass Volumizing Shampoo –An amazing shampoo formulated with botanical herbs and essential oils. This shampoo is high quality, pesticide-free, and extracted from ethically harvested plants using only the purest water.
Bvlgari Green Tea cologne – Introduced in 1997, this was Bvgari's first fragrance, with extracts of green tea blended with jasmine and rose and citrus scents.
Creed Vetiver cologne –Take a guess on this one! Notes include cedar, vetiver and ginger. A classic fragrance with a very fresh, clean scent. Perfect for spring or summer time!
Fujiyama Green by Succes De Paris—This fabulous fragrance features a blend of citrus, sweet florals, green tea, sweet woods and bay leaves.
Yesterday, we launched our first 'Guess the Bottle' contest on Facebook, and we must say EVERYONE who commented, all 186 of you and counting, guessed it is White Diamonds perfume by Elizabeth Taylor. Congrats to the first person to guess it correctly, Tricia M Degregorio! Please email us at social@fragrancenet.com & everyone, stay tuned for our upcoming contests on Facebook & Twitter! Be sure to LIKE us and follow us on Twitter @FragranceNet.

If you've been keeping up with Eau Talk, you may have learned a thing or two about our love for mint!
From accessories to clothes to food to beauty trends, you name it, we're lovin' it! Check out some Pin-spiration below showing you the latest obsession at FragranceNet.com.
Want to get some minty fresh mint infused beauty products? Well, you're in luck, because we've got a handful of those, exclusively for you!
In the mood for some avocado and vanilla mint scent? Get Essential Blend's candle, it smell's delish.
Want your hair to smell minty fresh? Try AVEDA rosemary mint shampoo or Paul Mitchell's Tea Tree lavender mint moisturizing shampoo, both will leave a cool, refreshing tingle for your hair.
Want to smell minty fresh? You'll fall in love with shimmery fragrance solid stick LOVES MINTY CRUNCH by Dana.
Soothe your feet a foot scrub and cream, in nothing else but a mint scent! Calgon's brazilian beauty papaya mint foot scrub & cream are the perfect solution for minty cool feet!
Have any cool mint products you can't live without?Let us know what they are so we can check them out!