Oftentimes we aren't exactly sure what type of fragrance we want. Our moods are everchanging. One day our nose might prefer a fresh and fruity scent, the next day warm and sensual. Here are a few tips to keep in mind when trying out perfumes at the store.
Make sure you aren't wearing any fragrance when you go to test out a new scent.
Use a test blotter if you plan to try several different fragrances. Although testing on skin is the best way, it is not wise if you plan to test many fragrances at once.
Spray the scent onto the blotter and let it dry for a few seconds. Hold the blotter about an inch away from your nose to smell it.
In some specialty stores, they offer cocoa beans to sniff after every few fragrance whiffs. This helps to cleanse your "scent palate."
Once you find a scent you like, try it before you buy it. If time permits, leave the perfume on your skin for the day so you get a general idea of what it smells like later, once it's commingled with your skin chemistry. Then go back and buy it.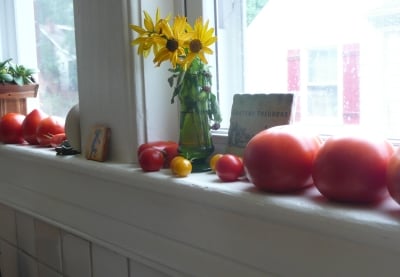 Nothing says summer like garden-ripe, homegrown tomatoes and fresh herbs. And while a caprese salad and homemade salsa are completely agreeable to the taste buds, do they really work in your fragrances?
The fact that, here at FragranceNet we are often sold out of Marc Jacobs Basil perfume and Donna Karan DKNY is a clear indication that, yes, tomato and basil indeed work in fragrance form.
There are other fragrances on the market that contain notes of tomato and basil, including Nina Ricci's Liberty Fizz, CK Truth, Jo Malone Lime Basil, Hermes Un Jardin Sur Le Nil, Annick Goutal Passion, Essential by Lacoste, Sisley Eau de Campagne and Demeter Wet Garden cologne spray.
The greeness of the tomato note often blends well with accenting floral notes, providing an overall crisp, clean aroma … as well as a reminiscent olfactory experience. Let's face it. Nothing really beats the smell of a ripe vegetable garden.
Makes me want a slice of tomato right about now.
Welcome to the official blog of
FragranceNet.com
!We know there are tons of other fragrance blogs out there that are getting it right already. We're not going to try to copycat them. You read those blogs for certain information; information we may not provide as handily… say for instance fragrance launches or reviews of the newest scents.Of course we'll have that information from time to time, but why do something that's already being done … and well? We'll see what happens with this little blog that could. Hopefully, if anything, it'll just be fun to read and give you a peek into our world at FragranceNet.com.My name is Wendy. Comment all you want.
Email me, too
. Tell me when I've missed something, when I'm wrong about something or even just to say you liked a blog entry. We hope you enjoy.