Is it true? Can it be? Can oil diminish and rid stretch marks? With it being bikini season, I figured this year, I'd try something on my bum bum to rid the tiny white stripes that peek through like tiger stripes, rawr. I've read over and over that cocoa butter does the duty, but I've also heard that it doesn't and now I'm just confused as to what to apply on my derriere. But leave it to me to find the solutions to all of my most problematic problems (not really) at work. Of course with our large variety of oils, I decided to take a peek into what we carry in the aromatherapy department and did a little research. Low and behold, the frankincense oil I happened to stumble upon because I liked the name may be the answer to all my stripey, stretch mark prayers. Apparently, frankincense is one of the oldest essential oils and is primarily used for meditation purposes and to improve one's inner balance. So I dug a bit deeper, deep enough to find out that it also can heal stretch marks! It's been said that it can reduce the appearance of scars and stretch marks and even though I haven't tried it yet, I am excited to do so.
How to Use It:
Since the oil is so concentrated, be advised to mix a few drops of the oil into a plain lotion before applying to the desired area. 
What do I plan to do? I think I may just drop some of this (hopefully) magical working oil into some cocoa butter and let it do it's work. I read up that consistency is key, so applying this concoction once or twice won't do a thing, daily application will rid the marks and to maintain it…well, continue applying the diluted frankincense oil with a lotion of your choice to maintain the riddance of those pesky marks. 
Have your own good –riddance stretch mark tip? Let us know what works for you!

If you've ever wanted that sexy, tousled curly hair look, read on. You see, I know you would read on because I don't know one woman who wouldn't dream of having curl-acious, bodacious hair; if you're anything like me, my hair goes from curly to flat in about :30 seconds, flat--literally. I've tried many trusted curling irons and techniques to get those pretty curls, even a slight beachy wave,  but never do they last more than a twirl or two between my fingers. So somewhere in my quest, I've come across Carol's Daughter Hair Milk, a curl booster that promises to tame frizz while defining and enhancing your natural curls. It comes in lotion form with a light, citrusy scent. IT WORKS GREAT! If you apply a small amount on damp hair (a dime sized amount will do) your hair will get the definition and volume you're looking for. This curl booster really delivers. If you have thick hair that can use a bit of moisture, definition, and a boost… try this hair milk product, a perfect treat for your thirsty hair!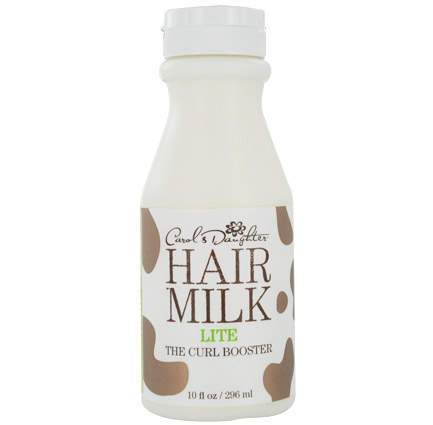 Tape has become an essential part of my daily beauty routine, no joke. Wondering why? Of course you are...who the heck uses tape to apply liquid eyeliner for that perfect cat eye look, or a cool nail design...me, that's who! And now you will too once you see how you can make tape work for you. Read on for the most amazing tips to get the coolest beauty trends out there, down pat and perfect.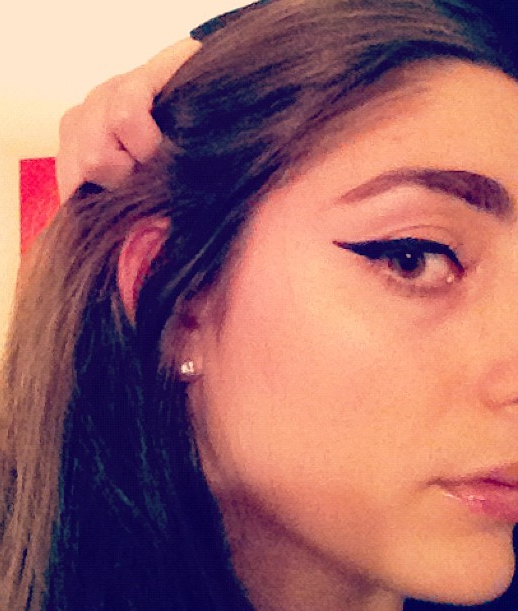 So you want the cool, cat eye trend but aren't quite the beauty artist? Don't have a steady hand, no problem! Grab that handy, dandy tape for a quick, easy, and pain free liquid eyeliner application. First, take a piece of tape the same length as your eye lid. Place the tape on your hand and get rid of it's super stickiness. Once the tape is not so sticky, place one corner of the tape to the inner corner of your eye lid and slightly slant the tape, securing it on your lid until it reaches the outer corner of your eye lid. Perfect! Now grab your liquid eyeliner and go to town with it. Go crazy, get nuts, because you've just created a 'tape template' for the perfect cat eye trend.. Once you've applied the liquid liner to your lid, close to your lash line, extend it as far or as little as you wish. Once the liquid eyeliner has dried, slowly peel off the tape and look at that! Perfection!
Dying to know how else you can use tape to create a unique, fun look? Tape takes nail art to a whole new level, precise perfection is totally in! Use tape to create all sorts of great looks, like the perfect French manicure, or even an amazing color block look, or how does an artsy diagonal line look sound to you?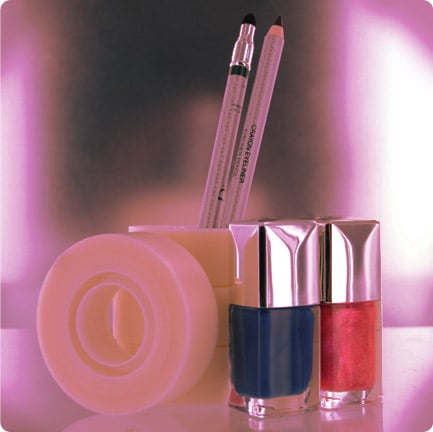 The possibilities are literally endless! Have you tried using tape for a beauty trend lately? PLEASE share with me any beauty tape solutions you have, I'd love to try them out!