Staff pick by Carole: Borghese skincare serum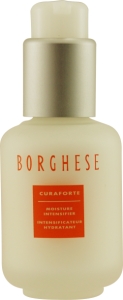 OK, I don't recommend products that often. So when I do, I really have to believe in them. That said, as a woman of a certain age, eh hmm, the kind with mature skin, I have a go to skincare line that works like a charm.
Every morning I use Borghese Cura Forte. It is a liquid serum that absorbs into the skin. I have even used it in place of a moisturizer. My skin feels great after one application. Not taut or dry, just so unbelievably soft.
Then I follow it up with a smattering of Borghese Cura-c Anhydrous Vitamin C body treatment. Even though the product says it is a body treatment I use it on my face. It is not greasy at all. It goes on like butter and absorbs so quickly. Heaven!
--Carole, FragranceNet.com creative director