Yesterday, we launched our first 'Guess the Bottle' contest on Facebook, and we must say EVERYONE who commented, all 186 of you and counting, guessed it is White Diamonds perfume by Elizabeth Taylor. Congrats to the first person to guess it correctly, Tricia M Degregorio! Please email us at social@fragrancenet.com & everyone, stay tuned for our upcoming contests on Facebook & Twitter! Be sure to LIKE us and follow us on Twitter @FragranceNet.

If you've been keeping up with Eau Talk, you may have learned a thing or two about our love for mint!
From accessories to clothes to food to beauty trends, you name it, we're lovin' it! Check out some Pin-spiration below showing you the latest obsession at FragranceNet.com.
Want to get some minty fresh mint infused beauty products? Well, you're in luck, because we've got a handful of those, exclusively for you!
In the mood for some avocado and vanilla mint scent? Get Essential Blend's candle, it smell's delish.
Want your hair to smell minty fresh? Try AVEDA rosemary mint shampoo or Paul Mitchell's Tea Tree lavender mint moisturizing shampoo, both will leave a cool, refreshing tingle for your hair.
Want to smell minty fresh? You'll fall in love with shimmery fragrance solid stick LOVES MINTY CRUNCH by Dana.
Soothe your feet a foot scrub and cream, in nothing else but a mint scent! Calgon's brazilian beauty papaya mint foot scrub & cream are the perfect solution for minty cool feet!
Have any cool mint products you can't live without?Let us know what they are so we can check them out!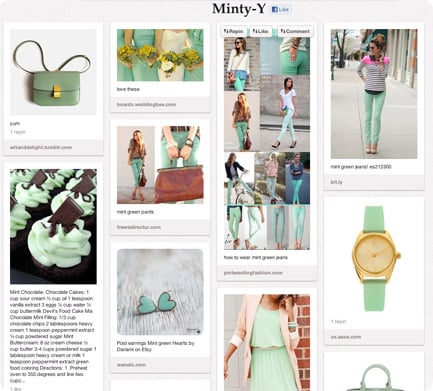 We have been experiencing some exciting news at the FragranceNet office, Polyvore has recently launched beauty too! Now you can have fun creating boards, sets, and collections with fragrances, skincare, haircare, and tons of new beauty products! Haven't seen it yet? Start styling your own set on our very own, newly released Mini Editor on our Facebook page! Choose from the long list of items including top selling fragrances, the best beauty products, haircare items, and some fun stuff too! Make it yours and publish it for all to see! Check out the gallery to see what others have created and get inspired! Create a mood board or an inspiration board, whatever it is you do, just have fun! Check out our mini editor here, and get yourself stylin'!