Prom is probably the most important night of your life, until graduation day, but nothing compares, right? Prom is a night to never forget and we want to help you pack that pretty little clutch perfectly, for a night that will last a lifetime!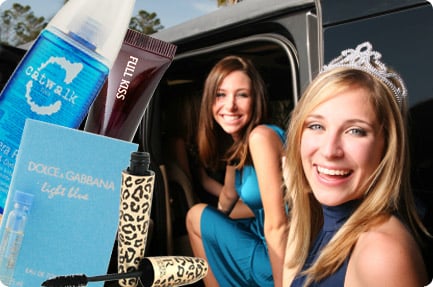 Nothing is worse on prom night than sitting in the limo car next to your date and realizing you forgot to apply that perfect lip tint that is sitting on your dresser or that lovely mascara to plump your lashes for a flirty eye look that will make people stop and stare. Don't do that! We've either been there or done that or had friends in that same situation, and trust me when I say, it doesn't make for the perfect night. Don't ruin it with stressing out on the simplest of things , just be sure to pack your tiny clutch with the right stuff, with our perfect prom survival kit!
We get it, we know you can't put much in that tiny little bag, but that's OK, we are going to give you the deets on exactly what you need for an fabulous, fun, and stress free night!
First and foremost, choose a light but lovely fragrance, and take it with you! Dolce and Gabbana's Light Blue is the perfect scent for your prom night, plus with our vial on the card mini, you can throw this perfume in your bag and have all the room in the world left for our next few prom survival kit items!
Who doesn't want an ultra shine, luxurious, yet soft lip look for their prom night? Helena Rubinstein's Full Kiss Cream gloss in FIG FATALE will leave your lips appearing fuller and seductive, a must have item for you for a perfect night full of perfect picture taking!
Pump up the volume in your lashes unlike any other time you have. This is a night to never forget and why not make your eyes unforgettable too? Make them stop and stare with Helena Rubinstein's lash queen feline mascara in black black. Small enough to fit in your clutch and perfectly packaged with a cute animal print, you won't mind adding this to your night bag!
And last but not least, don't let the heat on the dance floor frizz up your perfectly pin straight hair or curl-vacious curly hair! Carry along Catwalk's Camera Ready Shiner & Defrizz for amazing looking and smelling hair.
Memorial Day is right around the corner and we can't keep these must have items to ourselves.  Typically, people keep these things a secret, you know, "their own little beauty secrets", but I, on the other hand LOVE to share them with you too! So get in on the deets, and know what my summer must haves are and why you won't be able to keep your hands off of them too!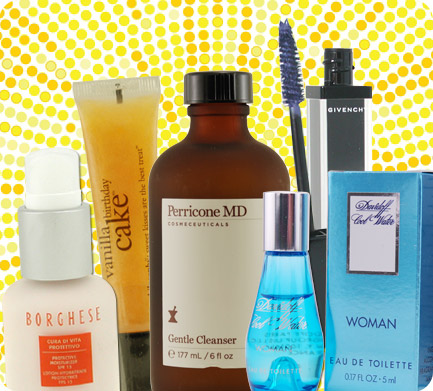 First off, let's just talk Borghese. There is not a single Borghese product I'd say no to,  and this cura de vita protective moisturizer (with SPF 15) is no exception. Not only a great daily moisturizer WITH SPF in it already so you don't have to worry about applying sunscreen, but heck, it's 50% off on our site, and I don't know about you, but I can't help myself when I see a great deal.
It's not my birthday until October, but did I hear someone say Philosophy's Vanilla Birthday Cake lip shine?! Gimme some of that…this lip smackin' lip gloss will have you licking your lips and reapplying application after application, and get this, no calories, perfect for swim suit season, right! But all jokes aside, here's the icing on the cake; it's under $15 and I'd much rather this lip gloss rather than the real deal, any day!
With the summer heat, sunscreen on face and hair in the wind, it's important to have a gentle cleanser to wipe away all the day away. There is nothing more refreshing than washing your face with Perricone MD's gentle cleanser, it has all the 'good stuff' bottled up into one. It has anti-inflammatory and antioxidants and includes olive oil polyphenols which nourish and hydrate your skin. Don't let the sun dehydrate you & your skin, get a thirst quenching face wash, like Perricone MD and feel your skin sparkle.
It feels like summer, so why not smell like summer, eh? Cool Water by Davidoff is a truly delicious scent, with fragrance notes of citrus, pineapple and woody notes, blended with the scent of the ocean air. Who needs a beach when you have this lovely fragrance, not I!
Some days, it's just too hot and humid for a full face of makeup, so brighten up your face with a tinted moisturizer (with SPF of course) and make your eyes pop with a fun and flirty blue mascara. I love Givenchy's eye fly mascara in fly in blue, the deep blue really brings out the green in my hazel eyes and can bring out the best in your eyes too!
You're invited! Let's Tweet!
Join our Live Tweet Chat Tuesday, May 22nd ! Are you full of great beauty tips? Would you want to win fragrances and beauty products for yourself?! Win a $100 FragranceNet.com gift card just for TWEETING with us! Tweet us @FragranceNet with your best beauty tips, using hashtag #FNetTip for a chance to win $100 gift card. The most influencial, insightful tweeter will win the Beauty Guru prize! Tweet us with your beauty tips using hashtag #FnetTip , 4PM thru 5PM EST on Tuesday, May 22nd for your chance to win! Good Luck!
PLUS, don't forget to RSVP!