Glitter Eyeliner Made Easy
Do you love glitter? Eye liner? Put it all together and what do you get? Glitter eyeliner! But would you dare wear it? You will after our easy as cake tutorial, and with our STILA glitter eyeliners on sale, you'll be trying this before you know it!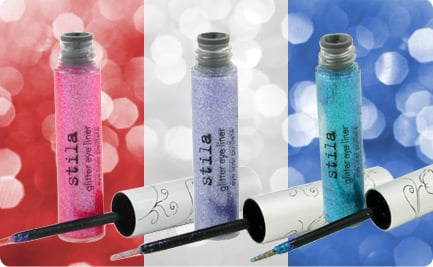 First, use a primer to begin with an even color base on your eye lids.
With a blending brush, apply a powder shadow to your lids just to create a base over the primer. Then with a mid-tone brown or neutral nude tone shadow, blend the color into the socket of your eye; this will define your bone structure and  the structure or your brow.
Now let's get to the glitter!
As a base, apply a similar color liquid liner before applying the glitter liner. So if you plan to use a blue glitter liner, line your lashline with a blue color liquid liner. This will create a more dramatic, clean look and also serve as a stencil later on. For an even more dramatic, fun look, create a gorgeous cat eye look by extending out the tail of that line on your lid.
Make sure the liner dries before you apply the glitter liner.
Follow the base liner line that you have created with the color liner with the glitter liner. Apply as much or as little of the glitter as you wish. Let this dry and voila, you're done!
What glitter liner color would you use?