3 Easy Ways To Repair Damaged Hair
Dry, damaged hair looks hideous and immediately effects your overall look. Not just noticeably diffult to deal with yourself, but noticably difficult to look at as an outsider looking in (sorry, but true!). Thankfully, we have some superb remedies to improve your hairs health in no time!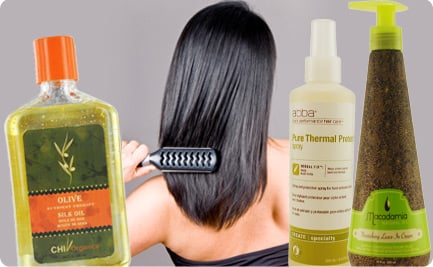 First, let's start with CHI's Organics olive nutrient silk oil. This 8.5 oz bottle full of light weight, leave in treatment, will work wonders on split ends and tangled tresses. The blend of natural oils and special blend of extracts will reconstruct and nourish your hair, while, most importantly, repairing it.
Need some UV protection along with detangling and taming of the most unruly locks? Macadamia Oil Nourishing Leave-In Cream will do the trick! Add shine and a silky softness to your hair with a pump or two of this leave in cream daily.
Not into the creams and lotions? Pump out Abba's Pure Thermal Protect spray for pure thermal protection, helping to protect your hair against heat and damage. Known for styling your hair with a million and one heat-activating hair tools? Use this protection spray for ah-mazing thermal protection PLUS, it's humidity resistant formula includes sage and aloe vera, so it not only keeps down the frizz but it smells, oh so good! Plus, this spray helps protect the shape of your style and locks it in. Miracle spray? Anyone?