So, when thinking beauty...what comes to mind with the color orange? Citrus scent? Summer color? Sure, we get it...but think again! Wear it the winter way with these products that will spice up the orange scent for a whole new you. 
For women, turn heads with this fruity, floral fragrance with citrus, musk, bergamot and praline. A powerful concoction that creates a lovely scent for a laid-back vibe, Innocent Illusion by Thierry Mugler will bring you all the compliments you desire.
Guys, make a playful, lively impression, day, night, summer or winter with Happy by Clinique. The fresh cologne for men blends with a citrus lemon scent with tones of mandarin orange and grapefruit. The scent is sure to uplift those cold, dreary, winter days and provide a clean, peppery spicy scent.
Want to liven and purify skin, leaving skin supple? Refreshed? Rebalanced? Jurlique's citrus purifying mist contains living energy of witch hazel and marshmallow, which not only will refresh your dry skin but it will leave you with an amazing, satisfying scent.
And no 'orange' blog post can go with out the mention of Stila's orange lip glaze stick, a rich moisturizing pencil lipstick that gives a soft and brilliant color with a high level of pearl content, adding extra shine. Leave your pout luminous and seductive, even in the worst of winter days.
Why complicate things when you can simply simplify them? If your beauty regimen is more than 10 minutes in the morning, you need to simplify yourself with these 6 beauty products that do the work for you, not the other way around.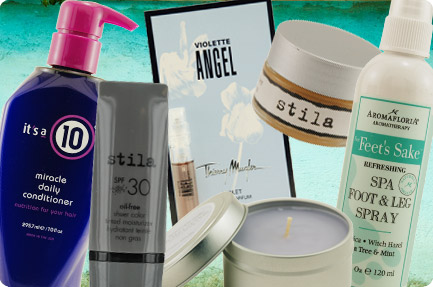 First off, your hair. If you're like me and have to shower at night because a full head of locks takes seemingly forever to dry, pump and infuse your hair with it's a 10 miracle daily conditioner before you head to bed. This leave in conditioner will work miracles while you rest and get that beauty sleep. It will make your hair smooth, frizz free, and smell amazing in the morning.  A hair fuss free morning will cut down your 'get ready' time drastically, so now you have to style your hair if you choose to!
How about that face? Do you use concealer then liquid foundation than powder and blush and…and…and. Stop layering your makeup, especially for the summer season. Try Stila's eye concealer and Stila's SPF 30 Oil Free tinted moisturizer in the tone that matches your skin tone best. This tinted moisturizer provides a medium coverage, greater than any other tinted moisturizer I've seen, and gives a beautiful, natural make up look that we all want to achieve.
Next, in case you are in a hurry, always carry a vial of perfume in your bag for those 'gotta go' moments. Nothing is worse than leaving the house with only the fragrance of your deodorant, yah? Get yourself a vial of your favorite scent so you can smell heavenly all the time!
For Feet's Sake, your feet have feelings too! Not really, but we know how it feels to have those blistery, hot feet from those oh so hot heels that don't just fit right but we just HAD to wear them! Am I right with this one? Throw this refreshing spa foot & leg spray in your bag, the blend of tea tree and mint mist on your toe-sy's will give you that cool, calm, refreshed feeling we all beg for after a long day of heel-wearing.
Lastly, simplify your day and de-stress yourself with a lovely lavender and vanilla essential candle. They come in all shapes and sizes and burn for 20-90 hours, depending on which candle you choose. This timely fragrance is perfect for simplifying yours, mine, and every one's life, honest.