So, when thinking beauty...what comes to mind with the color orange? Citrus scent? Summer color? Sure, we get it...but think again! Wear it the winter way with these products that will spice up the orange scent for a whole new you. 
For women, turn heads with this fruity, floral fragrance with citrus, musk, bergamot and praline. A powerful concoction that creates a lovely scent for a laid-back vibe, Innocent Illusion by Thierry Mugler will bring you all the compliments you desire.
Guys, make a playful, lively impression, day, night, summer or winter with Happy by Clinique. The fresh cologne for men blends with a citrus lemon scent with tones of mandarin orange and grapefruit. The scent is sure to uplift those cold, dreary, winter days and provide a clean, peppery spicy scent.
Want to liven and purify skin, leaving skin supple? Refreshed? Rebalanced? Jurlique's citrus purifying mist contains living energy of witch hazel and marshmallow, which not only will refresh your dry skin but it will leave you with an amazing, satisfying scent.
And no 'orange' blog post can go with out the mention of Stila's orange lip glaze stick, a rich moisturizing pencil lipstick that gives a soft and brilliant color with a high level of pearl content, adding extra shine. Leave your pout luminous and seductive, even in the worst of winter days.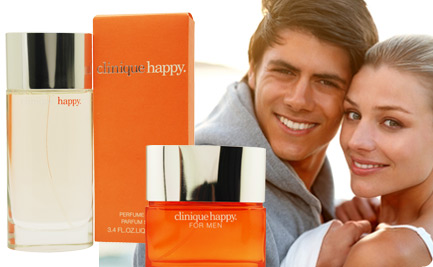 C'mon and get happy friends and fragrance fans all over! Be playful, get lively, be happy, with Clinique's fragrance for men and women!
The men's scent, a fresh cologne, blends a citrus lemon scent with tones of mandarin orange and grapefruit -- ah, what a delightful citrusy blend. Happy is perfect for daytime wear--whether preparing for a long day at the office or heading out for a weekend adventure, this scent guarantees to bring some energy and excitement to your entire day!
The women's scent, a staple perfume for many ladies since it was first introduced in 1997, is a sublime fragrance that bursts with light, mood-enhancing fruit and floral notes. Add a breath of fresh air to your day with this floral, citrusy bouquet scent, including notes of apple and bergamot. Dab a bit of this perfume on your wrist or neck for a mood lifting fragrance that will stay with you all day long.
Be Happy, Get Happy by Clinque.