First...do you know what your complexion is? What undertone family do you fall in?
Your undertones can fall into a few categories, cool, neutral, or warm. If you are warm tone, you will have a warm, yellow peachy complexion. Cool tones will have a pinkish complexion with a bluish reflection and if you are a neutral tone, you will have a pinkish tint and a yellowish tint, so lucky you...you can wear an array of products and almost any color!
Speaking of color, another great way to determine your skin tone is to think about the colors you look best in. If your colors are blue, black, and white, you probably have a cool skin tone. If you look great in burnt orange or cream colors, you're warm tone.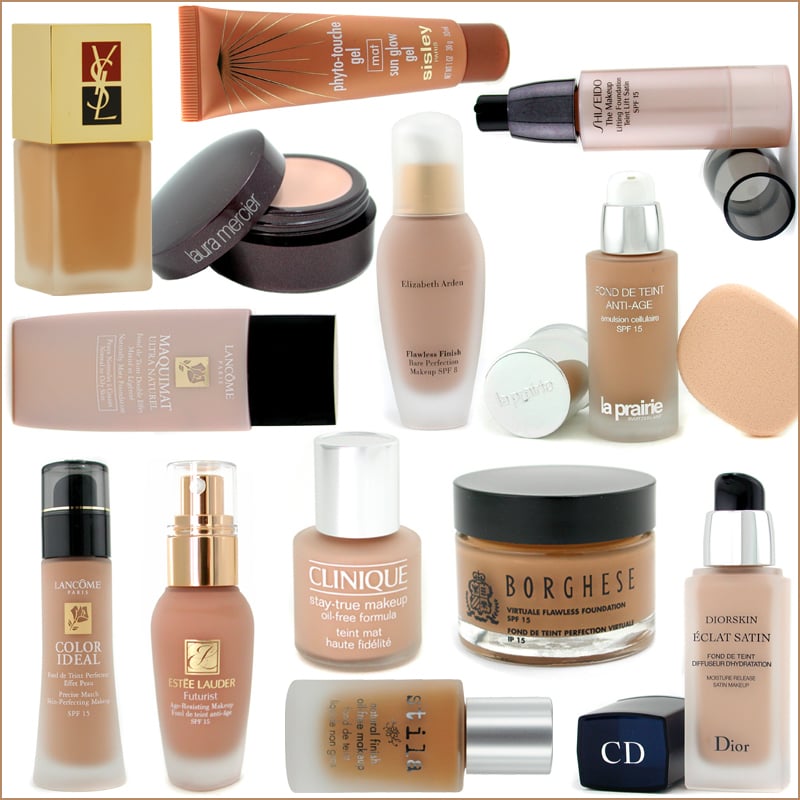 Next tip, wear a white top when trying on foundation. Why? Wearing colorful tops can cause a reflection that will make your undertones and face tone appear different than what they truly are, so just be sure to wear a simple, white top for your true complexion color and undertone family.
The last, the final...and the most important tip in choosing the perfect shade of foundation? Test the foundation, not on the back of your wrist nor on the top of your hand, but your jawline. Blending the color into your jawline will easily determine if the shade suits you.  Why not test on your wrist or top of your hand? Your skin in these places are totally different than your face, so if you want that perfect, blendable shade for your foundation, be sure to test it out on your jawline. It should blend into your skin easily and once it is applied, should look as if it has dissapeared. Try wearing the makeup for a few hours and see how your skin feels, does it look ouly? Dry? Does it crack?
Let us know your tips and tricks to finding the perfect shade of foundation and what designer foundation you are looking forward to trying next!
Paper, pen, highlighters, lip gloss...oh you know, the typical office essentials. You can imagine the amounts of product that lands on my (the social media gal) desk, from just in products to product requests from beauty editors from magazines, bloggers, and vloggers...and if you can't picture it, trust me, it's a lot! Definitely not complaining here, but the essentials...what are my essentials that I must have, can't go without, during a typical day of work? I'm glad you ask...here are a few of many.
Office Essential # 1: D&G 3 L'Imperatrice perfume by Dolce & Gabbana is the perfect pick me up when the clock seems like it's not tickin'. Notes include kiwi, watermelon, musk, and pink cyclamen. A quick sniff of this scent and I'm good to go...such a fresh, fruity, and not to mention girly fragrance. 
Office Essential # 2: Typically, after lunch, I like to touch up over my before-work, morning makeup application. Laura Mercier's foundation powder does the trick in diminishing shine. What's great about this product is if used dry with a puff, it matte's out shine, if used wet with sponge, you'll get greater coverage than a liquid foundation. Either way, try this foundation for a soft, velvety, smooth complexion.
Office Essential # 3: My last and most essential of the 'office essentials' is Philosophy's raspberry sorbet lip gloss. Not knowing it, I constantly am either licking my lips or biting them...which is why it's a good thing I have a slight obsession with lip gloss and applying it over and over...and over again. Maybe I lick my lips so much because this raspberry sorbet lip gloss tastes so so good, but hey, it works because Philosophy lip glosses are not only scrumptious and deliver a high shine BUT it's formula smoothes and softens lips. Treating your lips and pleasing your sweet tooth (without the calories) never felt so good!
Sick and tired of reading about all these fall and winter beauty trends that only maybe 25% of us (if that) can pull off! Sheesh, so are we! There are 5 fall beauty trends that anyone, we mean ANYONE can pull off this season! Drum roll please....
The first beauty trend ANYONE can pull off is, a dark nail polished look.
Summer is over and sorry to say, it's time to switch the polish shades from bright and sunny to deep and dark. If you don't want to get too dark, that's totally cool, just go with a deep red, like the lovely Dior Vernis color in massai red.
Flirty, flashy lashes are always 'in' and that's why it's just one of the fall beauty trends that ANYONE can pull off, whenever! We love Helena Rubinstein's lash queen feather mascara, a mascara that creates a long lasting feather light lash with heavy duty volume. Get maxi-volumizing lashes and a mascara that will give your eyes a striking look!
Who doesn't look good in an exceptionally smooth, longwearing lipstick look? This Givenchy satin lipstick gives a sexy, light-reflective color to lips, and why is that? Because not only does it give off a beautiful color, it also nourishes and hydrates lips with it's powerful anti-oxidant ingredients. Sooth and soften your lips, while looking pretty trendy too with this lovely lipstick!
Prevent that lipstick from fading, feathering, and bleeding with this hydrating and soothing perfetta lip pencil by Borghese. This lip pencil gives full color to your lips, with a long lasting, soft blending look. 
The last beautiful product from our site that will be the perfect complement to you this season is Gucci's perfume, a moderate fragrance with notes that include chamomile, guava, pear, patchouli, Tahitian Tiare flower and musk. This scent will add just a touch of spicy scent to your pulse points to leave you smelling lovely all day (and all night long). While layering up on the clothes, don't forget to layer up with your scent too! Snag a Gucci shower gel, body lotion, and eau de parfum spray.