There is nothing worse than wearing a product that wipes off in the rain. That's why we love, love, love waterproof makeup, and that is why we're letting you know these absolute must have items that you absolutely need to keep a fresh face all day, no matter what!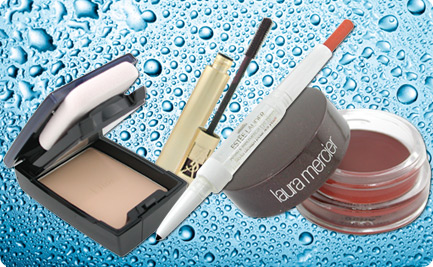 From your face to your lips to the obvious, your eyes, these products are the ideal waterproof items you'll want in your bag at all times.
The most known waterproof product is mascara, so let's start with that. Sound good, it is, just like this Yves Saint Laurent Everlong lengthening waterproof mascara. It can be described as a revolutionary mascara with a modern designed brush, this will give an instant and long lasting lengthening effect while keeping your lashes waterproof!
Something you may not be keen on is a waterproof or long lasting powder. Christian Dior's Dior Skin forever compact leaves your face flawless and moist, a makeup inspired by nano-technology. It's waterproof (which is so awesome) and it's long wearing. You'll want to have this compact with you at all times, anywhere you go!
A lip stain that lasts? They're supposed to but never do, but this Laura Mercier does, it's true! This hybrid of a stain and gloss formula offers the confort and sheen of a gloss but is long wearing. With quick application and a clear glass pot packaging, this is an essential for the summer and can easily be put on with a lib brush or even your finger tips!
What waterproof, longlasting product can't you live without?
Go natural and get nude!
Take it down a notch from the neon brights and sun kissed color, for an au natural, nudey look.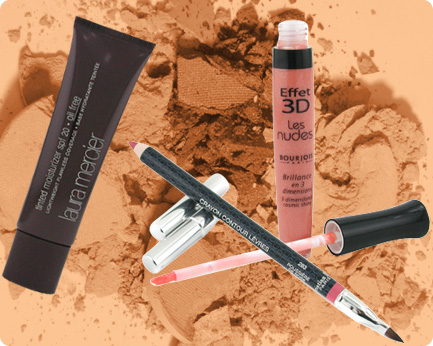 First, take down the full face of makeup look with a tinted moisturizer, Laura Mercier's tinted moisturizer with spf 20 is ideal. In general, during the summer months, you want to keep away from caking on the foundation and powder and stick to a moisturizer with SPF, that is light with some coverage. Feel free to dust some powder for shine free, matte skin, but remember to keep it light and only in areas that are necessary. Clinique's stay matte powder free oil is very lightweight, keeping skin looking fresh and comfortable. 
Forget the foxy eye shadows and liners for a night and go with a nude, natural, earthy toned shadow with gold flecks or shimmer. This will create a natural look that will bring out your eyes. For the lip, steer clear of a bold red or fuchsia pink and go with a light lip liner, one you will barely see and shade in your entire lip (this is for a long lasting look). Then apply a nude lip gloss like Bourjois effet 3D les nudes lip gloss for sheen brilliance!
There you have it, the perfect way to perfect the nude makeup look. When will you try this natural, nudey look?