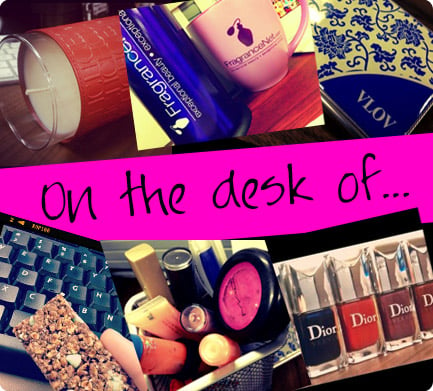 Isn't it fun getting to know us? Get to know moi, FragranceNet.com's social media coordinator a little better by learning what's on my desk!
Besides being a social media junkie, brushing up on the latest beauty and fashion trends all day, planning social posts, Tweets, and blog posts, take a peek at what's on my desk at FragranceNet.com!
Besides the fragrances you see on our Instagram feed (you can follow us at FragranceNet), tons of lip glosses, papers, and fun snacks can be found on this chicks desk. As much of a beauty lover as I am, I'm a foodie lover too; I've got a drawer dedicated for all of my fave goodies, right now it's chocolate Chewy bars with mint chips in it, (pictured above). Not only am I mint color and flavor obsessed, but I sometimes love to match my nails to my fave food obsessions. Anyone else lovin' the minty green trend too?
I try to follow my beauty advice most of the time, so when I post on Facebook that water is ideal for a clear complexion, I try to take that advice of drinkin' up! Check out my neat FragranceNet.com mug and water bottle!
My VLOV business card holder, cuz a girl's gotta be professional right?! I got this pretty sweet cardholder as a gift at a fashion show at last New York Fashion Week! I love the blue vintage pattern, don't you?
Try to find a pen in my pen holder…I dare ya! I literally have more lip glosses, lipsticks, and lip stains in my pen holder than pens, truth! If you keep up with the Eau Talk blog, you will know of my lip gloss obsession and can see that it is completely and 100% true.
What else is on my desk? I've got tons of fashion newspapers and magazines, antibacterial gels, lunch menus (of course) and my purse, with tons more of…lip gloss. Not to mention the huge rings or accessories I try to wear but end up taking off to type the day away, post it notes, notepads, paper, and pens.
Want to know what's on the desk of our creative director next? LIKE our post on Facebook and leave a comment letting us know!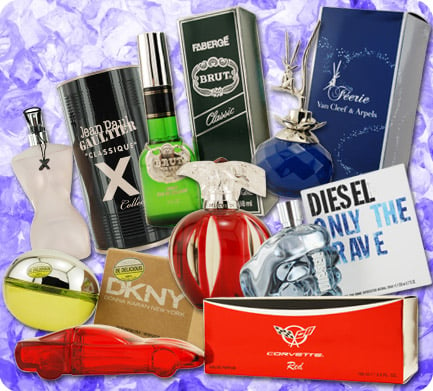 Classique X, Only the Brave, Delicious, Brut, Delices, Feerie, Play, Corvette Red, and OP Juice are all very different fragrances, but what do they all have in common? A 'coolness' factor with their unique bottle design! Let's make our rounds in the pic above and take a closer look on the bottle designs of some of the most unique, 'cool' fragrance bottles.
Jean Paul Gaultier Classique X perfume by Jean Paul Gaultier
 This feminine, frothy, curvaceous glass bottle design really captures the courage, mystery, and sensuality of a woman.
 Brut booze? No, it's not what it appears to be…similar in shape, color, and even size of a Heineken beer, this men's cologne smells nothing like the beverage. With lovely citrus top notes and hints of spicy woods, we think it's quite the opposite, no?
 One of my personal faves, this perfume comes in a brilliant blue crystal vase bottle with a sleek, silver fairy perched up on the cap. Mysterious and mystical, this scent has me sold without even knowing it's fragrance notes…which just so happen to include notes of  violet, jasmine, mandarin orange, green Leaves, iris, vetiver, musks, cassis, and rose.
 Yes, this scent is delectable, but we wouldn't suggest taking a bite out of this apple shaped bottle. The sweetness of its scent will satisfy you enough!
 Beautiful, sophisticated, and the perfect touch of art, of course this bottle is this unique, coming from the unique and luxurious Cartier jewelry company.
 Get a fistful of fragrance (literally), with notes ofviolet, coriander, amber mandarin orange, styrax, lemon, labdanum, leather, and cedar with Diesel's Only the Brave. This scent will 'punch' things up a notch.
Corvette Red by Vapro International

 You can really speed things up with bottle of Corvette red cologne by Vapro International.
 What is the most unique fragrance bottle you've come across?! Let us know in the comments below or on Facebook!

Dun, dun, dun...Mother's Day is almost here, not really, but it's sure going to sneak up right under our pretty painted toes & sandal wearing feet FAST. Don't make this occasion a hard to do…we all know mom's can't get enough of beauty, skincare, haircare, fragrances, candles, and (ah)romatherapy products!
 So here we have it, 5 great products that we wouldn't doubt giving to our mama's on their special day, Sunday, May 13th this year!
Lovely by Sarah Jessica Parker
 Go ahead, get cheesy and tell your mom how lovely she is with a fragrance after her 'lovely'ness. Lovely perfume by Sarah Jessica Parker has fragrance notes of amber, lavender, orchid, musk and apple.
 You can't go wrong with Euphoria perfume by Calvin Klein. With notes of black violet, pomegranate, black orchid, mahogany wood, persimmon, and lotus blossom, this one can be categorized as one of the most 'exciting and appealing' perfumes around!
 Whether your mom is a trendy woman or a 'plain jane', Smashbox cosmetics will please her on her special day. A woman can always use an extra blush brush, or new eye shadow cream. Surprise your mom with an enhancing lip gloss or a photo finish lipstick with sila silk for a ravishing look for day to night!
Marc Jacob's Daisy by Marc Jacobs
 A scent that is not overpowering with fragrance notes of violet leaves, white wood, strawberry and gardenia to name a few, this scent can easily be named your mom's next signature scent!
 Give her a gift she'll use every day! Redken products are great; make her a gift set by mixing and matching products like Color Extend sun after sun shampoo and Chemistry System Strength Shot Booster for help in achieving strong, healthy hair. There are a ton of products you can get to fulfill your moms hair needs!