White Hot Scents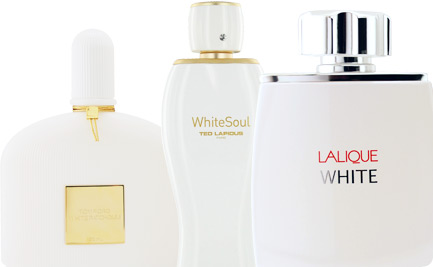 Summer is full of bright, fun colors, but what's more hot than these white scents? They may seem a bit 'blah' and boring now...but wait until you get done reading about them and the notes that make them up!
Experience a new approach to patchouli with Tom Ford's White Patchouli perfume for women. The initial floral scent of the fragrance is created with a mixture of peony, night jasmine, coriander and bergamot, presenting a fresh sparkling scent when first encountered. How hot is that?!
If that doesn't sound amazing, try a light and graceful fragrance, one that was 'invented for the language of love'. OoO la la, it's White Soul by Ted Lapidus! This pearly white with gold detailed bottle holds juicy aromas of Mirabelle plum, apricot, mandarin, and orange blossom. Warm up to this fruity floral scent for a sweetness that is elegant and full of luxury.
And now one for the 'fellas! Lalique White cologne is nothing but fresh and elegant and unique to say the least. A great fragrance for spring and summer, no wonder it makes our white hot scent summer post!
What is your favorite white hot scent? Check out all of our 'white' fragrances we carry here!