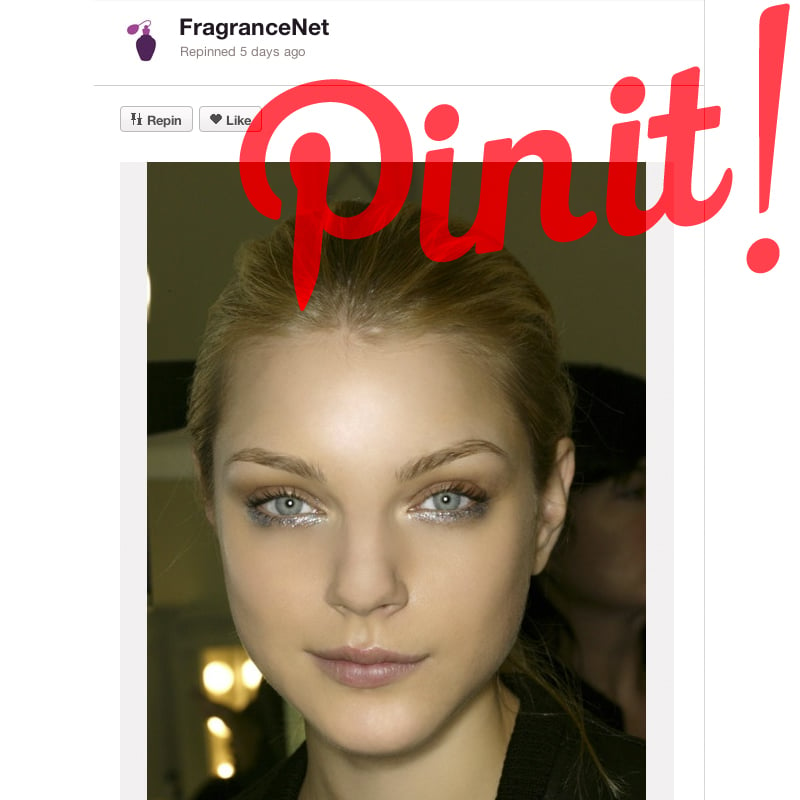 Wintery white and shimmery silver eyeliner has become quite a 'necessity' this holiday season for us, the perfect way to highlight and brighten those gorgeous eyes! Want to try out the look for yourself? Read on to see how you can get the 'ice queen' look…for less!
Want to use white or silver liner as a highlighter? Perk up those tired eyes by just lining the inner corners of your eyes with liner.
Want to brighten up and open eyes? Simply apply the white/silver liner to your lower lash lines, filling in your waterline.
Products to use...and how you can get 'em less!
Christian Dior Khol pencil -- no. 007 white
STILA Glitter Eye Liner -- #06 silver lilac
Lancome Le Crayon Khol -- no. 013 silver
Paul & Joe Dual Crayon -- #03 Duo Sucre


Ah, December...the holiday season begins. The stress of work, holiday shopping, and parties galore begins. Ideally, we'd love to say that it takes somewhere between five and ten minutes to doll up and switch the day look to party time ready, but who are we kidding? The second best option, a go to list of guaranteed products and tricks that will keep your lipstick put, your mascara bold, and your hair fuss free. Take these tips from office beauty to fiercely festive in no time at all.
Face it...you need a great foundation. One that's long lasting, won't fade, become discolored, or any of those 'bad' foundation characteristics. That's why we suggest starting of the day right with a good foundation, Clinique being a favorite. Try Clinique's perfectly real makeup, a lightweight liquid foundation that easily smooths onto skin and is developed with patent mirco-mirrored technology. It optically resurfaces skin to even out your complexion and promises to give you a flawless, natural appearance. Have oily skin? Rid that shine with the blended face powder that makes pores seem to disappear. 
Nothing says, I'm ready to go out after work like a red lip! The perfect way to switch it up, and what better lip color to wear than Fusion Beauty's blingfusion lip color in After Hours. This lip gloss will make your lips appear fuller, smoother and radiant and holds moisture, plumping lips instantly.
If you plan to give your lips a rest, why not play up your eyes? Try a thin line (or go thicker for a more dramatic look) with Dior's style liner in noir black. This eyeliner is a timeless eye beauty accessory, offering an intense black color. It glides on easily and dries instantly...leaving a precise, dense, and long lasting line in just one stroke.
Liven up those limp strands if you have fine hair with a quick spray to the roots with a dry shampoo spray. Try Rockhaholic by TIGI's Dirty Secret Dry shampoo. Make your hair smell fresh and keep it rockin' for longer.
Nothing perks up a face like having luscious, long lashes! That's why we make sure we have Lancome's Hypnose mascara, a unique eye beauty product that incredibly gives a maxi-volumizing lash look with a powerful brush that intensifies the lashes up to 6 times thicker...without the clumping!
Refresh yourself from the clickety clack of the keyboard to a night out dancing with an energizing perfume scent. Try the warmth and beauty of Marc Jacobs Daisy Eau So Fresh perfume, a moderate fragrance that's great for a variety of occasions. Notes include grapefruit, pear, raspberry, rose, jasmine, and apple blossom for a perfect balance of sophistication.


To wear or not to wear, would you wear this look for the holidays? Let's take a look at the beauty aspect of this scent style set. 
A red lip during a cold, wintry day heats things up and we think it's the perfect way to dress up any outifit! This lip color is a Christian Dior high impact weightless lipcolor in technicolor red, hawt!
Really highlight those brow bones and your inner eyes with a little lining and blending of a light colored eye liner pencil. Try Guerlain's crayon pour les yeux eye pencil in reflet blanc muave. For gorgeous eyes that really stand out, apply and blend to your brown bones, you won't believe your eyes, literally!
And now, onto Clean perfume by Dlish. Get that fresh out of the shower scent whenever you wear Clean perfume. This perfume is a refreshing floral fragrance, including bergamot, geranium, heliotrope, jasmine, violet, Damascus rose, and English lavender. Invigorating during day and sensual during night, Clean perfume is definitely one you must try!