Gold Rush: All Things Gold
Gold is desirable in any size, shape or form. No matter what it seems to be, whether it's jewelry, fashion, or fragrance, gold is typically top notch, and oh-so-irresistible. Naturally, we chose these 6 gold-acious fragrances that make us melt after we sniff a spray!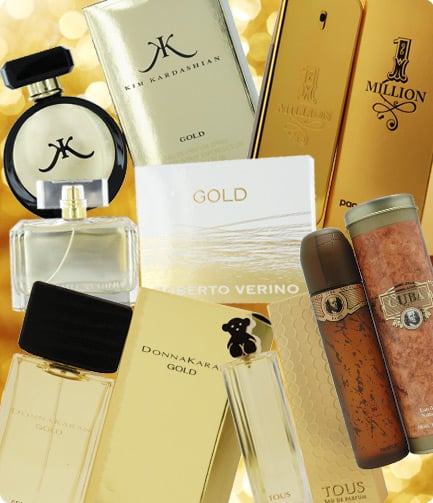 They say all that glitters is gold, and that is 100% true with Donna Karan's Gold Sparkling perfume. Spray some of this on your pulse points and you'll smell of lovely notes including fruits, amber, Casablanca Lily petals, citrus, and berry.
For a feminine, floral fragrance with a twinge of oriental uniqueness, Tous Gold perfume is the perfect choice. With additional notes of amber, vanilla, spice, this scent is the perfect balance between sweet sugar and spice.
Kim Kardashian's Gold perfume is quite pleasant, surprisingly mild and great for casual use. Gold is a luxurious fragrance with the tagline that claims it to "transcend ordinary". Notes include bergamot, grapefruit and pink pepper, along with blends of patchouli, sandalwood, amber and creamy benzoin.
Love a floral, woody scent? We couldn't resist…Gold Roberto Verino for Women is THE floral, woody, powdery scent any woman will love to wear. A great night scent, this fragrance opens with bergamot and gardenia and middle notes of rose, jasmine, iris root and white peony. If you never tried it or had it, you will want it!

Top seller Cuba Gold is no wonder a top cologne for men with it's exotic essence of bergamot, lavender and vetiver blended with woods and jasmine. It's the ultimate masculine scent and what better than it's inspiration of the Cuban cigar.
Another top selling men's cologne, Paco Rabanne 1 Million cologne has main accords of warm spices, citrus, cinnamon and woody scents. It's fresh and sensual, with a glittery shine of gold. This cologne was created and inspired by Paco Rabanne's metallic fashion, which he said, "In all civilizations and religions gold has always managed to seduce people