With fashion, we can predict the future trends by paying close attention to the trends on the runways at fashion week, but with fragrance, there is no...showcasing or presentation of spring or fall 2013 scents, they just are, and the seasons trends...well thats for you to figure out.
But here we are, we did it for you! One of the predictions for fragrances in the autumn-winter of 2013/2014 are fragrances that are made up of wood accords.
Fragrances with wood accords are those with the rich spice of oud, softened with a partnership with rose. Check out these 4 wood-y scents that pair up perfectly with some other fruity, floral, and fantastic notes.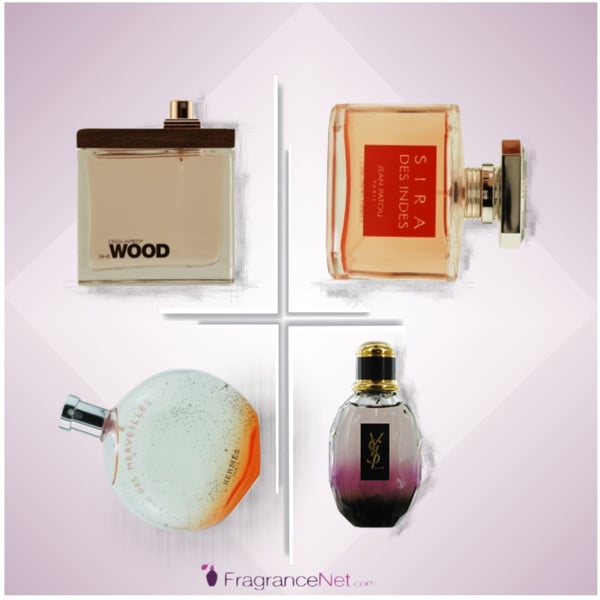 SheWood perfume by Dsquared2, a dynamic perfume that mixes floral notes with contrasting influences, like cedar wood, working well together creating a truly unique identity in the fragrance. Violet leaves and blossoms mingle with jasmine petals, contrasting with musk, cedar wood, lemon, and more.
Sira Des Indes perfume by Jean Patou is a resonant and exotic scent for women that radiates casual satisfaction. It's a traditional yet evocative choice that brings together a perfect balance of floral notes with hints of pear, musk, amber, bergamot, vanilla, pink berries, cardamom, and banana accords. It's spicy, with a bit of sweetness.
Hermes eau des Merveilles is a scent that wraps you around it's finger and transfers you into a happy place, a fancy place. Imagine an amber woody chord that portrays a sparkling femininity. This Hermes fragrance is an intimate and delicate scent, a happy fragrance that truly is charming.
Parisienne A L'Extreme perfume by Yves Saint Laurent is a sexy, seductive, and really exciting fragrance. Powdery and intoxicating, the composition of this mysterious, tempting scent is made of up notes of vanilla and blackberry, violet and rose, with warm accords of patchouli, suede and musk. Sexy scent for a sexy lady!