In the midst of the glamour of rehearsing for a new show and releasing a new song on itunes, Carmen Electra marked the debut of her signature fragrance. The new fragrance, "Carmen Electra" is a sexy and playful fragrance with a seductive trail meant to stop any man in his tracks. The fragrance opens with a cocktail of Juicy Mandarin, Peach Nectar and Wild Blackberry before falling onto a bed of Gardenia Petals, Night Blooming Jasmine and Tiger Orchid.
After spending the evening at the Ex lsle premiere party, we caught up with the newly scented fragrance star to interview her and to talk about the art of her fragrance.
FragranceNet.com: What made you want to create your own signature scent?
Carmen Electra: Creating my own signature scent is something I've always wanted to do. I was given the opportunity to be part of the process from the ground up; everything that went into it, including the design of the bottle. I feel grateful to have the opportunity to be creative and express myself in a way I have never done before. It was also a wonderful learning experience.
FragranceNet.com: What was your inspiration behind the fragrance?
Carmen Electra: For me, different scents can being back so many memories. You can be reminded of a certain person or maybe a certain time in your life. I guess I was inspired by the magic that links scent with memory and emotions.
FragranceNet.com: What would you say is the one thing about your fragrance that makes it unforgettable?
Carmen Electra: The way the scent makes you feel. It's a sexy scent and everyone deserves to feel sexy.
FragranceNet.com: What's one fragrance tip that you can give your fans?
Carmen Electra: Wear layers! That'll really make the fragrance notes stand out.
FragranceNet.com: Your red lips are your signature and it really stands out on the fragrance bottle! Can you tell me what's your favorite red lipstick?
Carmen Electra: My favorite red lip stick is by MAC. It's called "Russian Red." The lip liner I use with it is called "Cherry," also by MAC.
FragranceNet.com: You talk about how this fragrance is meant to make a woman feel sexy. What does sexy mean to you?
Carmen Electra: Sexy to me, means being fearless, self-confident, and not afraid to be yourself.
FragranceNet.com: What's one quote that you tell yourself for inspiration when you're feeling down?
Carmen Electra: One of my favorite inspirational quotes when I'm feeling down would be from Bob Marley. "You never know how strong you are, until being strong is the only choice you have."
FragranceNet.com: What's the first thing that you notice about someone when you first meet them?
Carmen Electra: The first thing I notice about people when I meet them is their eyes, and if they keep eye contact. I can tell a lot about a person's character by looking into their eyes.
FragranceNet.com: How has your beauty routine changed over the years?
Carmen Electra: There used to be a time when I would fall asleep in my makeup. I soon realized how unhealthy and damaging that can be to your skin. I always make sure to wash my face and moisturize my skin before bed to keep my skin healthy and to prevent breakouts.
FragranceNet.com: Are there any products or treatments that you rely on to make you feel your best?
Carmen Electra: For me, there's nothing better than an amazing facial and massage to make me feel my best after a long, stressful work week.
Watch Carmen Electra's behind-the-scenes at the fragrance shoot.
Spring hasn't sprung yet, but we're sure ready for it when it's ready for us! Which is why now is the perfect time to prepare! Now is the time to read up on the beauty trends to look forward to (and shop for) this spring!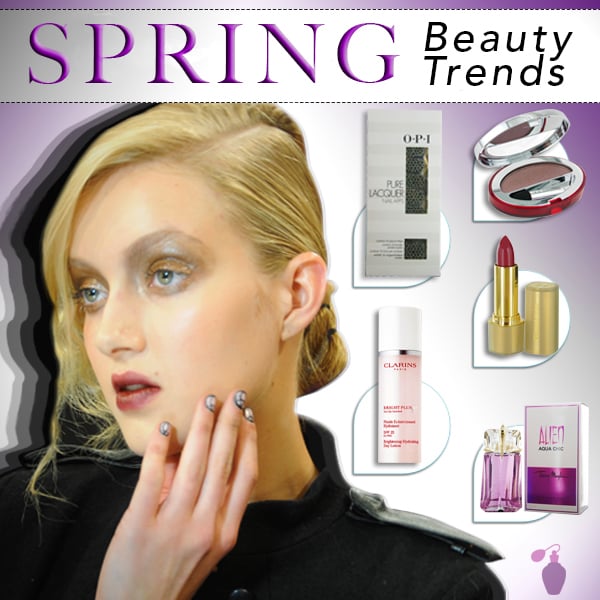 Manicured, Well Detailed Nails
If you don't already know, nails are major...they have been the past year or so, and a 'regular' mani just won't cut it anymore. That's why we are proud to carry OPI's Nail Lacquer nail apps, an easy (and super affordable) way to have a trendy nail that is long lasting and do we have to say it again, super trendy! GET THE LOOK: Shop OPI Nail apps
Neutral Eyes
Go easy on the eyes, it's soon to be summer time! A nude, natural eye is key, especially if you want to go with a bright matte lip. Choose either bold eye or bold lip, but never choose both! If you choose to go neutral with your eyes, which we suggest you do, you'll love Clarin's single eye colours! GET THE LOOK: Shop for Clarin's eye shadow. 
Matte Lips
This spring, drop the gloss and go for a matte textured lip look. Think velvety smooth and definitely not dry. First, use a lip exfoliant to prevent any peeling or chapped lips and make sure to keep that pucker moisturized for a long lasting, matte look. Get the Look: KISS ME Exfoliating Lip Scrub by Philosophy & we love Kevyn Aucoin's Matte Lip Color in Timeless.
Dewy Skin
Moisturized, healthy skin is 'so in' this spring, but really, when is it not? Get a hydrated, bright look with Clarin's Bright Plus hydrating lotions with SPF 20. This stuff is beauty in a bottle, once you apply this onto your skin, you will see instant results and instant luminosity.  GET THE LOOK: Clarin's Hydrating Skincare
Summer Chic Fragrance
Last but not least, we could never forget to complete the look with a fragrance. New, limited summer edition Alien Aqua Chic by Thierry Mugler may just be the perfect spring scent, with notes including ginger, lemon verbena, freesia, wood, and amber. GET THE LOOK: Alien Aqua Chic