Get the Look...for LESS!
Spring hasn't sprung yet, but we're sure ready for it when it's ready for us! Which is why now is the perfect time to prepare! Now is the time to read up on the beauty trends to look forward to (and shop for) this spring!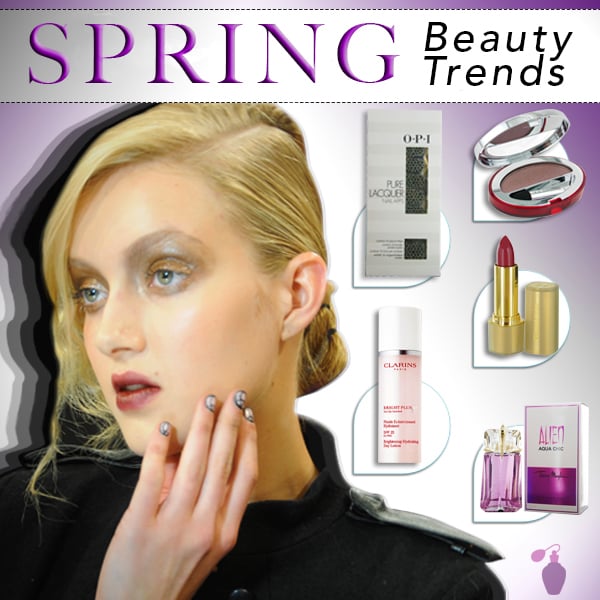 Manicured, Well Detailed Nails
If you don't already know, nails are major...they have been the past year or so, and a 'regular' mani just won't cut it anymore. That's why we are proud to carry OPI's Nail Lacquer nail apps, an easy (and super affordable) way to have a trendy nail that is long lasting and do we have to say it again, super trendy! GET THE LOOK: Shop OPI Nail apps
Neutral Eyes
Go easy on the eyes, it's soon to be summer time! A nude, natural eye is key, especially if you want to go with a bright matte lip. Choose either bold eye or bold lip, but never choose both! If you choose to go neutral with your eyes, which we suggest you do, you'll love Clarin's single eye colours! GET THE LOOK: Shop for Clarin's eye shadow. 
Matte Lips
This spring, drop the gloss and go for a matte textured lip look. Think velvety smooth and definitely not dry. First, use a lip exfoliant to prevent any peeling or chapped lips and make sure to keep that pucker moisturized for a long lasting, matte look. Get the Look: KISS ME Exfoliating Lip Scrub by Philosophy & we love Kevyn Aucoin's Matte Lip Color in Timeless.
Dewy Skin
Moisturized, healthy skin is 'so in' this spring, but really, when is it not? Get a hydrated, bright look with Clarin's Bright Plus hydrating lotions with SPF 20. This stuff is beauty in a bottle, once you apply this onto your skin, you will see instant results and instant luminosity.  GET THE LOOK: Clarin's Hydrating Skincare
Summer Chic Fragrance
Last but not least, we could never forget to complete the look with a fragrance. New, limited summer edition Alien Aqua Chic by Thierry Mugler may just be the perfect spring scent, with notes including ginger, lemon verbena, freesia, wood, and amber. GET THE LOOK: Alien Aqua Chic