PRADA – INFUSION D'HOMME
In the 2000's, it seems it was terribly de rigeur for men's designer perfumes to focus on highlighting a floral component. Scents like Gaultier's Fleur du Male and Dior's Fahrenheit 32 each cast new light on bushels of blooms for blokes. In 2008, Prada followed joined the chorus with their own masculine floral Infusion d'Homme.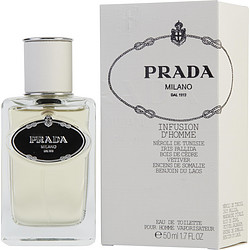 Released just one year after their smash feminine Infusion d'Iris, Infusion d'Homme made a feature of Tunisian Neroli – sunny orange blossoms that speak of warmth and high summer. Underpinned by notes of iris and vetiver, this masculine release has a refreshing transparency, and is somewhat hushed in its nature. A sense of 'just having taken a shower' is ever-present... it feels crisp and soapy. Extra depth is given by warmer notes of cedar, incense and benzoin... but the composition remains delightfully sheer and weightless.
Infusion d'Homme is perfect for summer days and nights in either casual of formal situations. Apply it liberally to enjoy the stirring wafts of neroli and woods for 5-6 hours.