LADY GAGA - FAME
In 2012, Lady Gaga's lil' Monsters lost their bananas when the outlandish Queen of Pop launched her first fragrance, Fame. Rumor has it that Gaga's bestie – who worked at Thierry Mugler at the time - consulted with her on the design of the egg-shaped Fame flacon with its golden talons... a bottle that shares more than a passing resemblance to that of Mugler's Alien.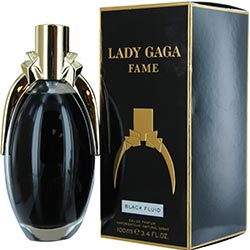 Fame is a scent whose marketing prose is amongst the best! Allegedly compounded from tears of belladonna, the crushed heart of tiger orchid, pulverized apricots and a black veil of incense, the pyramid of Fame is every bit as elaborate as Lady Gaga's lyrics! All this aside, the scent is actually quite good. It is an arresting blend that includes saffron and honey, to give the whole composition a lip-smacking appeal. The liquid itself is as black as night, but becomes transparent when it is sprayed on skin... much like the vanishing ink did in the gag fountain pens, way back in the day.
Fame sold hand over fist when first launched, and there is sound reason for its success. A strong marketing campaign coupled with an above-average scent has seen Gaga laughing all the way to the bank. When applied, this scent lasts approximately 4 hours. It is perhaps a good one for nighttime... when the monsters come out to play.