GUCCI – RUSH
In 1999 with a new millennium just over the horizon, the world was looking to the future with a modern, streamlined eye, and Gucci Rush - a Tom Ford triumph for the Gucci group - was very much keeping in kind. A modern fragrance that felt both contemporary and customary in equal measures, Rush forged new frontiers with its individual fruity chypre mix.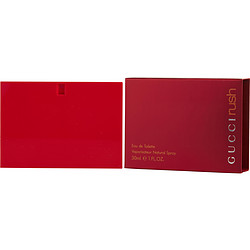 Presented in a hard-edged flacon of scarlet plastic, Rush by its very name, evokes connotations of stimulative drug use – something euphoric and addictive. The scent itself dances somewhere between earthy and synthetic – plush notes of peach, freesia, jasmine and rose collide with coriander, patchouli and vetiver to create something unique and memorable. Somehow this perfume is evocative of a luscious floral cocktail whilst at the same time has a highly polished synthetic 'pleather' shine. Warm, sexy, alluring... Rush is the drug of choice for women who want to mystify and captivate their man.
A little goes a long way. Rush is perfect for nights brimming with promise and for girls who like life in the fast lane.