Lovely Sarah Jessica Parker
Eau De Parfum

100% Authentic
Item #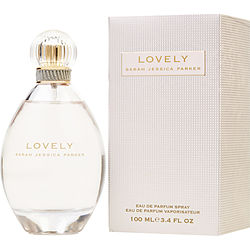 Zoom
eau de parfum spray 3.4 oz
Free Shipping in U.S. (orders over $59.00)
Design House:

Sarah Jessica Parker

Fragrance Notes:

amber, lavender, orchid, musk, and apple.

Year Introduced:

2005

Recommended Use:

casual
No reviews written for this product
I got this perfume as a gift for Christmas. My sister recommended it to my husband. It is the only perfume that doesn't give me a headache and the smell is out of this world. It is the only perfume that I wear and will ever wear again. I just love it!
Written by Mimi Annette Mayer on November 07, 2015
I actually smelled this fragrance(S.J.P-LOVELY) on a friend many years ago, I instantly fell in love with it! the department store I used to purchase it from stopped selling it. I tried your website, and was ecstatic when I saw you sold it. This is my all time favorite scent, it's really not a light & airy fragrance, but believe me, you'll receive a thousand and 1 compliments when your wearing it....
Written by MIDNITE ANGEL on September 02, 2015