Eau De Toilette
by Paco Rabanne

100% Authentic
Item #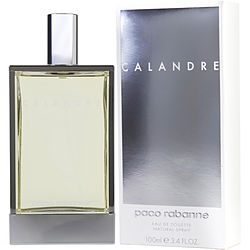 Zoom
eau de toilette spray 3.4 oz
Free Shipping in U.S. (orders over $59.00)
Design House:

Paco Rabanne

Fragrance Notes:

soft flowers with herbs and woods.

Year Introduced:

1969

Recommended Use:

casual
No reviews written for this product
paco rabanne calandre (I'm told it's for men). Bought my first bottle in France (or Canada). I'm a woman and I like it very much. No one has ever complimented me on the scent. Maybe I don't use enough of it.
Written by Anonymous on October 15, 2015
Ever since I snitched this (the smallest bottle!) off my mother's perfume tray in 1968, it has been my absolute favorite scent. It is wonderfully balanced, feminine, sophisticated, natural and pure. There has, almost literally, never been a time that I have worn it that someone has not made a positive comment about it. That covers a lot of years and a lot of use! It has been with me for every special occasion in my life. If I could afford it, I would most certainly wear it every day. As a side note; I divide/classify my perfumes by seasons (Spring/Summer/Fall/Winter scents). Calandre is one of the very few that has no boundaries regarding time of year or occasion. THE BEST OF THE BEST---rah!!!
Written by LAC on August 09, 2015
This has been my favorite perfume for the last 30+ years. I have gotten so many compliments from young and old men. The scent is so subtle, that I forget I have it on, so when I get a compliment, I am surprised. It has been difficult to find for the last few years, so when I did find it, I would stock up. Now that I have found it online, for reasonable prices, I do not need to stalk the perfume outlets.
Written by Anonymous on June 11, 2015
Calandre was, is and will be my scent for life!!!! I can use anothers from time and time but, I always come back to it!!!!! It's the best of the best fragrance ever smelled. I love it!!!! Plus I got it for an incredible price at Fragrance net., what a combination.
Written by Anonymous on May 04, 2015