Eau De Parfum

100% Authentic
Item #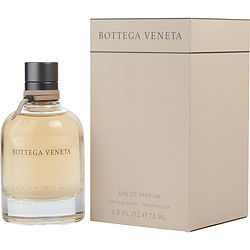 Zoom
eau de parfum spray 1.7 oz
eau de parfum spray 2.5 oz
Free Shipping in U.S. (orders over $59.00)
Design House:

Bottega Veneta

Fragrance Notes:

Bergamot, Oak Moss, Patchouli, And Pink Peppercorn.

Year Introduced:

2011

Recommended Use:

daytime
No reviews written for this product
This fragrance is now my signature scent for church and other special occasions! It is very unique and difficult to find. I haven't smelled it on anyone else so far. It is the most I've ever paid for a fragrance and it is very special to me. I love it!
Written by BaltoBrnSgr on March 26, 2015
Honestly I brought this parfum when I was searching for an addition to my fragrance Lovely once the saleperson suggested I try this I couldn't resist it and strangely enough when I wear this fragrance I get compliments from women and men after walking pass me and say "what is that you're wearing or whatever you have on it smells so nice" I do have several fragrances and this is one of my most expensive but who could put a price on a defining scent!!!!!
Written by dsh on October 18, 2014
Bottega Veneta is my signature fragrance. It's a one of a kind scent. I layer with the shower gel, and body oil. The body cream is excellent for Fall weather. My work day starts at 10 and ends at 8. I still receive compliments that I smell good after several hours.
Written by Ms Body Builder on October 13, 2014
Beautifully Mature and pretty at the same time. I usually wear L'air de temps. Bottega Veneta (which is a name difficult to say), is a stronger scent still ok to wear anythime. It greatly reminds me of a fragrant from the old company "Charles of The Ritz," my grandmother always wore. It does have a little bit of a leathery scent, but do not be put off by that discription, because this is only a very small part of the scent. The other notes make it pretty and difficately not manly. It is a little too espensive, so I can not afford to wear it every day. It you are looking for something different, try this one.
Written by Lovethatsabrina60 on August 10, 2014