Eau De Parfum
WFor Women
Item #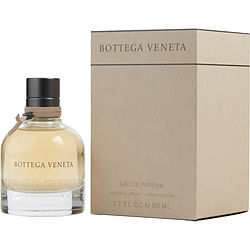 eau de parfum spray 1.7 oz
eau de parfum spray 2.5 oz
Free Shipping in U.S. (orders over $59.00)
Design House:

Bottega Veneta

Fragrance Notes:

Bergamot, Oak Moss, Patchouli, And Pink Peppercorn.

Year Introduced:

2011

Recommended Use:

daytime
No reviews written for this product
Bottega Veneta is the perfume I ordered and I love it. A friend was wearing it and I loved the scent , that was how I was introduced to the fragrance. I will be ordering it again, I find myself wearing it all the time. Thank you.
Written by Joanna on June 11, 2015
Read Review details ►
Bottega Veneta is absolutely delicious fragrance......Last month this fragrance was out of stock and I was so upset.....It's back and I ordered my third bottle. I wear it day and evening.....it's such a fresh and not overpowering fragrance. I have had several people come up to me while shopping for groceries or even at the dr's office asking what fragrance I am wearing. I just love it. Please DON'T discontinue this one.
Written by Jo Ann from GlenEllyn, IL on March 30, 2015
Read Review details ►
This fragrance is now my signature scent for church and other special occasions! It is very unique and difficult to find. I haven't smelled it on anyone else so far. It is the most I've ever paid for a fragrance and it is very special to me. I love it!
Written by BaltoBrnSgr on March 26, 2015
Read Review details ►
I love this scent! Very warm and comforting not too strong but strong enough that it lasts all day. I wear it most often to the office and enjoy the scent all day...
Written by Karen Albright on October 30, 2014
Read Review details ►