Perfume Travel Atomizer
Perfume

100% Authentic
Item #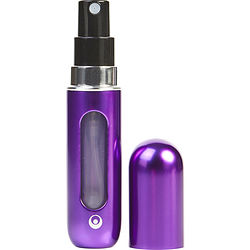 Zoom
refillable perfume travel atomizer, airline approved (fragrance not included) .136 oz
Free Shipping in U.S. (orders over $59.00)
No reviews written for this product
Perfume travel atomizer is wonderful, I travel a lot & no trouble on airplanes. I am ordering 2 more, 1 in case I lose mine & one for a gift. I carry it in my purse at all times. Easy to fill from a SPRAY bottle, used several& all have worked.
Written by Barbara on July 17, 2016
I purchased two perfume travel atomizers, one for myself and one for my sister. We both loved how easy is was to fill from our favorite perfume and know it will be great to carry in our purse and for traveling. I have two favorite perfumes and I am going to order another atomizer to use for my other perfume, so I can carry both with me when I travel.
Written by Diane on July 14, 2016
The Refillable Travel Atomizer is a MUST have for those who travel frequently and/or for those who just like to keep their perfume refreshed throughout the day. Once you watch the video on this site and know how to use it, it's easy and quick to refill. The weight and size of it is also very convenient, as it's lightweight and a little less than 3 1/4" long and 2 1/8" in circumference. For me, that's almost the exact measurements of my middle finger. I always carry mine in my purse. This little gem also makes a great gift, especially because it's so affordable and not likely something that others already have. Couple it with their favorite perfume and you have a gift they're sure to tell everyone about. Disclosure: The RTA may not fit on every perfume dispenser, but so far, it has fit every one that I've used it with, and I have several different perfumes I wear for different occasions and time of day. I highly recommend you give it a try.
Written by Barb Fuller on May 13, 2016
Perfect for carrying in your pocket during school, work, dates, and everything in between. Only complaint is that FragranceNet should come out with more colors. Overall, more than happy with the atomizer especially for the price
Written by Anonymous on April 27, 2016