Perfume Travel Atomizer
Perfume
UFor Women & Men
Item #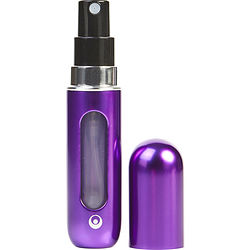 refillable perfume travel atomizer, airline approved (fragrance not included) .136 oz
This lightweight, portable perfume sprayer makes it convenient to have your favorite scent with you anytime, anywhere. At just 3 inches long and holding .136 oz this sleek design is great for men or women on the go. Holding up to 50 sprays and airline and TSA approved the patented refill system fills directly from almost any fragrance bottle with a removable spray head. Simply remove the nozzle from your big fragrance bottle, pump the atomizer up and down on the tube, and you can be ready to go in just a few seconds.
No reviews written for this product
This atomizer is the bomb!! Luvluvluv them! Compliant with TSA, holds enough for 1 - 2 days and makes a great stocking stuffer or gift of any kind! I have given some to my friends and they love the fact that they don't have to carry a whole bottle of perfume in their purses anymore. Wish they came in various colors to identify different fragrances you wear but overall it's a 10!!
Written by Landrisek on October 22, 2014
Read Review details ►
Opium has been one of my favorite scents for about 30 years. I have been looking for a little bottle that I could fill for my purse. This is so cool ! Took me a minute to figure it out, but WOW ! I really would like one for each of my favorite scents but they would all be purple ! Wish there were different colors !
Written by Anonymous on October 22, 2014
Read Review details ►
My husband purchased AMARIGE for me and I absolutely love it. There has not been a time when I wore this fragrance that I have not received favorable compliments from men and woman. After over 30 yrs this remains my favorite most complimented fragrance.
Written by sharon easton on September 26, 2014
Read Review details ►
Awesome item!!! So easy to use and fill with your own fragrance. It doesn't leak and I can take it anywhere.
Written by traveling woman on August 28, 2014
Read Review details ►
This item is absolutely awesome!!!!! I cannot tell u how easy it is to use... I was a little put off by price but it is worth every penny!!! So glad I added it to the order! The only bad thing about it is that it only comes in one color. (I have more than one perfume and my guy has his - this is perfect for travel!!). Only sorry I didn't order more!! I will be ordering more as stocking stuffers for Xmas!
Written by wendy b. on August 20, 2014
Read Review details ►