Perfume Travel Atomizer
Perfume

100% Authentic
Item #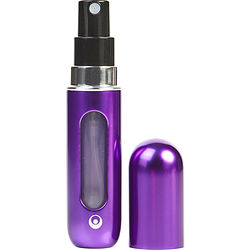 Zoom
refillable perfume travel atomizer, airline approved (fragrance not included) .136 oz
Free Shipping in U.S. (orders over $59.00)
No reviews written for this product
The travel atomizer is terrific....so much easier to take my perfume with me not only when I fly but on all my travels!!! They are the perfect stocking stuffer for my daughter and daughter-in-law this holiday season.
Written by FA on November 13, 2015
Placing my favorite fragrance in my stowed luggage when traveling has twice resulted in it being "removed" from my suitcase without my approval - a polite way of stating that the bottles were stolen by baggage handlers. As a result, I've had to decide whether to risk it again or travel without fragrance (not acceptable!), so having a TSA-approved refillable atomizer to keep in my purse is a great option. I filled the atomizer with Simply Belle, my new favorite fragrance, and I'm looking forward to my next fight in January. I'll likely order another one or two so I can travel without worry if I wish to bring other fragrances. I had no difficulty with the nozzle, and my other fragrances all have similar ones, so I don't anticipate future problems.
Written by Brit's Mom on November 09, 2015
No one else really made it clear so you need a spray bottle that you can pull the spray bottle "squirter" off of and refill atomizer off of the nipple. Worked for my bottle of Spicebomb just fine. Hope you guys start making this in other colors.
Written by Sean on October 20, 2015