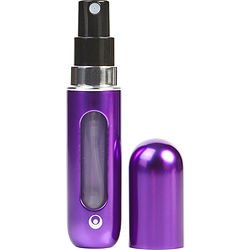 Perfume Travel Atomizer
Perfume

100% Authentic
Item #
refillable perfume travel atomizer, airline approved (fragrance not included) .136 oz
Free Shipping in U.S. (orders over $59.00)
No reviews written for this product
I love this Perfume Travel Atomizer! It's extremely easy to use and works great. The spritz gives out the right amount of scent and it's the perfect size. I wish I could give it 6 stars just because it's purple!
Written by XandJsMomma on August 08, 2016
Perfume travel atomizer is wonderful, I travel a lot & no trouble on airplanes. I am ordering 2 more, 1 in case I lose mine & one for a gift. I carry it in my purse at all times. Easy to fill from a SPRAY bottle, used several& all have worked.
Written by Barbara on July 17, 2016
I purchased two perfume travel atomizers, one for myself and one for my sister. We both loved how easy is was to fill from our favorite perfume and know it will be great to carry in our purse and for traveling. I have two favorite perfumes and I am going to order another atomizer to use for my other perfume, so I can carry both with me when I travel.
Written by Diane on July 14, 2016