Perfume Travel Atomizer
Perfume
UFor Women & Men
Item #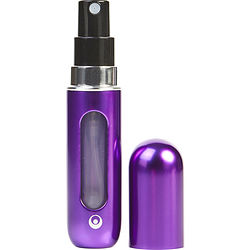 refillable perfume travel atomizer, airline approved (fragrance not included) .136 oz
No reviews written for this product
Perfume Travel Atomizer This is a perfect accessory. You can always take your favorite fragrance with you. It is easy to use and just big enough for your pocketbook.
Written by Diva Diane on May 07, 2015
Read Review details ►
I love this little item. I use it when I travel and it's acceptable as 1of 3 of your TSA 3oz requirement. I have given them as gifts to my family & friends who travel a lot. I even keep an extra around for me because I never want to be without it when I travel. Great product!
Written by DB/WV on April 23, 2015
Read Review details ►
The travel atomizer is great especially these days where colognes and perfumes fade away fairly fast . Just leave it in the car and the best part you only need to spray once not 3 to 4 times .
Written by Drewski on March 10, 2015
Read Review details ►