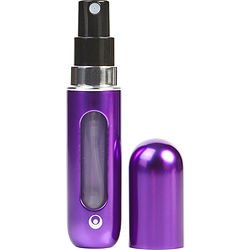 Perfume Travel Atomizer
Perfume
100% Authentic
Item #
refillable perfume travel atomizer, airline approved (fragrance not included) .136 oz
Free Shipping in U.S. (orders over $59.00)
No reviews written for this product
Receiving a Perfume Travel Atomizer is how I was introduced to FragranceNet (thanks so much to my best friend!!) but never used it... That is, until I started using the Clean fragrances... I first received a Clean rollerball 5-pack which I discovered could be mixed together to make some pretty amazing signature scents... My fave is a combo of Clean White Woods and Clean Air with just a touch of Clean Skin added... That's where this little beauty came in handy... I can premix my scent and not carry multiple bottles around... The scent smells just the same as layering, stays fresh until I have to refill the Travel Atomizer and NO LEAKS... I am now ordering more because I have discovered that CK One makes a great base for designing other scents also... Think I may give these as gifts with "signature scents" next year... Well worth the price!! Thanks FragranceNet!!
Written by Ahnathea on December 12, 2016
The atomizer is great to have on the go. I have several to use with different fragrances. My only criticism is I wish there were several colors to choose from so I don't have to try to keep them marked.
Written by Gedi Frye on October 09, 2016
The perfume atomizer does not fill. The perfume spills all over hands, while the atomizer remains empty. I gave the atomizer and perfume to my daughter to fill. She had the same problem. I would not recommend this product.
Written by PT on September 24, 2016