Perfume Travel Atomizer
Perfume

100% Authentic
Item #
Coupon Price: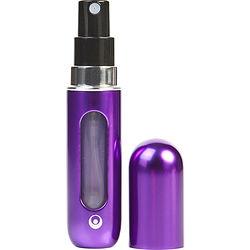 Zoom
refillable perfume travel atomizer, airline approved (fragrance not included) .136 oz
Free Shipping in U.S. (orders over $59.00)
No reviews written for this product
Perfume travel atomizer: small, colorful container. Easy to fill if you have a spray perfume bottle that is compatible with the small fill receptacle. I only had one perfume bottle that worked to fill the travel atomizer.
Written by Anonymous on August 17, 2015
I was really disappointed in this. Although the product is well made and attractive, I can't use it as I intended. No where in the description did it state that you could only fill it from a spray bottle of perfume. I wanted to fill it from a nonspray bottle. So it is of no use to me at all. I guess I will pass it on to someone else.
Written by Jane on August 10, 2015