Perfume Travel Atomizer
Perfume
UFor Women & Men
Item #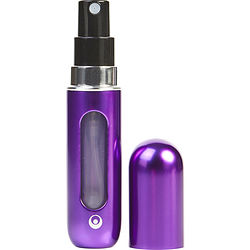 refillable perfume travel atomizer, airline approved (fragrance not included) .136 oz
Free Shipping in U.S. (orders over $59.00)
No reviews written for this product
I'm very impressed at how well designed and constructed the Perfume Travel Atomizer is. It took a bit of time for me to figure out how to fill it; perhaps I'm just slow! Anyway, I plan to buy more and give them for gifts. It's a FABULOUS gift for your darling.
Written by Pauletta T. on June 01, 2015
Read Review details ►
Perfume Travel Atomizer This is a perfect accessory. You can always take your favorite fragrance with you. It is easy to use and just big enough for your pocketbook.
Written by Diva Diane on May 07, 2015
Read Review details ►
I love this little item. I use it when I travel and it's acceptable as 1of 3 of your TSA 3oz requirement. I have given them as gifts to my family & friends who travel a lot. I even keep an extra around for me because I never want to be without it when I travel. Great product!
Written by DB/WV on April 23, 2015
Read Review details ►