Eau De Toilette

100% Authentic
Item #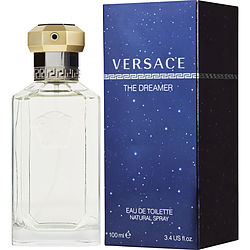 Zoom
eau de toilette spray 1.6 oz
eau de toilette spray 3.4 oz
Free Shipping in U.S. (orders over $59.00)
Design House:

Gianni Versace

Fragrance Notes:

wild flowers, linen, amber and tobacco.

Year Introduced:

1996

Recommended Use:

casual
No reviews written for this product
Don't go to sleep on this cologne. Dreamer in my opinion is definitely a grown and sexy fragrance. It doesn't over power your Ladies perfume. But delivers a masculinte scent for those more intimate moments. Very romantic fragrance.
Written by Sexy smooth fragrance on August 13, 2015
Versace Dreamer, Only REAL men can wear it, Ladies love it...it smells sooo good, people will be too intimidated to ask what it is, but all they can think about is how good you smell....
Written by MR CLEAN on March 14, 2015
Bought this because I know Versace is quality, and I love cologne. It probably took me three months to get to the point of loving this scent. Takes some getting used to, but it is an excellent fragrance.
Written by JerrodRSapp on December 22, 2014