Trend Report: Metallic Accents
Posted by Anonymous on Mon, 08/06/2012 - 6:24 PM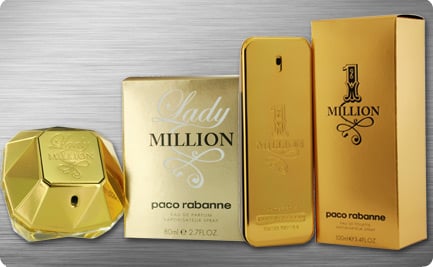 Metallic hues, glitz, and glamour will play a big role in the fall season, which is why we're reporting to YOU on how you can wear the trend in a whole new way. Try the trend on your nails, mix it into your style, and most importantly accessorize! Fragrance is one of the most important and well forgotten about accessory, but we're here to give you a friendly reminder to not forget it this season!

Switch up your summer scent with something more glamourous, something more rich, something like Lady Million for you ladies and One Million for you fellas.
Lady Million by Paco Rabanne is a mature scent that will last through any situation; notes include raspberry, orange flower, white honey, lemon, neroli, and jasmine. Paco Rabanne Lady Million is a unique women's scent that is sure to please the noses of you and those who surround you.


Paco Rabanne 1 Million cologne is a casual scent for men. This fragrance expertly combines blond leather and blood orange with notes of mint, grapefruit, rose, and patchouli. Subte yet masuline, this scent is also perfect for any occasion.
Paco Rabanne fragrances are glamourous, glitzy, and if you look at the gorgeous packaging, quite metallic in hue; perfect for the fall trend and perfect for your fall scent!
Do you know of any other metallic hue scents that will be hot to wear for the fall season?