Tired of Looking Tired? Rise & Shine!
"Are you tired, rundown, listless? Do you poop out at parties?" No, but really, are you tired of looking tired after a decent nights rest? What is it that you're doing wrong? Well, it's what you're not doing that is wrong. Try these products and tips for a bright, healthy, wide eyed awake look.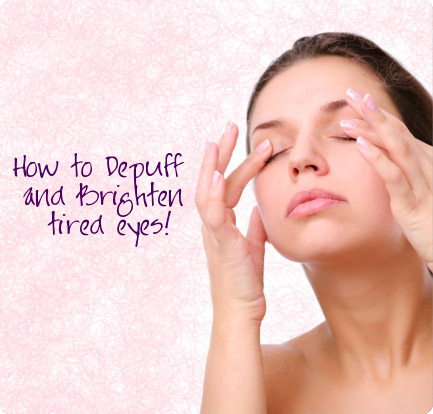 Compress & Cover
Try using a cold compress on your eyes for about 10 minutes and before heading to bed, slip on a silk sleep mask for a pleasant nights rest and a beautiful, bright face in the morning. 
Drink Lots of Water & Get Nourished
Drink lots and lots of water to stay hydrated, but also be sure you are getting the right nutrients. Try an all Hammer Nutrition's all nautral sleep aid dietary supplement to get all the antioxidants you need for a more sound, restful, and productive sleep.
Moisturize
Don't just moisturize with any plain ol' facial moisturizer. Your eyes need special care, that's why we think Clarin's Beauty Flash Eye revive is the perfect pick me up for dull, puffy eyes.
Have your own depuffing, brightening eye remedy? Share it with us & let us know what works for you!