#ThrowbackThursday: Opium by Yves Saint Laurent
Oh, you know what day it is, Thursday! Which means it's time for a throwback. But not just any old throwback, we're highlighting vintage scents from decades past that if spritzed on today would come across as contemporary as ever.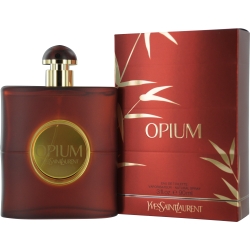 This #ThrowbackThursday we're spritzing Opium by Yves Saint Laurent.
The King " Elvis Presley" Dies at the age of 42 from a heart attack. Saturday Night Fever hits the big screen. The New York City Blackout lasts for 25 hours and results in looting and disorder. It's 1977 in America!
Meanwhile, over in France the last execution by guillotine is taking place and Yves Saint Laurent is releasing its most controversial scent ever -- Opium.
This evocative and intense perfume perfectly blends exotic floral and coriander notes for a rich, exotic fragrance that will turn heads and had stirred controversy. Top notes of mandarin orange, plum, clove, coriander, pepper, and bay leaf aside what really filled the air in 1977 was accusations that brand designer Yves Saint Laurent was condoning drug use.
As middle notes of jasmine,rose and lily, in addition to carnation, cinnamon, peach and orris root began to appear so did a group of Chinese Americans who demanded a change of the perfume's name and a public apology from Saint Laurent for "his insensitivity to Chinese history and Chinese American concerns." After all, this beautiful flower with white, mauve, or red petals was at the root of an addiction epidemic that took thousands of lives in China.
The name stuck though, as did the scent, which has become an iconic Yves Saint Laurent fragrance.