#ThrowbackThursday: Joy by Jean Patou
Oh, you know what day it is, Thursday! Which means it's time for a throwback. But not just any old throwback, we're highlighting vintage scents from decades past that if spritzed on today would come across as contemporary as ever.
This #ThrowbackThursday we're spritzing Joy by Jean Patou.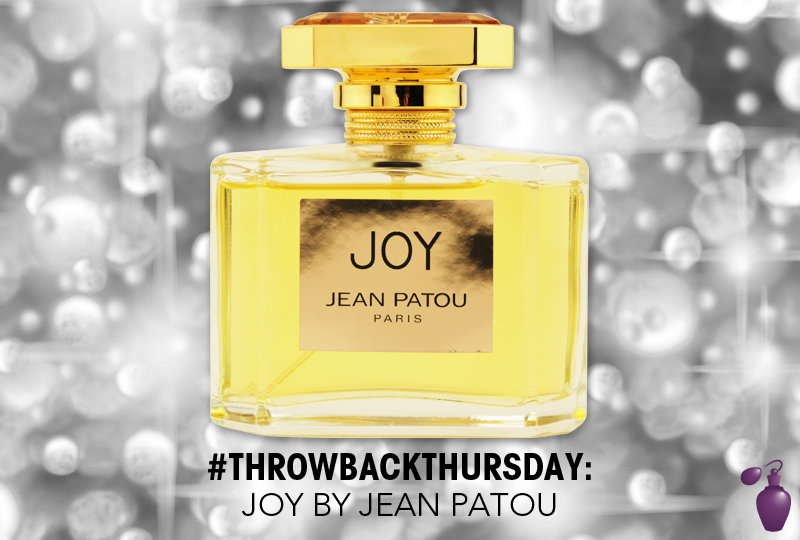 Back in 1929 it was all about getting your hands on some Joy. The Wall Street Crash had sent tremors of anxiety through upscale American enclaves and the working class was about to drown in a great wave of depression. Someone needed to lighten the mood.
It was around this time that French fashion designer Jean Patou -- the genius behind women's sportswear -- choose to shift his attention and talents from high-end tennis skirts to an endeavour that would do just that -- lighten the mood. He had perfumer Henri Almeras concoct Joy, a whimsical floral scent. Despite its astonishingly high price and the depressed economic environment, Joy became a success and has remained Jean Patou's most famous fragrance.
Joy is composed primarily of a combination of jasmine and rose. 10,000 jasmine flowers and 28 dozen roses are required to create 30ml of the parfum, which explains why even by today's standards it's still a pretty pricey scent. Notes of ylang ylang, michelia and tuberose also flutter about the scent, allowing Joy to embody the platonic idea of a flower and serve as a landmark example of the floral genre.
Joy remained the costliest perfume in the world, until the House of Patou introduced "1000" (a heavy, earthy floral perfume, based on a rare osmanthus) in 1972. It is currently the world's second best-selling scent behind Chanel No. 5, however, in 2000 Joy nudged out Chanel NO. 5 when the public voted it the "Scent of the Century" at the Fragrance Foundation FiFi Awards.
The more you really think about it, isn't that what we need right now, to lighten the mood? To let a world-renowned whimsical scent lift us above the chaos that's swirling about?