The garden-fresh scents of tomato and basil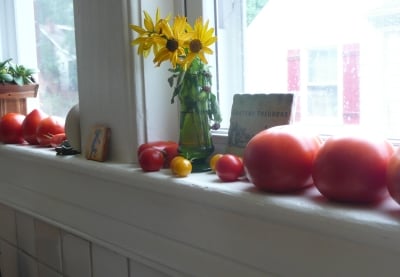 Nothing says summer like garden-ripe, homegrown tomatoes and fresh herbs. And while a caprese salad and homemade salsa are completely agreeable to the taste buds, do they really work in your fragrances?
The fact that, here at FragranceNet we are often sold out of Marc Jacobs Basil perfume and Donna Karan DKNY is a clear indication that, yes, tomato and basil indeed work in fragrance form.
There are other fragrances on the market that contain notes of tomato and basil, including Nina Ricci's Liberty Fizz, CK Truth, Jo Malone Lime Basil, Hermes Un Jardin Sur Le Nil, Annick Goutal Passion, Essential by Lacoste, Sisley Eau de Campagne and Demeter Wet Garden cologne spray.
The greeness of the tomato note often blends well with accenting floral notes, providing an overall crisp, clean aroma … as well as a reminiscent olfactory experience. Let's face it. Nothing really beats the smell of a ripe vegetable garden.
Makes me want a slice of tomato right about now.