Ok, can we be honest for a minute? It is so hot, humid, and disgusting outside. Putting on a face full of makeup for a fun day/night out sounds like an absolutely terrible idea. So, what's a girl to do? Sit inside all summer? Highly unlikely. Forgo a beauty routine all together? That hasn't happened since turning 25. When the temperature continues to creep higher and higher, you're best beauty weapon will be tinted moisturizer. Lightweight, barely there coverage evens out skin tone while adding moisture to aid in your summer time glow!
With that settled, now it's time to browse multiple different offerings and choose. To make it easier, we picked two of our favorites for a battle of the tinted moisturizers and leave it up to you to decide between, "This or That".
It's Clinique's Moisture Surge Tinted Moisturizer SPF 15 versus Christian Dior's Capture Totale Multi Perfection Tinted Moisturizer. Both brands offer high quality products, with pros and cons dependant on your skin care needs.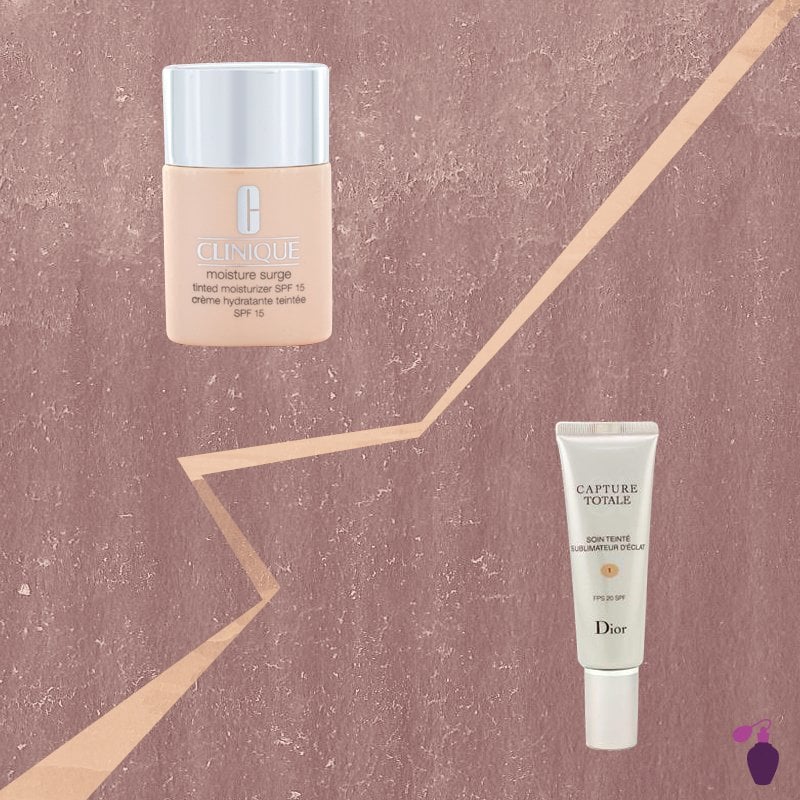 With broad spectrum SPF 15 protection, Clinique's Surge Tinted Moisturizer is a great option for those who might not remember sunscreen every morning. Surge Tinted Moisturizer SPF 15 is also available in six shades, whereas Christian Dior's Capture Totale Multi Perfection Tinted Moisturizer only comes in two. Also missing from Christian Dior's is SPF, however the creamy formula does contain Aminolumine™ and a Color Catalyser pigment to help correct the signs of aging and add a healthy glow effect.
So, when it comes down to this or that, the battle of the tinted moisturizers, which will you choose; Christian Dior's Capture Totale Multi Perfection Tinted Moisturizer or Clinique's Moisture Surge Tinted Moisturizer SPF 15?
What features are most important to you?
Why complicate things when you can simply simplify them? If your beauty regimen is more than 10 minutes in the morning, you need to simplify yourself with these 6 beauty products that do the work for you, not the other way around.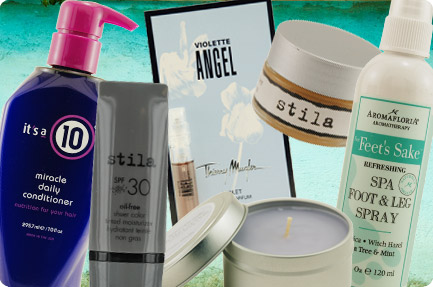 First off, your hair. If you're like me and have to shower at night because a full head of locks takes seemingly forever to dry, pump and infuse your hair with it's a 10 miracle daily conditioner before you head to bed. This leave in conditioner will work miracles while you rest and get that beauty sleep. It will make your hair smooth, frizz free, and smell amazing in the morning.  A hair fuss free morning will cut down your 'get ready' time drastically, so now you have to style your hair if you choose to!
How about that face? Do you use concealer then liquid foundation than powder and blush and…and…and. Stop layering your makeup, especially for the summer season. Try Stila's eye concealer and Stila's SPF 30 Oil Free tinted moisturizer in the tone that matches your skin tone best. This tinted moisturizer provides a medium coverage, greater than any other tinted moisturizer I've seen, and gives a beautiful, natural make up look that we all want to achieve.
Next, in case you are in a hurry, always carry a vial of perfume in your bag for those 'gotta go' moments. Nothing is worse than leaving the house with only the fragrance of your deodorant, yah? Get yourself a vial of your favorite scent so you can smell heavenly all the time!
For Feet's Sake, your feet have feelings too! Not really, but we know how it feels to have those blistery, hot feet from those oh so hot heels that don't just fit right but we just HAD to wear them! Am I right with this one? Throw this refreshing spa foot & leg spray in your bag, the blend of tea tree and mint mist on your toe-sy's will give you that cool, calm, refreshed feeling we all beg for after a long day of heel-wearing.
Lastly, simplify your day and de-stress yourself with a lovely lavender and vanilla essential candle. They come in all shapes and sizes and burn for 20-90 hours, depending on which candle you choose. This timely fragrance is perfect for simplifying yours, mine, and every one's life, honest.