With so many fabulous haircare products to choose from on Fragrancenet.com, it can be hard to narrow down the best options. While we try not to discriminate, one of our greatest loves right now is Oribe (pronounced "or-bay"). This salon and celebrity favorite works miracles on dry hair, smelly hair, lackluster hair…you name it. It makes your hair look as healthy as it feels, and is worthy every penny. The black and brown bottles also make for really sleek and sexy packaging, so men and women alike will love this product.
Oh yeah, and the scent of these products could be delicious enough to wear as a fragrance (hint, hint Oribe!). Here are three of our favorite products from the luxurious line:
Oribe Shampoo for Brilliance & Shine
This season, shine, shimmer and illumination have been super trendy. That's why we love this award-winning shampoo: just a little will provide long-lasting luster and make your hair look beautifully polished. Perfect for dry hair, this product will illuminate your hair, and leave you looking like an angel with perfectly glossy locks.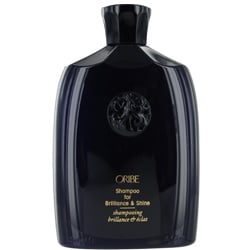 Oribe Maximista Thickening Spray
The days of Rachel Green's sleek, straight hair are gone, and bigger hair is now better. Want a voluminous look without the '80s poof? This thickening spray is perfect for that. After a hair wash, spritz a little on your roots with an emphasis on the crown of your head. For a really big, body-full look, spray all the way down to the ends of your hiar. Lastly, blow-dry your hair with a round brush. Don't worry; this formula will protect your locks from heat damage and is crunch-free.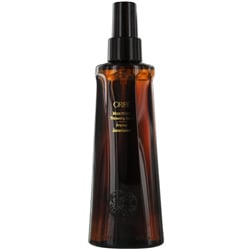 Oribe Conditioner for Beautiful Color
For those of us who've been the victim of a bad dye job or over-processed hair, this conditioner is a must-have. The formula is full of goodness and actually restores damaged hair, doesn't just hide it. It also preserves color and protects against damage caused by the sun and pollutants. Did we mention it's a favorite of Hannah Simone, who plays supermodel Cece on New Girl?