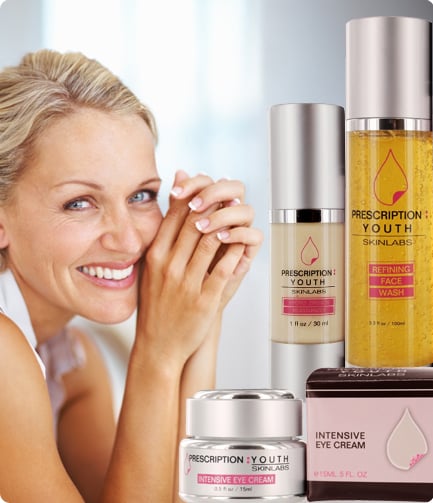 We have some really exciting news! We will now be carrying Prescription Youth Skincare, a skincare line created by Skinlabs™. Skinlabs™has created the next generation in skincare by utilizing the the revolutionary SMART Core™ Science to change the world of skincare.
Smart Core™ Science adapts to each individual and enhances permeation of key ingredients, maximizes skin hydration, eliminates soap based emulsifier, does NOT disrupt skin pH, nourishes the lipid barrier, and it's pretty safe to say it takes a new approach to skin moisturization.
Take a peek at the lovely line which includes a hyrdo drench moisturizer, an instant erase eye serfum, intensive eye cream, and a refining face wash.
Which Prescription Youth anti aging product will be the first to make it to your cart?