Summer time is a time notoriously known for being on the go, a time to vacate, head out for a 7 day holiday, you catch my drift, no? No matter where you plan on going, there is absolutely no reason to not be gorgeous on the go!
That's why we want you to get familiar with what we offer for your traveling needs, like our mini fragrances, travel bags, and gift sets galore! Now that you're familiar, want to know our fave pick?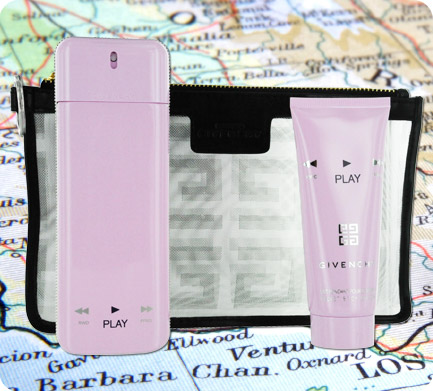 How amazing is this PLAY by Givenchy travel pouch that includes an eau de parfum spray and a body lotion?! AMAZING! Not only is it important to smell gorgeous, even on the go, but with the spray and body lotion in this set, it makes it so easy to layer your scents! Layer up with a lotion first, smell like white floral, a bit balmy, a bit woody, but most importantly sweet! Then once you've applied the lotion, spritz some spray for a longer lasting scent! How easy is that!
Once you're done, throw your items in your travel case PLUS your other beauty must have's and use the pouch as your makeup bag. You're all set!
Where will you be on the go this summer season?
For now, au revoir!