Ever wonder what our top 5 fragrance & beauty picks are? While they may be everchanging on a daily basis (how can we pick just 5 'top' fragrance & beauty picks, c'mon), here are the top 5, for today at least.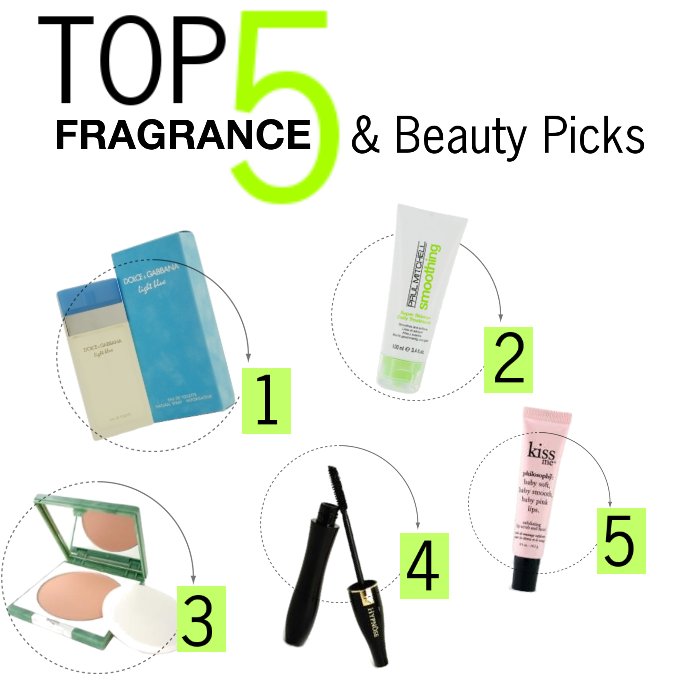 Top Fragrance: Dolce & Gabbana Light Blue perfume
A fragrance made for every day use for the casual woman, this perfume has a subtle scent, a scent that mixes apple, rose, jasmine, and musk fragrances to give a gorgeous, unique scent. 
Top Hair Care: Paul Mitchell's Straight Works
An amazing product that helps calm and relax naturally wavy/curly hair into a shiny, smooth style. Make your textured or unruly hair straight, sleek, and soft. Sounds too good to be true? You haven't heard half of it! This styling cream is lightweight and leaves hair soft and manageable. This product really provides the perfect balance of slip and hold to transform textured hair. 
Top Skin Care: Kiss Me exfoliating lip scrub
Keep your lips impeccably kissable with this lip conditioning, lip exfoliating product. This lip scrub/gloss will condition any dull, dry, flaky, or rough skin, giving you a super soft, super smooth, lovely looking lip. 
Top Makeup: Clinique clarifying powder makeup
The perfect way to help skin stay clear, look fresh and clean, for up to 8 hours. What's not to like about that?!
Top (other) Makeup: Lancome's noir hypnotic mascara
Probably one of the best mascara's on the market, this mascara gives a dramatic, intense lash with lots of length.


What a crazy week it has been...thinking yesterday was Monday but in all reality, it was Wednesday, this holiday week was full of great products coming and going in the offices of FragranceNet...but the round up for this week, those 3 beauty things I tried that I just can't keep to myself?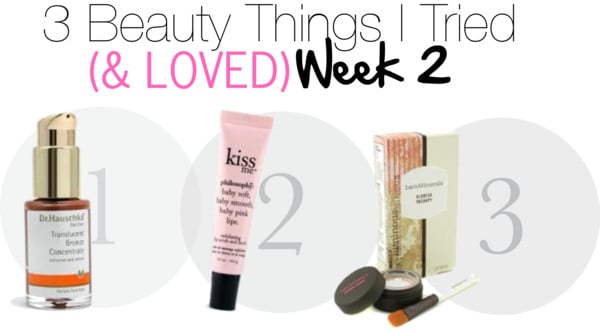 1. Dr. Hauschka Normalizing Day Oil (for oily or impure skin) is a real treat to your skin, giveing it that calm it needs, plus extra protection. Against what, you may ask? Against harsh enviornmental and weather conditions! The lightweight and non-greasy oil controls sebum protection of your skin and also refinds open pores. Not only that, it will improve your skins elasticity and soften the appearance of your pigmentation. So get this, refine your pores and smooth and soften skin while protecting it too! For your face, this is heaven in a bottle, just apply a few drops of this oil in the morning and follow up with a toner for a new and improved complexion!
2. Kiss Me Exfoliating Lip Scrub & Facial by Philosophy firstly, smells ah-mazing, and feels amazing on your lips! Are your lips seeking smoothness? Moisture? Well, seek that instant relief and moisture surge and give yourself a dramatic lip makeover. Get your lips ready....that New Years Eve kiss is right around the corner!
3. And the 3rd and final thing I tried this week that I just couldn't keep to myself is Bare Escentuals Blemish Therapy. Use this daily, and you can conceal and prevent future breakouts with this remedy and brush. It's easy to use and results are REAL! Not only does it prevent future breakouts, but it also helps minimize the appearance of pores, reduces redness and diffuses imperfections, like magic.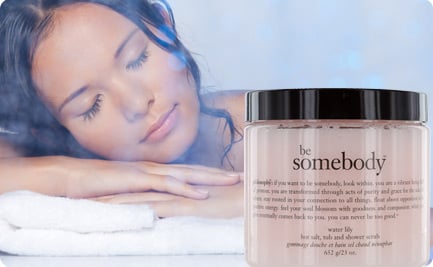 Relax, breathe deep, and treat yourself Philosophy's water lily hot salt, shower scrub. Escape your day and look within, "feel your soul blossom with goodness and comparison"; you can never feel too good with this amazing shower scrub.
Use this in your next shower and reveal to yourself incredible smoothness on the skin and total relaxation; exfoliate, moisturize, and condition all in one.
be somebody, be yourself, be beautiful.