A little while back, we took a poll on our Facebook page asking YOU what is your top pick for the perfect 'first date' perfume? This is what we (when we say we, we mean you, you lovely fans) came up with.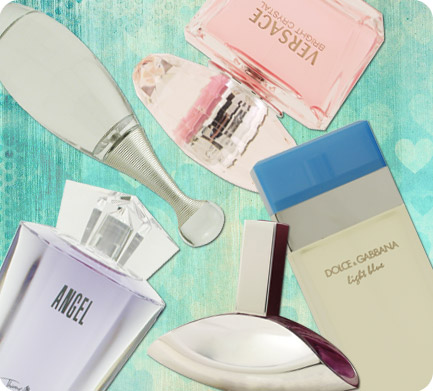 Coach Poppy
 Did you vote? Do you agree? What is your top pick perfume?

Dun, dun, dun...Mother's Day is almost here, not really, but it's sure going to sneak up right under our pretty painted toes & sandal wearing feet FAST. Don't make this occasion a hard to do…we all know mom's can't get enough of beauty, skincare, haircare, fragrances, candles, and (ah)romatherapy products!
 So here we have it, 5 great products that we wouldn't doubt giving to our mama's on their special day, Sunday, May 13th this year!
Lovely by Sarah Jessica Parker
 Go ahead, get cheesy and tell your mom how lovely she is with a fragrance after her 'lovely'ness. Lovely perfume by Sarah Jessica Parker has fragrance notes of amber, lavender, orchid, musk and apple.
 You can't go wrong with Euphoria perfume by Calvin Klein. With notes of black violet, pomegranate, black orchid, mahogany wood, persimmon, and lotus blossom, this one can be categorized as one of the most 'exciting and appealing' perfumes around!
 Whether your mom is a trendy woman or a 'plain jane', Smashbox cosmetics will please her on her special day. A woman can always use an extra blush brush, or new eye shadow cream. Surprise your mom with an enhancing lip gloss or a photo finish lipstick with sila silk for a ravishing look for day to night!
Marc Jacob's Daisy by Marc Jacobs
 A scent that is not overpowering with fragrance notes of violet leaves, white wood, strawberry and gardenia to name a few, this scent can easily be named your mom's next signature scent!
 Give her a gift she'll use every day! Redken products are great; make her a gift set by mixing and matching products like Color Extend sun after sun shampoo and Chemistry System Strength Shot Booster for help in achieving strong, healthy hair. There are a ton of products you can get to fulfill your moms hair needs!
...& then our comparable scent! The following price you are about to read is no joke, and yes, it may give us humor, but it's really not funny...not one bit. Can you imagine spending this much on a fragrance? Check out how FragranceNet compares to the world's most expensive fragrance.. Would you splurge or save? Check out the most expensive fragrance and the similar fragrance we carry!
Clive Christian's Imperial Majesty perfume
Known for the most expensive perfume in the world, it 'only' costs $215,000 for a bottle...that could buy a small house! The luxury perfume has a mixture of jasmine, cardamom, carnation, lemon, bergamot, and benzoin. Why the high price? It comes in a diamond crusted bottle. Want to know what we think the FragranceNet equivalent? Let's go with Clive Christian X perfume. Made by the same Clive Christian, this perfume has notes of Egyptian jasmine, lily of the valley peach, rose, patchouli, vetiver, vanilla, cashmere musk, Sicilian mandarin, rhubarb, pineapple, and cedarwood. 
Would you go for Clive Christian's Imperial Majesty perfume at $215,000 or Christian X perfume for $307.19.