Gold is desirable in any size, shape or form. No matter what it seems to be, whether it's jewelry, fashion, or fragrance, gold is typically top notch, and oh-so-irresistible. Naturally, we chose these 6 gold-acious fragrances that make us melt after we sniff a spray!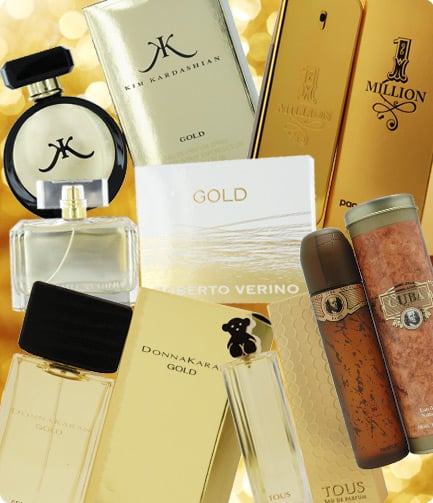 They say all that glitters is gold, and that is 100% true with Donna Karan's Gold Sparkling perfume. Spray some of this on your pulse points and you'll smell of lovely notes including fruits, amber, Casablanca Lily petals, citrus, and berry.
For a feminine, floral fragrance with a twinge of oriental uniqueness, Tous Gold perfume is the perfect choice. With additional notes of amber, vanilla, spice, this scent is the perfect balance between sweet sugar and spice.
Kim Kardashian's Gold perfume is quite pleasant, surprisingly mild and great for casual use. Gold is a luxurious fragrance with the tagline that claims it to "transcend ordinary". Notes include bergamot, grapefruit and pink pepper, along with blends of patchouli, sandalwood, amber and creamy benzoin.
Love a floral, woody scent? We couldn't resist…Gold Roberto Verino for Women is THE floral, woody, powdery scent any woman will love to wear. A great night scent, this fragrance opens with bergamot and gardenia and middle notes of rose, jasmine, iris root and white peony. If you never tried it or had it, you will want it!

Top seller Cuba Gold is no wonder a top cologne for men with it's exotic essence of bergamot, lavender and vetiver blended with woods and jasmine. It's the ultimate masculine scent and what better than it's inspiration of the Cuban cigar.
Another top selling men's cologne, Paco Rabanne 1 Million cologne has main accords of warm spices, citrus, cinnamon and woody scents. It's fresh and sensual, with a glittery shine of gold. This cologne was created and inspired by Paco Rabanne's metallic fashion, which he said, "In all civilizations and religions gold has always managed to seduce people
You've come to the right place to get the full details for our Pixelated Perfume contest!
Here's how it works:
-Every hour, on the hour, we'll be updating a new image, less pixelated, to help reveal the perfume photo on Facebook.
-Stay tuned for each new photo!  If you know it, guess it! Please ONLY guess ONCE per photo clue uploaded...if you guess more than once, only your first guess will count. Fair is fair and rules are rules...so play the game and stay tuned!
-Don't forget, the first person to guess the perfume name right wins! There will only be ONE winner for this contest
Winner will be announced on the hour after the photo uploaded with the correct guess stands
What do you win?
PRIZES
If you're the first to guess the perfume correctly with the 1st photo upload, you get a $ 50 FragranceNet.com gift certificate
Be the first to guess it right on the 2nd photo, win a $ 40 gift certificate
And so on.. and so forth...$ 30 gift certificate if you're the first to guess it with the 3rd photo hint
$ 20 gift certificate if you guess it right with the 4th photo hint
$ 10 gift certificate if you guess it right with 5th photo hint
GOOD LUCK & Have Fun!
**Please note, the winner of the previous puzzled perfume contest can not win this contest for fairness and fun for all.
Say what? Perfume can make you lose weight? According to a recent Perfume.org article, perfume can help the pounds come off and start to spare. Do you believe it? It sounds crazy if you ask us, but check out the article for yourself and see!
Apparently oriental spicy scents do the trick, want to give this one a whirl and try it? We've got quite a few scents that are spicy and maybe even great for weight loss, like Elizabeth Arden's Green Tea Spiced or Prada's Candy eau de parfum, or a favorite of ours, Thierry Mugler's Angel eau de toilette. If you try it, let us know which scent you use and if you see any results. Plus, what are your thoughts on this 'study'?