Design House: Bvlgari
Year Introduced: 2007
Fragrance Notes: Grapefruit, Green Sap, Bulgarian Rose, Iris, Heliotrope, Solar Woods
Recommended Use: Casual
Scent Life: 6-10 Hours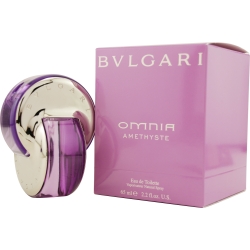 Bvlgari does it again! This fragrance is light, sexy, and classy all in one. Layer with lotion for a longer, heavenly scent. Amethyst delivers a delightful smell, the smell of an early tropical morning, clean and bright. Neutral, soft and romantic, it's great for day, night, work, or heading out for the night. Don't be surprised when you wear this perfume and you find yourself looking around from side to side in search of blooming lilacs or a sweet fragrant tree...just realize it's you!