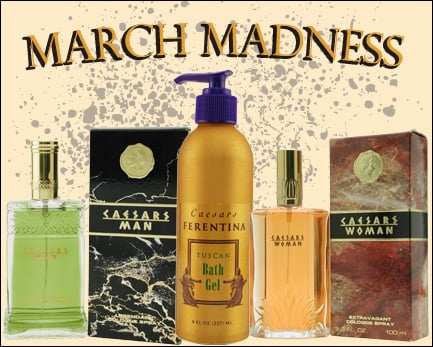 March Madness to you may interpret itself differently from me to you to someone else. One may think of March Madness as the crazy compeition of college basketball, getting down to the knitty gritty of it all to the final teams. However, for me, March Madness is a way for me to 'celebrate' Caear's fragrances.
You may wonder...what the...? How so?
Ok, well here is my concept. In the month of March, the 15th day of March is well known as the Ides of March, also known for the day Julius Caesar was killed. 
In honor of Julius Caesar, I decided to pull the Caesar fragrances and do a little review of what's so great about each!
Caesars by Caesar's World for men -- Introduced in 1988, this mens cologne has notes of wood, moss, oak, citrus and sandalwood. This scent is an oldie but a goodie, enough said!
Caesars by Caesar's World for women -- Also introduced in 1988, this womens fragrance has notes of range flower, rose, musk and sandalwood. The fragrance is very mod and romantic. It's been often said that once a woman wears this cologne, she forever wears it.

Caesars Goddess perfume -- The perfect scent for spring, and will make you smell..well, like a goddess!

Caesars Ferentina perfume -- This warm, floral scebt combines orange flower and black currant with jasmine. Light spices and musk complete the tones. Perfect for a night out!


Have you heard of Caesar's fragrances? Do you own one yourself?

 




Did you know that fragrances aren't considered a basic necessity in the Chinese beauty market? In fact, fragrance only accounts for one percent of an expected 100 billion yuan in 2011. While this may sound discouraging for perfumers, it's not, according to this article in China Daily.

It's not that the Chinese market doesn't want the products, it's just that the pace is slower than usual.

"In our consumer research, we found that lots of consumers love the design and the scent of fragrances, but they're not in the habit of using them every day," Ghislain Devouge, general manager of P&G Prestige Greater China, told China Daily.

According to the article, consumers in China prefer light florals over heavier fragrances. The lighter florals connect with them on an emotional level. This is why Cody's Cool Water cologne is still a very popular choice in the Chinese market.

Read the entire article here.