If you were following us on Twitter during New York Fashion Week, you probably are in the know already of what Spring//Summer 2013 beauty trends are soon to be, but, if you haven't seen already, take a look now! We had backstage passes to fashion designer Vivienne Tam's SS 2013 fashion show, and through the crowds of hair and makeup stylists, press, bloggers, and photographers, we had the chance to snag a few beauty tips, a bit of hair tutorial, and lots of insider tips and tricks and products being used.
For this specific show, the makeup artists were using only MAC cosmetics. 
The makeup was very matte and nude, a trend that will be most definitely popular for the upcoming spring season. Watch how the head makeup artist applies the makeup here.
For the hair, hair stylists parted model's hair into a middle part, pulled back into a bun with a dusting of red, light blue, green, and gray on the center parts. Watch how two hair stylists get a perfect, spiral bun here.
Tomorrow is officially the first day of New York Fashion Week for the Spring/Summer 2013 season. We are beyond excited to be attending shows, from Nicholas K (the opening show) to Jill Stuart, Vivenne Tam, and Nanette Lepore and giving you a sneak peak of the fashion & beauty trends to come! Before we get to all that good stuff, (be sure to follow us on Twitter for live Tweeting from the shows and backstage behind the scenes), we needed to pack our bag and be prepared for those 12 hour days of fashion, friends, and sky high heels!
Check out what we've got in our bag for the first day of New York Fashion Week....did we forget anything? Let us know!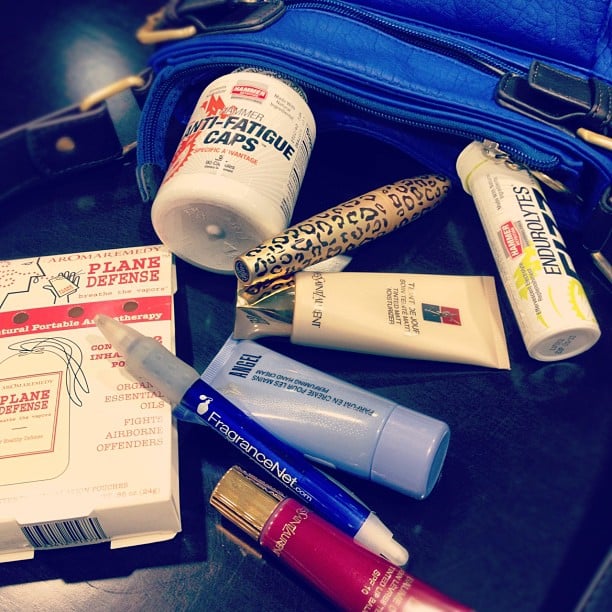 Goodies that we got in our bag are:

Hammer Nutrition Anti-Fatigue Caps, for obvious reasons, we're all about natural supplements and we're going to need them after 12 hour days
To go along with the fatigue, we want to be sure to stay replenished with those energizing electrolytes! That's why we'll be carrying Hammer's Endurolytes Fizz tablets in Lemon Lime flavor, yum!
While we're sitting there looking pretty at the fabulous fashions strutting down the runway, we would not dare be without Helena Rubinsetin's Lash Queen feline black mascara in black black....plus the packaging is too cute for words!
Talk about class, we're bring Yves Saint Laurent's tinted matte moisturizer and plum colored lip gloss for the classiest, yet comfortable ladylike look. This tinted moisturizer is heaven for your face and the lip color, perfect for the start of fall! Talk about keeping up with the trends!
Angel by Thierry Mugler hand lotion, because how could we go anywhere without smelling like so?
FragranceNet.com pen....represent with lots of love!
And lastly....for now, until we throw a ton of other things in...is Plane Defense inhalation pouches. With long days, the change of the weather, and the definite chance of rain, we want to keep our immune system up. These inhalation pouches will help fight airborne offenders and keep our immune system kickin' til we can kick back and relax...on the last day of fashion week.