Last September was the first time we had the privilege to attend New York Fashion with the fashion & beauty industry's elite. We had access to backstage hair and beauty and got some close up shots, how to's, and the best part? We get to let you know what the trends are for next season! Now you can snag the spring trends for 2013 early and be ahead of the rest...PLUS get those designer beauty products used on the runway for way less, just a few clicks away on our site.
Ready to dive in and see which trends are hot for Spring/Summer 2013 and which products you'll need and won't be able to live without? Read on...read on & as always...ENJOY!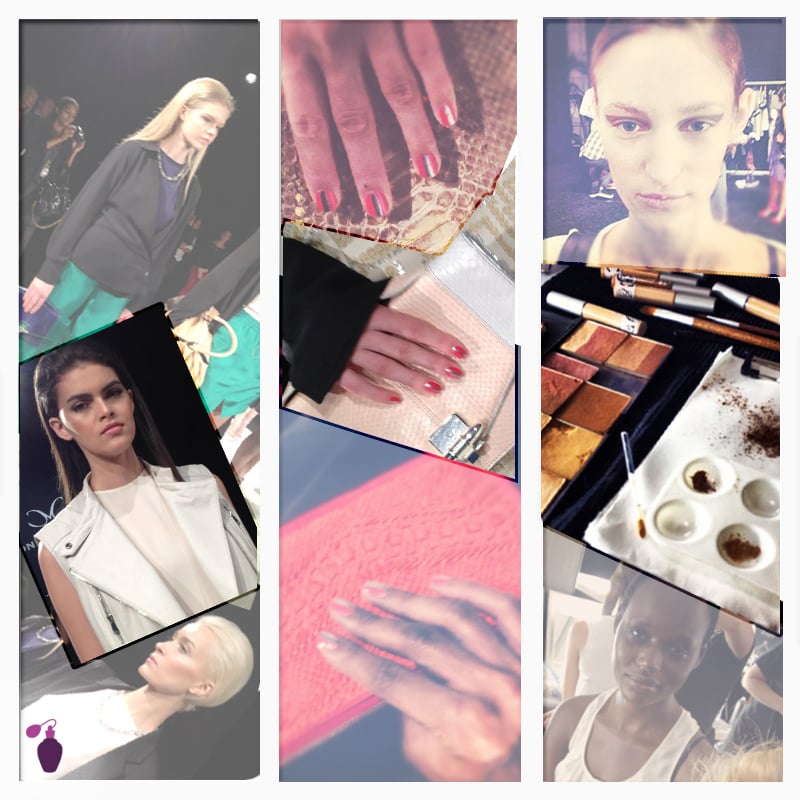 1. Slick Hair
There were countless shows we attended and gained backstage access to to get the hint that slicked back hair is totally in and oh so hot for spring 2013. There is nothing better than getting your hair out of your face in the heat of things, just when the the season is warming up. Products you'll need to achieve this look? We love American Crew's Citrus Mint gel for high hold and placement, not only keeps hair back but gives a refreshing feeling and scent. Designers who flaunt the trend? Monique Lhuiller, Mandy Coon, Carolina Herrera, Nina Ricci, and Alberta Feretti are just a few who softly pulled away the hair from teh face in a modern way.
2. Stripey Mani
This is an amazing do-it-yourself mani look you can get at home, and is runway inspired by a few designers from their spring 2013 collections. Designers like Whitney Eve, Phillip Lim, Charlotte Ronson, and Monika Chiang had their models sport a stripey mani. Get the cool look yourself, just use your favorite colors and with thin strips of clear tape, place two strips on each of your nail creating an inner space on which to paint.
3. Earthy, Nude Makeup
The last of our favorite spring 2013 trends we saw hitting the tents of New York Fashion week last season was earthy, nudey makeup. Less is more this spring, with bare lips, bold brows, and a tinted moisturizer for face. Some designers who opted for the fresh faced look were Ralph Lauren, Carlos Miele, Marc Jacob's and Erin Fetherston.
Which spring 2013 beauty trend can you see yourself sporting?


Custo Barcelona presented X-ray, its new Spring-Summer 2013 collection Sunday, September 9th.
Custo Barcelona is always a show we look forward to, a fun, exciting, and somewhat young collection full of bright colors, trippy patterns, and always great music.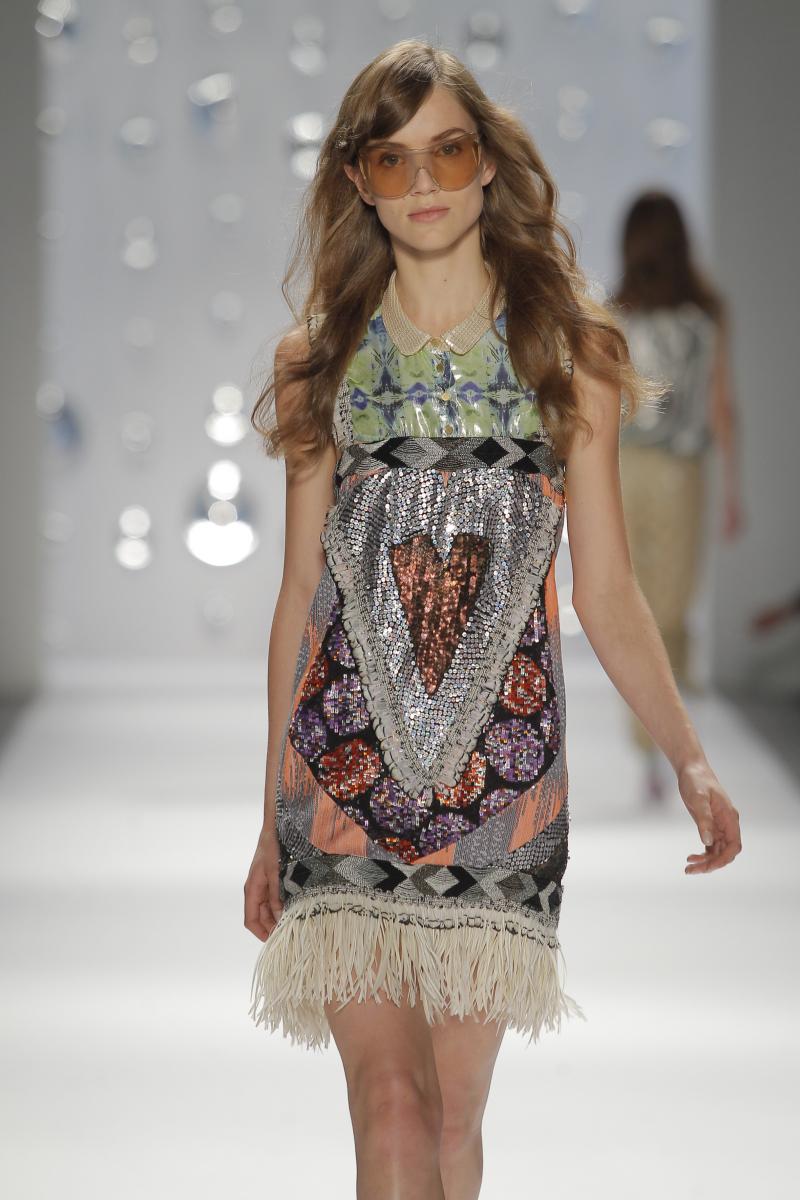 Photo credits: Ugo Camera
With all the bright colors in the collection, the designer of Custo Barcelona decided to keep the beauty look au naturale, using concealers, tinted moisturizers, and having some models walking down the cat walk with shades over their eyes. 
To create this look, use a tinted moisturizer or light coverage foundation. Apply a gold shimmery shadow to the lid, cheeks, and even to the lips using a soft makeup brush.
Lastly, create a natural, yet bold brow look by filling in the gaps in your brow with an eyeliner or brow pencil. And that, my friends, is the Custo beauty look for Spring 2013.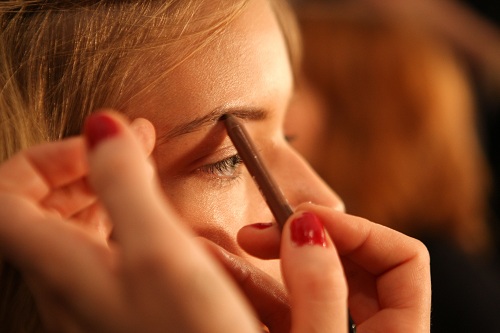 Photo credits: Ugo Camera
Love the au naturale look? 
Chadwick Bell's SS 2013 show was confirmation that a natural, dewy look is going to be TOTALLY in for next season. Hair is messily pulled back out of the face to naturally highlight the gorgeous, glowing complexion created. With a head band held in with 3 bobby pins for security, purposely created flyaways allow the face to be the focal point for this beauty look. 
To create this dewy gorgeous glow, apply a tinted moisturizer (we love Laura Mercier's oil free tinted Moisturizer) generously all over the entire face. Apply a moisturizing lip gloss (Pixi's lip booster maximizing lip gloss is amazing) to the lower lip only, the bottom is glossy while the top lip is matte and dry. 
Apply a small amount of smoky brown shadow (Lancome's smoothing eye shadow in couleur cafe is perfect) to the lid, but more importantly, highlight the inner eye with a white or pink shimmer or powder; this accentuates the eye and widens it beautifully. 
Will you be sporting this natural look for Spring/Summer 2013?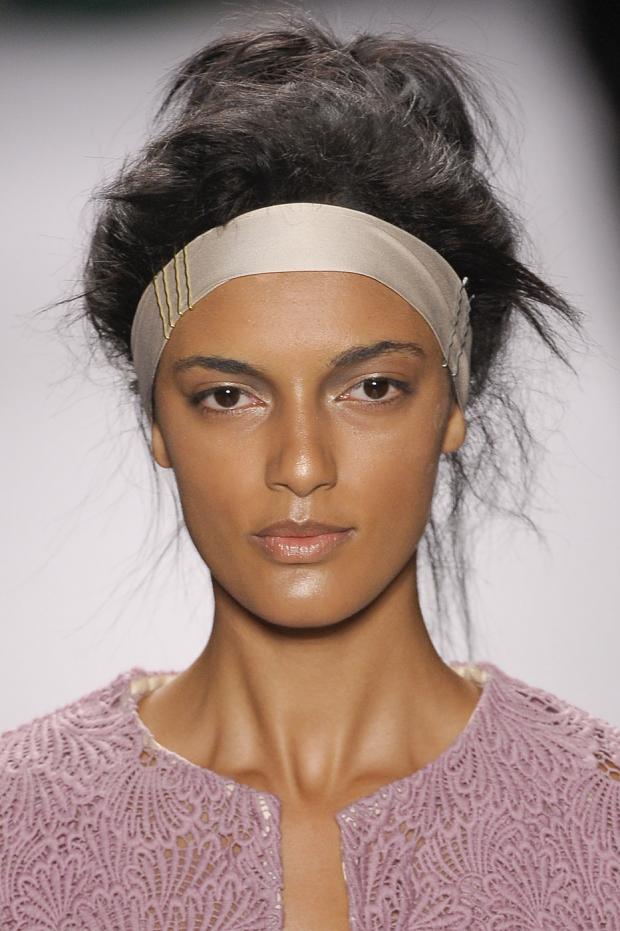 Photography by Imaxtree