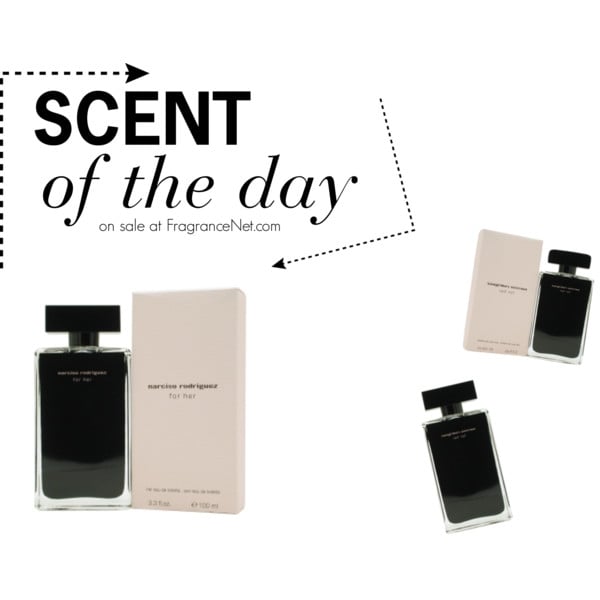 Narciso Rodriguez sets the bar high with Narciso Rodriguez, a self-titled perfume for women. Introduced in 2003, this casual fragrance combines notes of lavender, pink pepper, patchouli, amber, violet and woody accord into a spicy yet feminine blend designed to help unleash your romantic side. Spritz this perfume all over your body and let your imagination carry you to a place free of worries and responsibilities. You will not be disappointed by the alluring scent of this unique fragrance.
Working at a fragrance and beauty site, you better bet that we set the bar high with our products and product picks. Ever wonder what the staff at FragranceNet.com can't get enough of? Ever wonder what we wear on a day to day basis? Well, if yes, good news, here it is! If not, here it is anyway! For the ladies, it's pretty much been decided that Narcisco Rodriguez's perfume is one of the most alluring scents, alluring, yet casual, this fragrance combines notes of lavendar, pink pepper, patchouli, amber, violet and woody accords. You will not be dissapointed by this romantic scent!
Some of us have that can't live without product, and for myself, that would be lip gloss. If you, like me, are completely obsessed and can't live without lip gloss, try this gold gloss shimmering lip gloss by Yves Saint Laurent. We have a ton of colors, but I have fallen for the gold pink hue, a gloss that forms a mirror effect on the lips..shiny! This gloss wraps your lips with a glam shine and it's nourishing oils protect and comfort them, PLUS, its long wearing, oo-la-la!
Bat those lashes and feel like a glam queen! You will absolutely feel instant glam when you apply this unique mascara by Lancome that gives a maxi-volumizing pump to your lashes. It's powerful brush intensifes your lashes with no clumping. Keep your lashes soft, supple and extraoidarily irresistible looking all day! Check out Lancome's Hypnose mascara in noir hypnotic. 
Lastly, the guys! They must like to spice things up a little with this powerful fragrance, Zegna Intenso, that gives off a confident aroma that is clean, energizing and masculine! Notes include citrus scents such as lemon and mandarin orange, becoming fresh and subtle when combined with spicy pink pepper and cardamom. Musks and sandalwood soften the fragrance and add a distinctive scent that gets you noticed. This cologne for men works well for casual outings and everyday wear.
Ever wonder what the celebs wear, what they spritz on themselves in the morning before that photoshoot or casting? We do ALL the time...completely normal, trust us!
Here are 9 celeb favorites that celebs (more than you think) are wearing...and some of them, completely shocking! Let us know which celeb surprises you most with what fragrance they wear!
Ever wonder what Barbara Walters, Brandy, Diana Ross, Dita Von Teese, Eva Mendes, Hilary Clinton, Kate Hudson, & Kathie Lee Gifford wear? They all wear (or have worn) Angel perfume by Thierry Mugler. Angel has notes of vanilla, sandalwood, and patchouli, with lower notes of fresh citrus, melons, peaches, and plums...YUM!

Clean by DLISH is a pretty popular one with the celebs too! Kelly Rowland, Kim Cattral, Kristin Davis, and Michelle Phillips are only a few of the many that love this scent. Fragrance notes contain pink grapefruit, sweet orange, geranium, wild berries, violet, night-blooming, lime, damascus rose, bergamot, heliotrope, jasmine, white musks, and english lavender.
Lola by Marc Jacobs is a casual fragrance for the woman who likes to relax when she's not on the clock...which celebs love this scent? Carey Mulligan loves to wear this one, no wonder...with notes of rose, pear d'anjou, pink peppercorn, geranium, creamy musk, fuchsia peony, ruby red grapefruit, vanilla, and tonka bean.
Burberry Brit, a marvelous perfume with blends of almonds, limes, pears and soft florals mixed with vanilla, no wonder celebs like Cate Blanchett, Diane Kruger, & Garcelle Beauvais-Nilon wear this one!

Narcisco Rodriguez, a fragrance that sets the bar high, combines notes of lavender, pink pepper patchouli, amber violet and woody accords into a spicy feminine blend. Which celebs are unleashing their romantic side with this one scent? Jessica Alba, Lindsay Lohan, Rachel Stevens, and Charlotte Church.
Truth perfume by Calvin Klein is a casual but distinctive and attention getting daytime scent. Ideal for Chelsea Clinton and Shakira, no? Notes include fresh, natural rich woods that react to each individuals skin chemistry.
Christina Applegate, Emmy Rossum, Jessica Alba, Julia Stiles, Laura Osswald, Lauren Conrad, Miley Cyrus, and Natalie Portman all love the notes of strawberry leaf, patchouli, violet, mandarin, musk and jasmine. Wear the same scent as these lovely ladies do when wearing Miss Dior Cherie perfume by Christian Dior.
A rich, evocative fragrance that gives your evening a lovely, romantic flavor, full of notes of peony and musk, celebs like Ziyi Zhang, Liv Tyler, and Natalie Imbruglia love to wear Very Irresistible by Givenchy.
Natlie Imbruglia, Natascha McElhorne, Mary Kate Olsen, Prabal Gurung, Renee Zellweger, Sasha Pivovarova, Suzie Mendive, and Heidi Klum all wear Prada perfume, with notes of mandarin, vanilla, rose absolute, labdanum, bergamont, tonka bean, bitter orange, and sandalwood.
Which star studded scent will you try next?